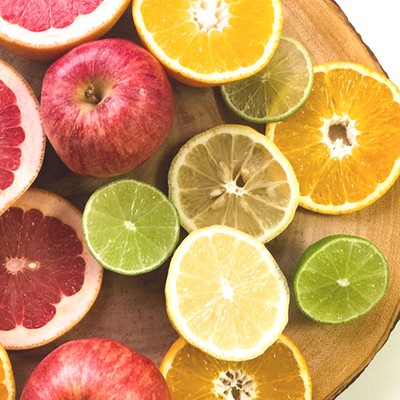 Why Fruit Enzymes Could Be The Secret To Glowing Skin

While the diet benefits of your five-a-day are undisputed, it turns out fruit has another superpower: boosting skin health. Skincare ingredient lists have taken a more comestible turn as of late, as we discover and understand more about the potential benefits of fruit enzymes. We spoke to Noella Gabriel, Co-Founder and President of ELEMIS, about how these special proteins can give you clearer, brighter and firmer skin.

What are fruit enzymes?
Found in a whole range of fruit, most typically tropical varieties such as pineapple, papaya and mango, fruit enzymes speed up chemical reactions and consequently biological processes.
But GCSE science lesson aside, their role in skincare is all about exfoliation: "Fruit enzymes nibble away at and dissolve superficial dead skin cells. This can result in a smoother and brighter complexion," Noella clarified.
What are the skincare benefits of fruit enzymes?
"Fruit enzymes gently exfoliate the skin to reduce the build-up of dead skin cells on the surface," Noella explained. This is particularly beneficial as we age and our natural skin renewal process takes a downturn: "As we get older, the rate at which we produce new skin cells slows down and this can lead to a dull and tired-looking complexion. Regular fruit enzyme exfoliation can help speed up this cycle to reduce this lacklustre appearance."
And the benefits don't end there – including fruit enzyme exfoliation in your skincare regime will also supercharge the rest of your routine, says Noella: "Fruit enzymes will make the products you use afterwards absorb more easily into the skin, improving their efficacy."
What skin types can benefit from fruit enzymes?
While all skin types can reap the benefits of fruit enzymes, Noella notes they're particularly beneficial for those with sensitive or mature skin, especially as an alternative to a harsh manual scrub: "A physical facial scrub can be too abrasive and leave skin red and irritated if you're prone to sensitivity. However, because fruit enzymes have a cut-off point for dissolving dry and dead skin cells, you can't over-exfoliate. Similarly, fruit enzymes work instantly without the need for rubbing, which makes them gentler on the skin."
Fruit enzymes can be incorporated into your skincare routine via a cleanser, exfoliator or mask. These are the products we'll be adding to our bathroom shelves:
 
Cleanser
DCL C Scape Enzymatic Gel Cleanser, £33
Kill two birds with one stone with an exfoliating cleanser like this one from high-performance brand DCL. The mild gel cleanser contains natural enzymes to cleanse and gently exfoliate in equal measures.
 
Dr Barbara Sturm Enzyme Cleanser, £50
A cleanser and gentle enzymatic peel in one, the powder to foam formula harnesses fruit enzymes to stimulate cell turnover and minimise excess oil.
 
Tata Harper Purifying Cleanser, £61
A gentle yet effective cleanser that uses naturally exfoliating fruit enzymes to improve the skin's light reflecting properties for that lit-from-within glow.
Exfoliation
Elemis Papaya Enzyme Peel, £34.50
Wave goodbye to lacklustre skin thanks to the power of pineapple and papaya fruit enzymes used in this exfoliating yet non-abrasive scrub. Simply leave on skin for ten minutes before washing off with lukewarm water.
Kiehl's Pineapple Papaya Facial Scrub, £24
A tropical treat for your face, this scrub contains real fruit extracts to gently buff away makeup, daily grime and dead skin cells.
 
Alpha-H Gentle Daily Exfoliant, £34.50
A powder exfoliator with water-activated fruit enzymes, this product works to clear congested pores, reduce pigmentation and boost your skin's moisture retention. Mix with water to use as an exfoliant or add to your cleanser to give it an exfoliating edge.
Mask
Peter Thomas Roth Pumpkin Enzyme Mask, £55
Don't be fooled by the pumpkin latte scent – this mask packs a serious punch. Combining the power of pumpkin enzyme with AHA and aluminium oxide, this 'peeling' mask eliminates pore-clogging surface debris to leave skin satisfying soft with a luminous radiance.
Elemental Herbology Facial Glow, £42
In the time it takes you to brush your teeth (a thorough clean that is), this mask will unblock pores, boost collagen and give an impressive glow.
Susanne Kaufmann Enzyme Peel, £43
Specifically designed to suit sensitive skin, this peel harnesses the properties of mild fruit acids - including apples, papayas and kiwis - to slough away dead skin cells and reveal a brighter, smoother complexion.
DISCLAIMER: We endeavour to always credit the correct original source of every image we use. If you think a credit may be incorrect, please contact us at info@sheerluxe.com.