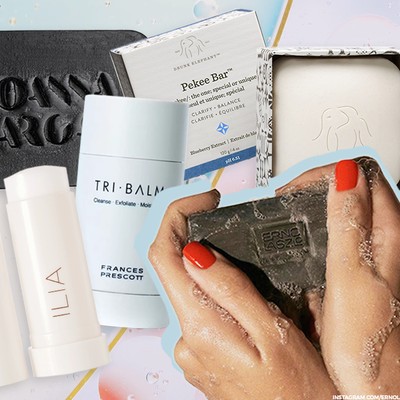 Why Solid Cleansers Are Having A Moment

Sales of solid cleansers are on the rise, and not just because they're cheaper and kinder to the planet. They can also do wonders for your complexion in record time, something we all look for at the end of a long day. Here, we explain why they're having such a moment, alongside six of the best to try for each skin type…

They're Much More Sustainable
Recent figures show that by 2050, there will be more pounds of plastic in the ocean than fish, with the beauty industry playing a massive role in the destruction of our environment. It's one of the reasons solid cleansers are enjoying such a surge in sales. Requiring little more than a box to house their hard-working formulas, they're easy to recycle as they don't come in the usual throwaway bottles or with clunky pumps. As well as saving on plastic waste, cleansing bars cause less climate-changing pollution during production than their liquid alternatives, too. 
They Streamline Your Routine
Easy-to-use with no-clean-up necessary, this kind of product streamlines your routine and pares everything back. They also happen to be conveniently travel-friendly, too, meaning you can now carry your whole cleansing kit on the plane, without worrying about your liquid allowance. These skin-loving sticks and bars often contain two formulas in one, so you can cleanse and exfoliate simultaneously. 
They're More Cost-Effective
Because they don't contain as high a proportion of water as their liquid counterparts, cleansing bars tend to have longevity on their side, making them a more cost-effective option in the long-term. Simply place them under water for a second or two (or scribble onto skin if it's a stick formula) and  massage into a foamy lather on your skin. 
They Cater To A Multitude Of Needs
Solid cleansers don't mean you have to compromise – in fact, they're available for a variety of skin conditions from acne, to sensitive and even psoriasis. This is all thanks to high-quality ingredients, such as hyaluronic acid, anti-inflammatory herbs and essential oils – all of which are vital for healthy skin. 
Keen to try one yourself? Here, we share six suitable for every skin type…
FOR ACNE-PRONE SKIN: Joanna Vargas Miracle Bar, £18
Ultra-clarifying, this blemish-busting bar uses clay and charcoal to lift dirt, excess oil, impurities and bacteria out of your skin. Despite its exfoliating benefits, it doesn't strip the skin thanks to fatty acid-rich olive oil and shea butter – both of which lock in moisture and keep skin smooth. A little goes a very long way, and you'll be surprised at how much this lathers up for a thorough cleanse.
Available at ALittleFind.com
FOR SENSITIVE SKIN: Milk Make-Up Matcha Cleanser, £22
A cult favourite among beauty editors, this solid cleanser cools and calms skin while also prepping it for make-up. Ingredients include de-puffing matcha green tea and hydrating algae extract, which work together to boost radiance and improve skin's texture. Gentle enough for the most delicate of complexions.
Available at CultBeauty.co.uk
FOR PARCHED COMPLEXIONS: Ilia Cucumber Cleansing Stick, £40
Cucumber pulp, aloe extract and chicory root come together in this portable stick to instantly refresh and soothe skin. Scribble it all over for on-the-go hydration, or run it underneath your eyes for an afternoon pick-me-up. The cooling, smoothing effect creates a great base for foundation, too. A true wonder-product suitable for all, but especially for those suffering from dry skin.
Available at Naturismo.com
FOR DULL SKIN: Erno Laszlo Sea Mud Deep Cleansing Bar, £35
Containing 97% natural ingredients, this gentle soap exfoliates and brightens skin with mineral-rich mud. Purging pores and alleviating congestion, it gets to work fast and is brilliant at removing every last trace of make-up.
Available at NET-A-PORTER.com
FOR ALL SKIN TYPES: Frances Prescott Tri Balm, £46
Acting as a cleanser, exfoliator and moisturiser in one, this does-it-all stick is cruelty-free and made without any harmful chemicals, silicones or synthetics. Instead, the formula is packed with naturally derived ingredients (including pumpkin enzymes, plant oils and hyaluronic acid) to keep skin in check. It also works on all skin types and is especially great for those constantly on-the-go.
Available at NET-A-PORTER.com
FOR NORMAL SKIN TYPES: Drunk Elephant Juju Bar, £24
This small cleansing bar is renowned for delivering a deeply satisfying cleanse that's still kind to the skin's natural acid mantle, thanks to its rich, foaming combination of soothing glycerin and essential oils. Suitable for both face and body, it rinses away pore-clogging debris and excess oil while plumping and tightening the skin. 
Available at SpaceNK.com