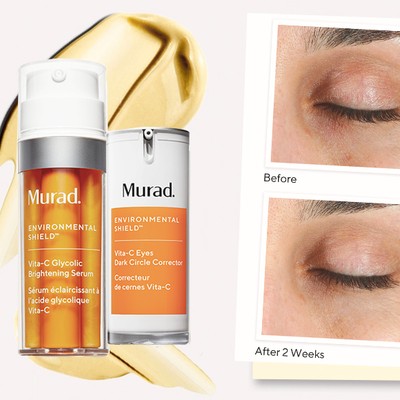 Why You Need Vitamin C In Your Skincare

Vitamin C is one of the few ingredients proven to prevent visible skin damage and brighten dullness. Not just vital for a healthy diet, it's considered an anti-ageing powerhouse when applied topically to the skin. Yet many of us are still unsure of the gentlest formulas or how best to add it to our regimes. Cue Murad's breakthrough Vita-C Duo, which has been formulated to deliver maximum efficacy and promote healthier-looking skin. Here's why Vita-C Glycolic Brightening Serum and Vita-C Eyes Dark Circle Corrector should be on your radar…

CREATED IN PARTNERSHIP WITH MURAD 
They Support Healthier-Looking Skin
Our bodies don't naturally produce vitamin C. While we should ingest it for a healthy system, it's also key we supplement our skin's surface topically. Designed to tackle early signs of ageing caused by genetic and environmental factors (UVA/UVB rays, stress and pollution), both of Murad's products use vitamin C to protect the skin from numerous factors. They work in tandem to boost the skin's brightness, overall tone and firmness from the inside out, while neutralising oxidants and free radicals that can trigger skin damage, and in turn, lead to dark spots and fine lines. 
They're Bioavailable For Better Results
Not all vitamin C is created equal. Many forms lack stability and bioavailability, meaning the skin doesn't absorb it as effectively. Murad's powerful duo have been created with exactly that in mind: they use Murad's signature Vita-C Complex (which is highly stable) to deliver maximum potency deep down into the dermis for visible results.
Vitamin C is an essential antioxidant that works on the skin's surface to actively prevent environmental damage. But, most forms have a short shelf-life, lose potency, or are hard for skin to absorb. We've created a proprietary, gold-stabilised, bioavailable Vita-C Complex that preserves efficacy for full-strength results every time you use it.

They Utilise Clever Ingredients  
Dermatologists agree that the form of vitamin C being applied is key. Ascorbic acid is consistently proven to be the most effective at penetrating the skin's barrier. You can find it in both Murad products. To allow your skin to better absorb the ingredients inside, Murad's formula is also 'gold stabilised', which means it also has 55% higher antioxidant defence than traditional vitamin C. Meanwhile, glutathione recycles vitamin C for extended benefits in the skin, so you'll find results last much longer. 
They Both Have Impressive Results 
The products are both among Murad's bestsellers, probably because they deliver impressive results: 70% of users found their skin was brighter and healthier-looking after just one week's use of the Vita-C Glycolic Brightening Serum; 83% saw more radiant results after four weeks. As for the Dark Circle Corrector, 86% found their eye area was brighter after two weeks, while 85% saw a reduction in dark circles within six weeks.*
*In a Murad-sponsored study. Individual results may vary.
VITA-C GLYCOLIC BRIGHTENING SERUM, £72
One of the best ways the skin can absorb vitamin C is through a serum-style formula. This is because the molecules in serums penetrate the skin far deeper than some creams. Murad's Vita-C Brightening Serum uses glycolic acid to speed up cell turnover and to remove dead cells, allowing vitamin C to penetrate the skin even more effectively. It's also formulated without fragrance or artificial colours, so it's ideal for all skin tones and types – from oily to sensitive and dry.
Available here
VITA-C EYES DARK CIRCLE CORRECTOR, £56
Our eye area has the thinnest skin, so this is where you're most likely to see discolouration and uneven tone. To counteract the visibility, Murad's dedicated corrector uses vitamin C to deliver antioxidant protection for brighter, healthier-looking skin. It works gradually over time to smooth the signs of blue, brown and red tones, while red and brown algae extracts depuff and take down inflammation. The addition of light-reflecting micro-minerals is ideal for speedy brightening.
Available here
A Special Gift For SL Readers
Murad is offering a free Vita-C Brightening Mini Duo when you spend £50 or more at Murad.co.uk. Use the code SLVITAC at checkout so you can trial both products for yourself. Valid from 27th May – 3rd June 2020. 
Visit Murad.co.uk
DISCLAIMER: We endeavour to always credit the correct original source of every image we use. If you think a credit may be incorrect, please contact us at info@sheerluxe.com.