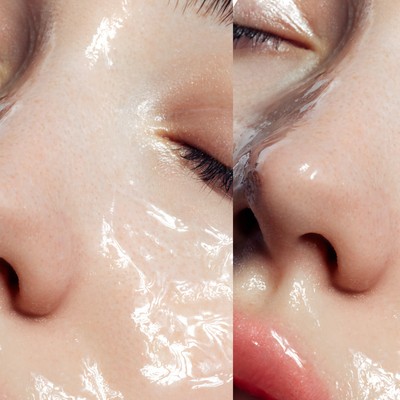 Squalane: What It Is & What It Does

Designed to boost collagen, tighten skin over time and soothe skin conditions like acne, eczema, and severe dryness, your skin naturally produces squalene. But your levels deplete over time – which is where 'squalane' comes in. A star ingredient in hundreds of serums, cleansers and moisturisers, we tapped two experts to find out why it's so popular, how to use it and the best formulas to try.

All products on this page have been selected by our editorial team, however we may make commission on some products.
Squalene Vs Squalane: There's A Difference
"Squalene is a primary substance, and squalane is a derivative of squalene. The difference between them is oxidisation. Squalene oxidises easily while squalane isn't oxidising at all because of a change in chemical structure. That means squalane is very stable and therefore much more effective and reliable as a skincare ingredient. In the past it was extracted from shark liver, but these days it's much more sustainable to use plant-derived squalene." – Dr Tiina Meder
Squalane's Popularity Is Increasing
"Despite being used in skincare products for a long time, squalane has only become 'the ingredient to know' recently. I suspect this is related to advances in biotechnology which have enabled more sustainable and affordable sourcing of the ingredient. Now, it's sourced predominantly from olives or sugarcane." – Dr BeiBei Du-Harper
It's Proven To Help With A Number Of Issues
"Research shows the use of squalane in cosmetic products yields visible results. It's been proven to improve cell regeneration and oxygenation to, in turn, prevent pigmentation, reduce UV damage and the depth of wrinkles. It can even bring relief to patients suffering from eczema, psoriasis or other skin injuries. Squalane is also beneficial for acne because it's a natural prebiotic – it works to suppress the growth of pathogenic bacteria, supporting better skin microbiomes for a healthier-looking complexion." – Dr Tiina
It's been proven to improve cell regeneration and oxygenation to, in turn, prevent pigmentation, reduce UV damage and the depth of wrinkles. It can also bring relief to eczema and psoriasis.

It's Different To Hyaluronic Acid 
"Often squalane and hyaluronic acid get compared, but they're very different. Squalane compensates for a deficiency of skin-nourishing lipids in the stratum corneum (the outermost layer of your skin) whereas hyaluronic acid is a water-holding molecule. For dry skin, squalane works better than for dehydrated and vice versa." – Dr Tiina
 
"It's better to think of hyaluronic acid as a humectant. It draws water into the skin to maintain its moisture. Squalane on the other hand has more emollient-rich properties, so it smooths the skin and, as an oil, maintains hydration by reducing water loss." – Dr BeiBei 
Levels Of Squalene Deplete Over Time
"Our body has its own natural supply of squalene, but it depletes with age and some people are genetically predisposed to be squalene deficient anyway. It's why it's worth topping up your levels when you can. A great way to incorporate squalane into your skincare routine is to find it in a moisturiser. It's a great way to tackle dryness and lock in moisture – in my opinion, it works better in creams than serums due to the richness of the texture. The ingredient is also non-comedogenic, so you don't have to worry about it clogging your pores." – Dr Tiina
It's Not Just Good For Your Face
"Olive squalane is used in many medical skincare products for dermatoses patients. It's also brilliant in hand and foot creams for those wanting to target severe dryness, as well as hair conditioners and masks to encourage the penetration of other active ingredients. In short, there's plenty of ways to get your dose – it all depends on which areas need the extra moisture the most." – Dr Tiina
 
Visit MederBeauty.com & @Dermatology_Demystified For More Skincare Advice
Shop The Expert Approved Products...
DISCLAIMER: We endeavour to always credit the correct original source of every image we use. If you think a credit may be incorrect, please contact us at info@sheerluxe.com.