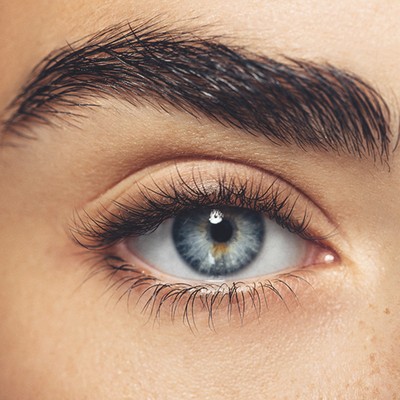 This Is What You Should Be Doing To Your Brows

When Megan Fox, Natalie Portman and Eva Mendes have you to thank for the best brows in Hollywood, it's no surprise that you'd go on to create you own bespoke range. That's exactly what Tonya Crooks did – we asked the celebrity brow artist for her tips on how to get great brows…

What's the biggest misconception about eyebrows?
That they're all supposed to have an arch and be very thick. If you swapped Natalie Portman and Megan Fox's brows they would look weird. Why? Because our brows have to suit our face. People always want bushy, overly arched brows but it doesn't look good on everyone. Your best friend's enviable brows may look terrible on you, and vice versa. You have to work with your natural shape and your own unique facial structure. 
How do you choose the right shape for someone's face?
There are 3 basic shapes: an arch, an arc, and a straight eyebrow. The structure of your face will choose the best shape for you. With my clients I always study their face first; I look at the bone structure and muscle movement to determine what looks best for them.

Do you wax or thread?
Contrary to what others might recommend, I prefer waxing. Wax is much easier to control and gives you a beautiful fluid shape. Threading destroys the hair follicles and it takes a long time to get them back to where they need to be if it's done incorrectly. Only thread the hair that you never want to see again.

How should you maintain your brows at home?
To keep them looking sharp, start by drawing an outline for your brows using a pencil, such as the BrowGal Skinny Eyebrow Pencil or a powder, and brush the product in to blend. Then fill in the brows in the lower areas where the hair is much sparser, using light hair-like strokes to get the most natural look. Finally set them with a gel, brushing it through in the direction of the hair growth. 

How often should you get them shaped?
It depends on the person's growth cycle. Usually every 2-3 weeks if you're a fast grower, and 4-6 weeks if you're a slow grower. You can usually tell when they start to lose shape and that's when you know to get them shaped again. You can build a steady routine from there. 

What should you do if you go somewhere and they ruin your brows?
It's unfortunate, but it does happen. However, it's not the end of the world – there is definitely still hope for your brows! Your hairs grow in cycles and not all hairs grow in the same cycle, so it does take time to get them back to where they need to be. I tell my clients to use a growth serum to speed up the process. The BrowGal Second Chance – Brow Enhancement Serum is perfect if you're looking to regrow and reshape your eyebrows, whether it be to correct a mistake or fix years of over plucking and threading. It is an all-natural plant-based serum that works wonders for stimulating damaged follicles and re-growing hair. You can also use it on your eyelashes!

How do I choose the perfect brow shaper?
Make sure that the person really understands that eyebrow shapes must be based on a person's natural brow, facial structure and muscle movement. You should ask them questions and if you bring in a picture of someone who looks nothing like you and has an entirely different brow shape, they should discourage you from going for that shape. Anyone can remove hair, you need someone to enhance your natural beauty and create the best brows for you.
DISCLAIMER: We endeavour to always credit the correct original source of every image we use. If you think a credit may be incorrect, please contact us at info@sheerluxe.com.