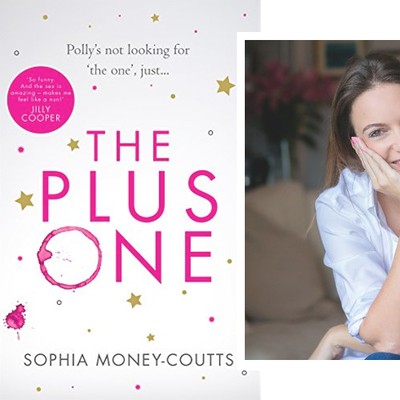 Book Review: The Plus One

Former Tatler journalist Sophia Money-Coutts has delved deep into her society background for her debut novel, which focuses on protagonist Polly's elusive hunt for a plus one for her best friend's nuptials. Witty and sharply drawn, it's essential reading for anyone heading to a wedding solo this summer…

What's it about?
"Polly's not looking for 'The One', just 'The Plus One'," so proclaims the book jacket for Sophia Money-Coutt's debut novel. As the title suggests, this page-turner centres on protagonist Polly Spencer's search for a date for her best friend's upcoming nuptials. Yet among the sharp observations of bridezillas, hen dos and wedding etiquette, there's a story that encompasses changing friendships, cancer diagnoses, and class divisions.
Don't let the latter's seriousness put you off – this is a joyful book that crackles with energy and will make you snort wih laughter, something that's evident from the off. It's 2nd January – the first day of the working year, and Polly's 30th birthday. Keen to find a new career (Polly is a writer at fictional high-society magazine Posh!, where she fills her days writing about royal babies and Labradors) and a boyfriend (she describes her love life as "drier than a Weetabix"), we're introduced to Polly's life via her charismatic best friend Lex, her long-term pal and self-confessed geek Bill, her arch gay housemate Joe, and the close relationship she has with her widowed mother. She's single and successful with a large support network – but can't help but feel a boyfriend would enhance her life.
So when Polly's sent up to Yorkshire to interview charming society playboy Jasper, Marquess of Milton – a notorious womaniser and tabloid regular – there's no way she imagines that he could become a potential suitor. As they begin dating, it becomes clear that their two lifestyles are radically different – could he be the one to make it onto Lex's wedding invitation?

Is it any good?
In a word, yes. The Plus One might not be the only book hitting shelves this year to delve into the life of a single 30-something living in London (we've already loved Holly Bourne's How Do You Like Me Now? and Promising Young Women by Caroline O'Donoghue), but it's so well written and relatable that we became instantly struck by the story. The Bridget Jones comparisons ring true too – although not written as a diary, the first-person account really hones in on quirky details, from her internal musings on the barmy press releases she receives at work (one advocating the 'raisin diet'), right down to her blow-by-blow account of, well, a blowjob.
By mining her personal experiences as Features Director at Tatler, Money-Coutts has created an amusing and affectionate sideways glance at society's eccentric upper classes. Yet it's the down-to-earth sex scenes ("I frowned as I tried to remember what state my bikini line was in. I probably shouldn't sleep with him; I had an awful feeling it looked like the Hanging Gardens of Babylon down there"), relatable details (Polly keeps Pret A Manger's calorie count page bookmarked on her work computer) and examination of the close bonds between mother and daughter that really make an impact once the book is closed.

Do critics rate it?
First and foremost came this review from none other than Jilly Cooper, the queen of the rom-com caper: "So funny. And the sex is amazing – makes me feel like a nun! A funny first novel where class and sex are back!" Since then, the Evening Standard said: "The sex scenes are bracingly well-written… as a light, fizzy rom-com to kick back with after a bottle of rose this summer, The Plus One does the trick nicely", while ES Magazine described it as "Light, fizzy and as snort-inducing as a pint of prosecco".
The novel has met further rave reviews since its release in mid-August. Heat described it as "a lot of fun" and a "saucy read" that makes "great sun-lounger fodder"; Red as "gloriously cheering"; Metro as "a beach cocktail in book form"; and Closer as "a sexy and very funny read – it's perfect for fans of Jilly Cooper." Given that Cooper herself is a fan, we can't think of much higher praise.
The Plus One by Sophia Money-Coutts is out now; £9.35 from Amazon.co.uk
 
DISCLAIMER: We endeavour to always credit the correct original source of every image we use. If you think a credit may be incorrect, please contact us at info@sheerluxe.com.