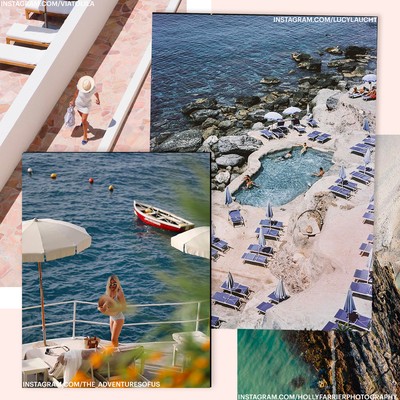 10 Travel Bloggers To Follow On Instagram

We may not be able to travel to some of our favourite destinations right now, but that doesn't mean we can't find inspiration for future trips. If you're longing to jet off, looking through a travel blogger's carefully curated Instagram could help you escape to some of the most beautiful places in the world, from luxury European destinations to remote desert islands. Here are ten to follow.

Along Dusty Roads
After quitting their jobs in London to pursue their lifelong dream of travelling the world, Andrew Sim and Emily Gough have since created an award-winning blog with an extensive list of travel guides. Their Instagram account is a stunning selection of carefully curated photos documenting their time in Europe and South America, with beautiful stonewash architecture and candid portraits of holidaymakers being two of their signature shots. 
Follow @AlongDustyRoads
Anne Par Avion
When it comes to an aesthetically pleasing Instagram grid, Anne Par Avion has it all. Expect various shades of pink and blue throughout her architectural shots taken in Europe, Africa and the US. Some of her best, which are also available for purchase via her Instagram, are beautiful in their simplicity – think remote hillside buildings, deserted beaches and still blue waters. Like many of us, she may not be travelling right now, but she has an archive of images ready for some much-needed escapism.  
Follow @AnneParAvion
Louis Sheridan
As the founder and creative director of Discover & Escape, a travel and wellness consultancy, London-based creative Louis Sheridan posts some seriously cool pictures on his personal Insta. His work has taken him around the world, where he's captured tropical rainforests in the Maldives, rice paddies in Sri Lanka, and beautiful riads in Morocco for the likes of Vogue, GQ and MATCHES FASHION. In each picture, you get a distinct feel for his personal style, while each image feels incredibly considered. 
Follow @LouisAWS
Carley's Camera
Nomadic travel photographer Carley Rudd has made a name for herself showcasing her work on her travel blog and in exhibitions throughout the US. As a self-taught photographer, her style evokes a feeling of 'blissful escapism', which you'll instantly get from just a quick look at her Instagram. Scroll back to her holidays earlier this year for beautiful shots of the Amalfi Coast and Paris, though one of our favourite images has to be the local perched over some rocks on the coast of Sri Lanka. 
Follow @CarleysCamera
Gina Jackson
Gina Jackson's Instagram is all the proof you need that the UK has some of the dreamiest hotels in the world. The award-winning travel and food blogger takes expertly styled shots of hotels and food from around the world, but some of her best happen to be closer to home. If you're in need of a hotel review, or a food recommendation you can rely on, head to her blog, Gina Goes To, where she reviews her favourite trips and places to stay. Tune into her Instagram stories for an enviable play-by-play of her latest staycation.  
Follow @GinaGoesTo
Holly Farrier
Holly Farrier is a British photographer who has worked with world-renowned magazines and national tourism boards. After working as an in-house photographer at Deliciously Ella, she's since gone freelance, and spends her days documenting some of the most beautiful landscapes in the world. From Sri Lankan beaches to Italian villages, each shot, with a clean and detailed aesthetic, tells its own story. We can't wait to see behind the scenes of her upcoming UK staycations.  
Follow @HollyFarrierPhotography
Lucy Laucht
Photographer and travel expert Lucy Laucht has managed to do what many of us only dream of: carve a career out of her lifelong wanderlust to discover inspiring, unusual places around the world. Her website, These Foreign Lands, documents her travels through stunning photography, letting the images speak for themselves. From the dusty landscapes of the American west to the lush forests of Hawaii and turquoise bays of Sydney, Lucy's pictures capture real life – and nature – at its best.
Follow @LucyLaucht
Spirited Pursuit
Lee Litumb, aka Spirited Pursuit, is a US-based influencer and travel blogger who has worked with the likes of Forbes, Vogue and Culture Trip. Inspired by the pursuit of travel and adventure, she uses her photography to highlight countries that go under the radar in the travel world, such as Cameroon (her place of birth), Senegal and Tanzania. Head to her blog for a beginner's guide to Africa, and reviews on some of the most luxurious hotels in the Caribbean.  
Follow @SpiritedPursuit
The Adventures Of Us
Best friends and partners, Sarah-Louise Marks and Christopher Phelps created their Instagram as a way to fuse their passions for photography and travel, coming up with the idea for their account on a trip to the Amalfi Coast. They now run it as a successful business venture, documenting amazing scenery, the delicious food they eat, and the hidden gems they discover along the way. Scroll back to their trip to the Maldives earlier this year for a slice of paradise. 
Follow @The_AdventuresOfUs
Via Tolila
French Sisters Lauren and Annaël Tolila are photographers and videographers based in Tel Aviv and Nice. Their simple yet stylish Instagram aesthetic is like stepping back into the 70s thanks to pristine images of grand European gardens and vintage swimsuits. Some of their best photos are available to buy as prints online – the perfect centrepiece for any interior. Their snapshot videos on Insta, that transport you to a stylish hotel in Lake Como or a luxury resort in Nice, are an SL favourite. 
Follow @ViaTolila
*DISCLAIMER: Travel restrictions are changing daily, so please check the latest government advice before you book. Please ensure you are aware of the social distancing guidelines in place as well as rules on meeting up in groups larger than six.​