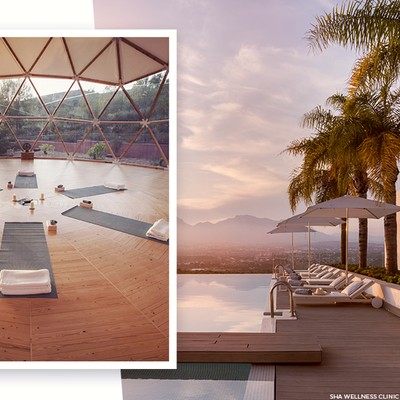 7 Of The Best Wellness Retreats in Europe

Whether your definition of wellness involves yoga and sound baths or more scientifically backed therapies, the latest programmes at some of the world's most renowned retreats offer something for everyone. From fad-free fasting in the Austrian countryside to downward dog in the Spanish hills, these are the European destinations to know…

Chenot Palace
Where: Located on the banks of Lake Lucerne in Switzerland, there's even an underground tunnel connecting the spa to the fresh open water – the perfect spot for some wild swimming.
The Vibe: Dubbed the world's most advanced wellness destination, this brand-new hotel (it opened on 11th June) is the place for a serious health overhaul. Blending state-of-the-art medical technologies with Chinese healing, there's a holistic yet science-based approach to wellbeing. As well as a 5,000 square metre spa, where treatments span from abdominal massages to cupping, there's also a world-class metabolic and sports laboratory; in-house blood analysis laboratory; altitude and cryotherapy chambers; antigravity technologies; and four 'sleep rooms' featuring special acoustics and lighting to reset stressed-out body clocks.
Who Goes? CEOs, biohackers and those concerned with disease prevention and ageing well. 
What To Book: If you've been burning the candle at both ends, the Recover & Energise seven-day programme is the ultimate tonic. A series of medical diagnostic tests will get to the root of fatigue, stress and insomnia, while a bespoke nutrition plan, energetic treatments, IV drips and medical therapies will leave you with a serious spring in your step.
Price Point: Prices for a seven-night minimum stay, including a wellness programme, start from around £4,200 per person. 
Visit ChenotPalaceWeggis.com
Domaine Des Etangs
Where: Near the French village of Massignac, between Limoges and Angoulême. Guests can fly to Limoges, around 45 minutes away by car.
The Vibe: Nestled deep in the French countryside, this beautifully restored 11th century château is one of Europe's most luxurious rural escapes and has recently launched a much-anticipated series of wellness retreats. These retreats will focus on Tai Chi, Qi Gong and meditation – a combination designed to relax, rebuild and anchor. Led by leading practitioners, guests staying at the Domaine can also opt to enjoy personalised massages at the in-house spa (tucked away inside a converted mill) and nutritionally balanced meals curated by Domaine's culinary team, with produce sourced from the hotel's abundant vegetable garden.
Who Goes? Those looking for a break from the grind without anything too tough. Retreats here have a nourishing focus – the food is delicious, the rooms are picture-perfect and you can even have a glass of wine with dinner.
What To Book: Running on set dates throughout 2020, retreats will be headed up by naturopathic iridologist Chris Quinteiro and martial arts expert Arnauld Pontier, who teaches a unique combination of Tai Chi, Qi Gong and meditation. Chris' retreat is running with daily activities from 27th July – 8th August 2020, while Arnauld's retreat is running from 9-24th August. All retreats are designed to reflect the seasons, leaving even the most stressed-out of urbanites feeling restored and reconnected with nature.
Price Point: Activities are complimentary for all hotel guests. For non-hotel guests, prices start from €30 for a single activity. A Wellness Day including two classes of choice and a healthy lunch is €105 per person. A 10 class bundle is available for a special price of €270. Rates at Domaine des Etangs start from €400 per night on a B&B basis.
Visit DomaineDesEtangs.com
Escapada 
Where: A 500-year-old finca in the rolling hills of Mallorca – the perfect backdrop for meditation and yoga.
The Vibe: Fusing the synergies of Chinese medicine and Ayurveda, Escapada offers a holistic, integrative health retreat with natural solutions for mental and physical wellbeing. Offering a bespoke approach, retreats start with an intensive integrative consultation, where everything from your tongue to tummy will be examined, with the following days spent nurturing mind and body through movement (think sunrise yoga and meditation under the stars), nourishing nutrition and prescribed treatments, including the likes of acupuncture and cupping. Rooms in the stunning Ses Set Casa finca are tastefully decorated in a soothing palette and guests are encouraged to embrace the homely environment to fully recharge their depleted batteries. 
Who Goes? A favourite of fashion and beauty editors as well as those interested in alternative treatments – Escapada definitely comes with a side of the spiritual.
What To Book: For those looking for a post-Covid health boost, an Autumn Cleanse Retreat is running from 30th September – 4th October. 
Price Point: All retreats start from €1200 per person, excluding flights. Unlike other retreats, Escapada offers a clever 'all-inclusive' price, meaning everything from accommodation and meals to consultations and treatments are included. 
Visit EscapadaRetreat.com
SHA Wellness Clinic
Where: Perched on a jaw-dropping mountainside overlooking the Mediterranean Sea and part of the Sierra Helada Natural Park (recognised by the WHO as having one of the world's best climates), SHA is 50km from Alicante airport.
The Vibe: Don't be fooled by this low-lying, modern, white building, with its entrance flanked by palm trees and a suntrap of a terrace – this cutting-edge health clinic is considered one of the best medical spas in Europe. With a decade of experience, SHA fuses the best of Eastern and Western approaches – think macrobiotic inspired cuisine and high-end eastern technology – to provide a life-changing experience. There's a minimum seven-night stay but 14 is the recommended amount for real results – in that time, expect massages, watsu, acupuncture, colonics, sessions with cognitive improvement experts, nutritionists and an army of personal trainers. All 92 rooms come with mind-clearing sea or mountain views while the minimalist décor follows the principles of Feng Shui.
Who Goes? The seriously sleep-deprived in need of a total re-boot – SHA is popular with chronic insomniacs and mums who feel their sleep routine has fallen out of whack, as well as those suffering from addiction, obesity and stress. Naomi Campbell and Kylie Minogue are regular guests.
What To Book: If you live in an urban environment and can't live without your daily wine, coffee or cigarette fix, SHA's seven-day Detox Programme will deeply cleanse the liver and digestive system to eliminate toxins. It's not for the faint hearted but the results are profound. 
Price Point: Room-only rates start from €330 for a Deluxe Suite. 
Visit ShaWellnessClinic.com
Buchinger Wilhelmi
Where: On the shores of Lake Constance in southern Germany, just over an hour from Zurich Airport.
The Vibe: Specialising in therapeutic fasting, detox and all forms of wellness, Buchinger offers a more holistic take on fasting. While food is minimal – tea with honey for breakfast plus twice-daily juices or vegetable broths designed to stimulate fat burning – it's the psychological treatments that stand out here. Ease withdrawal headaches and aching muscles with sound baths, craniosacral therapy, shiatsu, osteopathy, blood infusions and IV drips. If the temptation to go back to bed is avoided, there are countless gym classes, yoga and meditation sessions on offer, with afternoons devoted to walking through the local hills, although nothing is compulsory. 
Who Goes? It's a loyal crowd at Buchinger Wilhelmi – people come back year after year but not just for the weight loss. Devotees say they leave with a sparkle in their eye, a renewed zest for life, energy and optimism. 
What To Book: If you want to fast, you have to commit to at least ten days to see results. The ten-day Compact Retreat is the place to start, consisting of two days of taking your calories right down, then six to seven days of 250 calories, before finally rebuilding to 800 or 1,200 calories per day. 
Price Point: Prices for a ten-day Compact programme in a standard room start from €2,690. Longer 14, 21- and 28-day retreats are also available.
Visit Buchinger-Wilhelmi.com
MasQi Energy House
Where: Within the serene surrounds of the Serra Mariola Natural Park between Alicante and Valencia.
The Vibe: Rest and revitalisation meet upscale, rustic interiors at this farmhouse turned health retreat, where there's a strong focus on nourishing the body and spirit through yoga, energy healing and macrobiotic food. Yoga and meditation sessions are held in a unique dome-shaped studio, while alternative therapies take place in nearby rooms – MasQi's signature treatment is a unique fusion of kinesiology and meridian-based body work, designed to release emotional blockages and physical pain. One-to-one life coaching sessions, Ayurvedic massages, cookery classes and meditative walks are also on offer. With just eight rooms – all decked out in natural materials, soft fabrics and earthy hues – there's an exclusive, peaceful atmosphere, which is perfect for solo travellers.
Who Goes? Those who feel the need to push the reset button on their mental wellbeing in a pampering and upscale style. 
What To Book: Whether you're looking for an express weekend getaway, or feel the need for a deeper healing experience, MasQi's retreats run from three to 21 days, meaning there's something for everyone. New for 2020 are retreats aimed at stress and weight loss.
Price Point: Retreats are available from £343 per person based on double occupancy for two nights.
Visit MasQi.es
Viva Mayr, Altaussee
Where: Set on the shores of Lake Altaussee with views over the Styrian Salzkammergut mountains, Viva Mayr is a 75-minute drive from Salzburg Airport.
The Vibe: This cult detox programme designed to purge the body of toxins through fasting and re-setting the digestive system is as hardcore as wellness retreats come. The brainchild of the late Austrian researcher and physician Franz Xaver Mayr, MD, it entails 21 days of chewing every mouthful of food 30 times, in addition to writing off sugar and anything acidic in favour of alkalising, gut-friendly foods (think vegetable broth, potatoes and buckwheat bread). More chic medi-clinic than pampering spa indulgence, the vast medical department spans over 15,000 square feet and is where you'll spend the majority of your time, experiencing oxygen therapy, bone density measurements, lymphatic drainage and electrolytic foot baths. Bedrooms are simple and comfortable – they won't blow you away with fancy design, but you'll be too busy with your daily colonic to notice.
Who Goes? Kate Moss, Suki Waterhouse, Elizabeth Hurley, Karlie Kloss, the world's top business executives, oligarchs and politicians are all regulars.
What To Book: A seven-night Mayr Detox retreat is a good place to start and proven to reduce the risk of inflammation, diabetes, high blood pressure, allergies and heart disease.
Price Point: Prices for a seven-night Mayr Detox retreat start at £2,099 per person, including flights and transfers, when booked with Healing Holidays. However, beware of extras such as the supplements doctors will suggest you take.
Visit VivaMayr.com
*Features published by SheerLuxe are not intended to treat, diagnose, cure or prevent any disease. Always seek the advice of your GP or another qualified healthcare provider for any questions you have regarding a medical condition, and before undertaking any diet, exercise or other health-related programmes.
DISCLAIMER: We endeavour to always credit the correct original source of every image we use. If you think a credit may be incorrect, please contact us at info@sheerluxe.com.