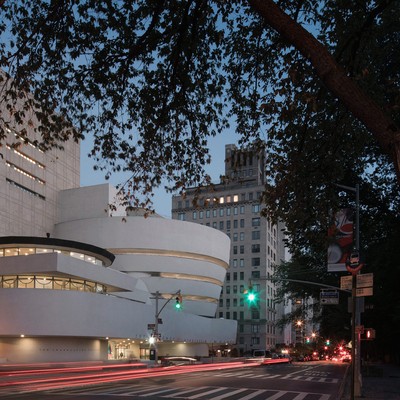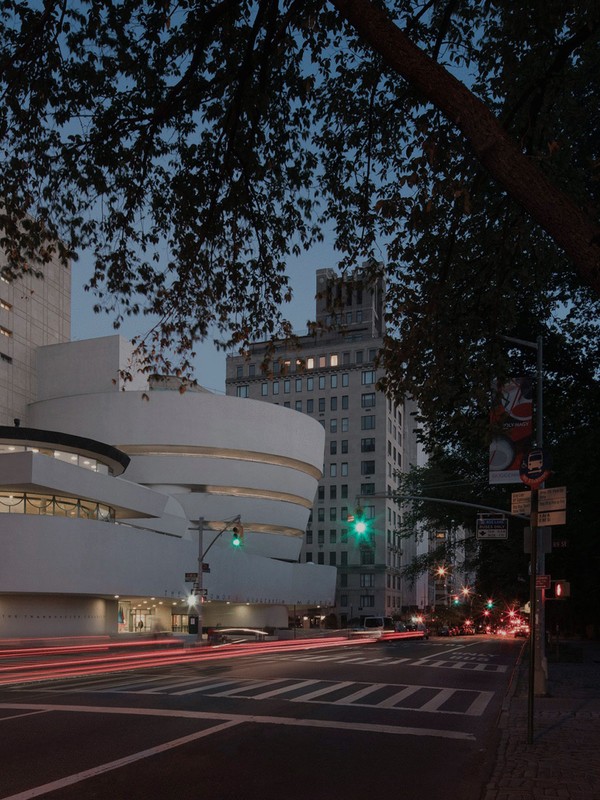 The Best Places To Visit In New York

New York has some of the world's greatest museums – the scale and grandeur of the Met will awe even those who know London's biggest institutions. When you're not looking back through history, you can tune into the future at cool galleries, hit up some unique music venues, catch a midnight movie – or just escape from it all for an afternoon. These are our favourite places to spend time in the city…

The Met
New York's Museum Mile runs down the eastern edge of Central Park. It's an incredible stretch of world-class institutions, but the headline act will always be The Met. Up the steps and beyond its famous columns lie exhibitions that span Karl Lagerfeld to Vincent Van Gogh, and a permanent collection that covers most of the history of the world.
Visit MetMuseum.org
American Museum of Natural History
The American Museum of Natural History is the Met's only rival for scale. On the other side of Central Park, it spreads across four city blocks. Many visitors head straight for the dinosaurs to find the T-rex skeleton. It's a magnificent beast, but there are so many other treats – from a huge canoe carved out of a single cedar tree and the largest meteorite on display anywhere in the world to the Hall of Gems.
Visit AMNH.org
The Whitney
If those first two are daunting prospects, The Whitney Museum of American Art has a much tighter focus. It zooms in on the great modernists who set out to define America just as it was redefining the world in the 20th century. There are at least a dozen Edward Hoppers to see here, but look out too for iconic depictions of famous boxing bouts, Brooklyn Bridge, the subway, Pontiac automobiles and a portrait of Warhol himself.
Visit Whitney.org
The Guggenheim
Taking a more global view of modern art, the Guggenheim impresses not just with its Kandinskys and Koonses. Its home is a 70-year-old Frank Lloyd Wright masterpiece that still feels fresh and thrilling today as you walk in and it spirals upwards towards the sky.
Visit Guggenheim.org
MoMA
At MoMA, Europeans like Picasso, Mondrian and Matisse vie for attention with local talents like Pollock, Rauschenberg and Twombly across six sprawling floors showcasing the very best modern art. Head to the Lower Levels to find the MoMA Design Store – a museum shop so good it's got offshoots in SoHo and Japan. There's also a two-Michelin-starred restaurant, The Modern, overlooking the sculpture garden.
Visit MoMA.org
Brooklyn Museum
You can find big names including Mark Rothko, Norman Rockwell and Georgia O'Keeffe in the permanent collection at the Brooklyn Museum. Its rotating exhibitions can throw up something special too – if you're visiting towards the end of 2023, Spike Lee: Creative Sources promises a rare glimpse into the world of the local boy turned Hollywood ground-breaker.
Visit BrooklynMuseum.org
9/11 Memorial & Museum
New York is a proud preserver of its own history. The 9/11 Memorial & Museum tells the story of what happened on 11th September 2001, speaking to the enormity of a world-shattering event and showing how its impact is still being felt today. The walk around the falling-water memorial, inscribed with the names of the victims, will stay with you.
Visit 911Memorial.org
Tenement Museum
The Tenement Museum is a remarkable time capsule that takes visitors further back, to a world where the Lower East Side was a festering slum in which immigrant families were made or broken. In vivid, immersive detail it tells the stories of some of the people who lived in the very tenement blocks it now occupies. 
Visit Tenement.org
Great Galleries
For truly contemporary art, New York has a buzzy gallery scene, and you don't have to be a collector to enjoy it. David Zwirner in Chelsea is a major player – and you might land on an exhibition from a big name like Yayoi Kusama. Tribeca's 1969 Gallery feels like a throwback with its commitment to painting above all other artforms. Over in Brooklyn, Pioneer Works is a stronghold of art, science and music, while Smack Mellon supports under-recognised women artists.
Brooklyn Botanic Garden
Next to Prospect Park and the Brooklyn Museum, Brooklyn Botanic Garden is an enchanting place to learn a little bit more about the many plants and trees within its 50 acres – though we wouldn't blame you for treating it as more of a wellness session than a biology lesson. Make sure your wanderings take you through its Japanese garden.
Visit BBG.org
Central Park
You know about Central Park already. More than 150 years after it opened, America's first and greatest urban park remains the 'lungs of the city' – and a wonderful place to draw breath during a busy trip. Separating the Upper West Side from the Upper East Side, its 800-odd acres offer rowing boats and gondola rides, countless jogging routes and walking trails, and pleasant green spaces for just relaxing and people watching.
Visit CentralParkNYC.org
Great Jones Spa
Keep the Great Jones Spa in mind for any other moments when you want to take step back from the city. It offers every treatment you can think of, but if you're with friends it could be more fun to head straight to the Water Lounge and spend an afternoon moving slowly between its pool, jacuzzi and sauna.
Visit GJSpa.com
The High Line
When it opened in 2009, the High Line was a green and inventive way of reusing an abandoned railway line. It's become so much more than that. With a calming atmosphere and a unique perspective on the city, it draws millions of visitors each year and has sparked the regeneration of everything around it on the west side of Manhattan. For the full effect, walk all 1.5 miles – or hop on and off it at the regular entrance points along the way.
Visit TheHighLine.org
Statue of Liberty & Ellis Island
Above and beyond anything else we've mentioned, the Statue of Liberty is surely the most famous symbol of New York. Sitting on an island in Upper New York Bay, this modern-day colossus traditionally welcomed new arrivals to the States with a promise of freedom. For the first half of the 20th century, most of those immigrants – around 12 million of them – landed at nearby Ellis Island, which is now the moving and immersive National Immigration Museum. Jump on a ferry to see all of this in an afternoon and understand what the American dream really means.
Visit StatueOfLiberty.org
See The Skyline
The Manhattan skyline is the most recognisable in the world. New super-tall skyscrapers continue to go up (and up) today and the scale of them can make you feel very small when you're at street level. For a different point of view, get high and enjoy that famous skyline in full from the top of one of the city's iconic towers. The Empire State Building and the Rockefeller Center both have public observation decks (we like the Top of the Rock because there you actually see the Empire State) and there's talk that the magnificent art-deco Chrysler Building is soon to get one. There are newer and taller options at Hudson Yards and One World Trade Center.
Elsewhere
If ever you feel a New York night out coming on, check the calendar at Elsewhere. This huge independent music venue in Brooklyn's Bushwick neighbourhood spreads across three floors – somewhere in there you'll find the vibe you need to keep you going into the early hours.
Visit ElsewhereBrooklyn.com
Sofar Sounds
For more intimate musical occasions, there's Sofar Sounds. What started as one man inviting a few friends round for an impromptu gig in his living room in 2009 has become a stream of unique performances in unusual venues around the city. Check out the website – you might not know who you're seeing or exactly where you're seeing them when you buy a ticket, but you will be in for a one-off treat.
Visit SofarSounds.com
IFC
Nothing says New York quite like a midnight movie at the IFC in Greenwich Village. Proving you really are in a city that never sleeps, on Fridays and Saturdays this indie film hub does late-night screenings of cult films – making it just the place to settle in for a New York classic like Wall Street or Moonstruck or Rosemary's Baby or… We could go on.
Visit IFCFilms.com
Catch The Action
The Yankees and the Mets, the Giants and the Jets, the Knicks and the Nets… New York is a city full of legendary sports teams. Basketball's Knicks play at the illustrious Madison Square Garden – courtside seats aren't cheap but you might find yourself sitting behind Spike Lee or Alicia Keys. The Yankees are the baseball team behind those NY baseball caps so beloved of A-listers everywhere. Anyone who's watched Seinfeld will know how much they mean to so many genuine New Yorkers and, from the national anthem to the seventh-inning stretch, a ballgame at Yankee Stadium is a quintessential American experience. If you're visiting in late summer, the US Open tennis at Flushing Meadow is a hot ticket – for an atmosphere you won't find at Wimbledon, try one of the night sessions.
Enjoy A Show
When it's not hosting the Knicks, Madison Square Garden – aka the 'world's most famous arena' – is a must-play for the planet's biggest music acts. Billy Joel, the 'Piano Man' himself, has been appearing once a month since 2014. Radio City Music Hall within the Rockefeller Center is the classic venue slightly smaller acts aspire to. Close to Radio City in Midtown, the Theater District is the place to catch a Broadway show. Whenever you go, your options will be many – from the latest Tony award winners to perennial crowd pleasers like Chicago, Hamilton and Moulin Rouge! The Musical.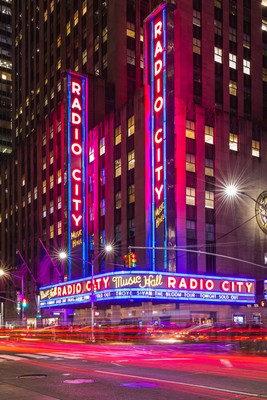 Essex Market
On the Lower East Side, Essex Market is one of New York's six remaining public markets. This lively fresh food hub has been helping to feed the city for more than two centuries. It moved to smart new premises just a few years ago and continues to do brisk business. In and around the traditional fruiterers and fishmongers, there's an ice-cream factory, artisans specialising in vegan cheese and a host of prepared food options from around the world. If you've ever wanted to try traditional Dominican dishes, this is the place to do it.
Visit EssexMarket.nyc
Chelsea Market
The Meatpacking District's Chelsea Market promises a similarly diverse foodie experience. Its 30-strong crowd of prepped-food vendors boast some outstanding all-American options – from the hero Maine lobster roll at Lobster Place to you know what at Doughnuttery.
Visit ChelseaMarket.com
Tin Building
You could also eat your way round the world at Tin Building. Jean-Georges, the A-list chef who looks after the kitchens at the Mark hotel, has created a food emporium that offers gourmet grocery shopping alongside fully formed restaurants and cafés. The Tin Building is part of the old Fulton Fish Market and there's exceptional seafood to be had at its raw bar, but don't miss the retro-modern House of the Red Pearl restaurant, hidden through the back of the Asian grocery.
Visit TinBuilding.com
Grand Central Oyster Bar
The Grand Central Terminal is a marvel in marble – a gorgeous Midtown train station whose good looks have landed it roles in countless Hollywood films. Take it all in, then head to its lower level and find the pearl that is the Grand Central Oyster Bar. Opened just a few weeks after the station itself in 1913, it's a vaulted, tiled beauty that still does some of the city's best and freshest bivalves – grab stools at the counter and order half a dozen with some bubbles.
Visit OysterBarNY.com
DISCLAIMER: We endeavour to always credit the correct original source of every image we use. If you think a credit may be incorrect, please contact us at info@sheerluxe.com.