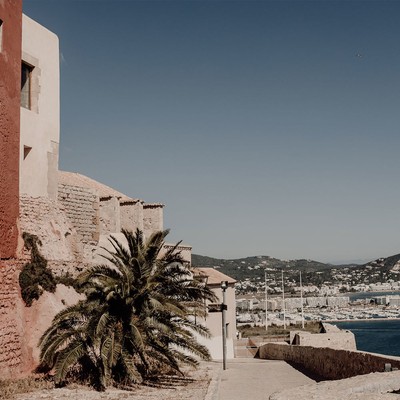 The New Hotel Name to Know

It's an understatement to say the travel industry has been hit harder than any but despite its challenges plans for new hotels press ahead. One such name to know is OKU, a hotel collection launching sites in Ibiza and Kos in the coming months – with more to follow in the next few years. We spoke to Enrique Mandl, chief operating officer and general manager of OKU Ibiza, and Jules Perowne, co-founder and CEO of luxury travel PR company Perowne International, to find out more.

First, can you tell us about the OKU brand and how it was created?
"OKU was actually created by an investment company – Westfort Capital – which spied an opportunity in the market for a laidback, luxury hotel for the modern traveller. Launched out of the ashes of Thomas Cook, Westfort Capital had previously owned what will soon become the two inaugural OKU properties. The company has since chosen to reposition and re-launch their own hotel brand from these assets, pivoting to the boutique hotel market to create OKU – a soulful, luxury destination". – Enrique Mandl, chief operating officer of OKU and general manager of OKU Ibiza
What was the inspiration behind OKU?
"OKU was inspired by its Japanese namesake, which is both a spiritual and architectural notion meaning 'inner space'. We want to give guests that same time, setting and opportunity to discover their own inner space through carefully designed hotels that bring together nature, wellbeing and service. The actual word 'OKU' doesn't have a direct translation in western languages, but for us, it refers to a sacred and hidden space that can only be found when one journeys deep within. This philosophy means guests have space to breathe freely, relax, let go and have fun." – Enrique
Why did you launch in Ibiza and Kos?
"Kos and Ibiza each offer a wealth of history, culture, nature and unique experiences. Kos is more wellness focused, as the home of Hippocrates and the ancient healing temple, while Ibiza is all about revelry. They're both beachside islands that are accessible to European travellers in under four hours, allowing anyone the opportunity to enjoy a tranquil getaway without taking up numerous days of travel time." – Enrique
Tell us about the design concept of each hotel? 
"Both the look and feel of OKU Ibiza have been thoughtfully designed by OKU's in-house design team, who took inspiration from the location to reflect the simplicity of beach life. The team drew inspiration from the Japanese Wabi Sabi philosophy which champions the connection to earth and natural materials. The brand's considered natural design ethos has also been applied to the architecture by award-winning father and son duo MG&AG, who have worked on over 60 residential and hospitality projects worldwide. Plus, the plan is to showcase the work of rising modern artists, including bespoke commissions by LA-based painter and sculptor Steve Tepas, and Belgian artist Tom Van Puyvelde.
At OKU Kos, the concept has been developed by Lambs & Lions, who oversaw the art direction and the interior design. The look and feel of the resort are inspired by the island's architecture, where the minimalist design and cubic buildings really do have a village-like feel. Narrow streets are intertwined with external stairs and outdoor seating, as well as a path that leads directly to the private beach. As with Ibiza, when it comes to the colour scheme, earthy, rustic and neutral tones have been used throughout to evoke a sense of bringing the outdoors in." – Enrique
What are the hightlights of each hotel?
"At Kos, the secluded beachside location and rugged mountain backdrop offers complete privacy and closeness with nature, which is pretty special. At OKU Ibiza, the hotel has the island's largest swimming pool with a mood that changes throughout the day – guests can enjoy a healthy juice bar in the morning, then listen to relaxed house tunes at night. The OKU guest is a conscious explorer who is looking for enrichment in the form of experiences, self-improvement, learning and giving back. As a modern traveller, their life is fast-paced and digital, and OKU gives them with the opportunity to stand still and be present in the moment." – Enrique
What's the vibe? 
"We've created destinations to captivate, wellbeing practices that relax or revive, and dining and music experiences to awaken the senses. The vibe at the hotels will be fun, yet relaxed, and each experience can be tailored to each guest. Those that want to focus on the health and wellbeing can enjoy daily yoga classes and make the most of the fitness and wellness facilities, while those who want to simply sit back and relax, cocktail in hand, can do that too. We're really excited about our weekly brunch in Ibiza. We'll have a rotating programme of some of the island's best DJs and live performers who will perform every Sunday as guests enjoy an all-day brunch by the main pool, served with fresh juices and delicious drinks." – Enrique
Wellness seems to be at the heart of the brand, why is this?
"Both our spas will offer bespoke treatment menus that blend ancient traditions with modern advances using all-natural products. Interestingly, Kos is the site of the original 'hospital' – ancient ruins in Kos which were once a temple to the God of healing, Asclepius. The complex served as a healing centre based on the teachings of Hippocrates, who is regarded as the founder of modern medicine and had a holistic and natural approach to wellbeing. Some of the treatments on the menu pay homage to this history such as the Hippocratic Anatripsis massage, which is really unique. The spa offering at both properties is complimented by a carefully curated movement programme which includes complimentary daily yoga." – Enrique
What does a day at an OKU hotel look like? 
"Start your day with complimentary morning yoga followed by a freshly squeezed juice, an artisan coffee and a fresh breakfast bowl. Then, relax by one of the two swimming pools and get stuck into a good book. Visit To Kima for lunch to enjoy freshly caught fish and relaxed Mediterranean dishes from the all-day menu and sample our favourite local wines and cocktails. Treat yourself to an afternoon spa treatment to reenergise and recuperate before getting ready for the evening. For dinner, head to The OKU Restaurant and feast on the fresh Japanese fare – Japanese Wagyu, and freshly prepared sushi and sashimi. Our Ibiza evenings are then brought to life by our resident DJ as the sun goes down." –Enrique
Tell us more about the food? 
"We are particularly excited about the food in Ibiza, but the internationally acclaimed chef Mark Vaessen of Sushi Samba will be overseeing the culinary offering at both properties. Renowned for his mastery of fusion and Japanese cuisine, Mark has created menus that will take guests on a mouth-watering journey, using fresh, seasonal ingredients. His inspiration for the menus of OKU Hotels was inspired by the Japanese and Mediterranean cultures – of sharing food together with your friends and family. At OKU Ibiza, guests can expect a more refined affair, which will be open for dinner with adventurous fusion cuisine with a strong Asian influence. From Asian-inspired tapas to grilled meats and fish, as well as a raw menu of Asian delicacies, sashimi and nigiri and extensive vegetarian and vegan options, there will be something for everyone. Breakfast will be served each morning at the To Kima Restaurant where guests can start the day with a sumptuous spread of local fruits, yoghurts, home-made granolas, overnight oats, cheeses, meats, pastries or eggs anyway you like. The restaurant at OKU Kos, To Kima, will serve breakfast, lunch and dinner, as well as all-day bites and refreshing cocktails." – Enrique
What about further openings? 
"We hope to have opened several more hotels globally by 2026, establishing the brand across the Mediterranean and other European islands. Idealy they'll offer something a little different and become the best of the best on each island." – Enrique
Jules – from your perspective, why is this such an exciting new launch? 
"OKU Hotels are exactly what the modern traveller is looking for – tangible luxury at an accessible price point. Following the pandemic, tourists are looking for easily accessible places which guarantee excellent service, delicious food, fun experiences and a place to disconnect from day-to-day life and reconnect with friends and family." – Jules Perowne, co-founder and CEO of Perowne International
What sets OKU apart? 
"The design is definitely a key element. The in-house design team, together with MG&AG, have championed natural materials. Plus, the food is a big draw – Mark Vaessen at the heart of the restaurants is definitely something to watch. The OKU Restaurant in Ibiza is set to become a destination in its own right. But ultimately, what's so exciting about OKU is that it prides itself on being competitively priced without compromising on service or experience. Also, the variety of rooms on offer – from entry level superior rooms starting from just £163 per night, to suites and villas, there's something for everyone." – Jules   
Which of the two new hotels have you bookmarked for the future?
"When travel corridors open up again, I can't wait to see the Ibiza property – especially as it will be the flagship of the brand. OKU is an important launch to have on your radar – with exciting expansion plans, it's one you're going to keep hearing about…" – Jules   
Visit OKUHotels.com  
*DISCLAIMER: Travel restrictions are changing daily, so please check the latest government advice before you book anything. Visit Gov.uk for more information.
INSPIRATION CREDITS: Georg Roske
DISCLAIMER: We endeavour to always credit the correct original source of every image we use. If you think a credit may be incorrect, please contact us at info@sheerluxe.com.