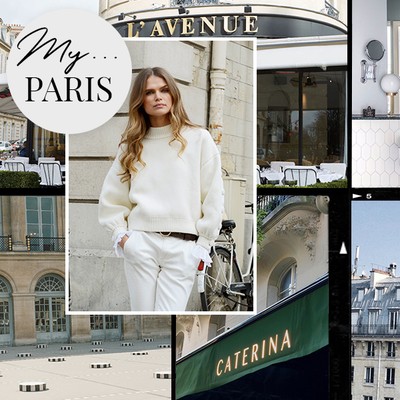 Travel Notes: Lu Hough on Paris

With Valentine's Day just around the corner, where better to start our new Travel Notes series than with Paris? SL readers won't be surprised to hear the French capital is a regular two-day destination for style director Lu Hough. So, whether you want to go for the architecture, the food or the fashion, here are all her tips…

Paris is the most romantic city in the world and one of those places that, the more I go back, the more I fall in love with it. There is something magical about Paris – the architecture, the shopping the people watching, the ambience, it's just everything you want from a city break. I can't get enough of it.
I usually go for just 36 hours because it's so easy to get there on the Eurostar. Going really early on Saturday morning and coming back late on Sunday means you get the most out of both days but still only pay one for night. I almost treat it like a weekend in London – just that bit chicer. 
It's always good to book ahead. Eurostar does great deals and always has sales. I try to get the £59 return ticket. And you don't have to think about taking time off work – it's just a weekend, so you can book months in advance without worrying. 
My favourite place to stay is the Hotel Des Grande Boulevards. It's by the same brand behind the Henrietta Hotel in Covent Garden. The interiors are incredible, it has a really cool restaurant, a rooftop and a very Wes Anderson vibe. It feels like a destination in itself rather than just somewhere to sleep for the night.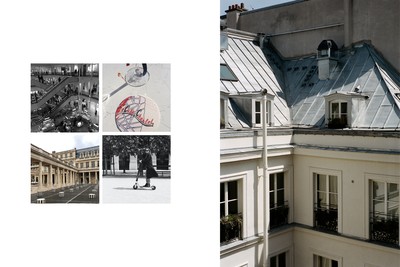 For brunch, I always head to Café Charlot, a traditional Parisian café in trendy Le Marais. We always sit outside (under heaters in the winter) with wine and frites, and watch the world go by. It's the best spot for people-watching. 
As a vegetarian, eating in Paris can be difficult. Ober Mama and Pink Mamma do really good Italian food and it's a really fun vibe. Another favourite is Malro which does delicious Mediterranean dishes. For a light lunch or a snack on the go, we always stop by Maison Plisson. It's a really beautiful café with a gorgeous health food shop and bakery attached. Once, when I wasn't with him, my fiancé brought me back one of their baguettes – all the way from Paris to London. It's that good. 
For a real treat you just can't beat L'Avenue. I know it's a bit of a cliché, but it has a wonderful view of the Eiffel Tower so, for a special occasion, that's always my go-to. My dad took me there on my first trip to Paris because he knew I loved fashion and that Kate Moss went there, so it will always have a special place in my heart.
For shopping, head to Le Marais. Most of the shops are open on a Sunday, and it has all the classic French brands, like BA&SH, Maje and Sandro. They also have outlet stores there if you're looking for a bargain. New York store Frankie Shop also has an outpost close by. Merci is another go-to – a cool concept store with a great café downstairs. I also love to stop by the flagship stores of my favourite French designers – Iro, Celine, Isabel Marant – and even make time for a bit of window shopping in Chanel. 
My favourite department store in the whole world is in Paris. Not only does Le Bon Marché have the best buys, but I also love the design of the store. It's so inspiring just to walk around the shop floor. Make sure you stop by the food hall too, it's impeccable.
Somewhere we always visit is the Jardin du Palais Royal. It's one of those places where it doesn't matter how many times I go, I'm always so taken with the beauty of the architecture and the sculptures – there's something so calming about the symmetry of it all. We like to just sit by the fountain and watch the world go by. 
Because I only go for two days, I always check the weather so I don't overpack. I suggest packing about two outfits for each of the days and one evening outfit. I like to dress in line with the Parisians so it's generally a neutral colour palette, a good blazer, a comfy pair of boots and a nice overcoat. You really don't need much else. 
One of my newest discoveries is a restaurant called Caterina. It's another amazing Italian spot close to Pigalle. It's really cool, serves great food, is super affordable and is something a bit different. French Trotters is another of my latest finds. It stocks a great range of independent labels, which you can't normally buy in London.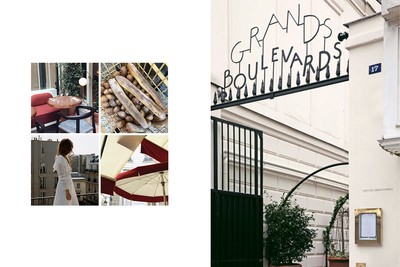 I like to travel by lime scooter. It's about €3 to get anywhere. Otherwise, I try and walk everywhere. Don't go on the metro because you miss so much. It's really easy to find your way around the city – you might even be surprised by how small it feels after a while. Walking is also the best way to stumble across the unexpected. Little cafés, bistros… it's what Paris is all about.
My favourite areas are Le Marais and St Germain. The view from Sacré-Cœur is also incredible and so worth the walk. Go at sunset for the most amazing view over the city. 
My ideal travel companion has to be my fiancé. We wander the streets, sit outside cafés and take lots of film photos. If you just want to escape London, have some great food and watch the world go by, Paris is hard to beat. 
It's hard to think of a single, treasured memory, but if I had to pick just one, perhaps it has to be the first time I saw the Eiffel Tower. It now sparkles for five minutes on the hour and it's such a beautiful sight.
Paris has a magic that's hard to put into words. But if I had to come up with just three it would probably be: romantic, inspiring and chic.
DISCLAIMER: We endeavour to always credit the correct original source of every image we use. If you think a credit may be incorrect, please contact us at info@sheerluxe.com.