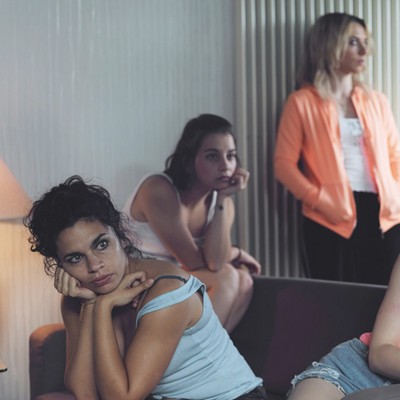 The 'Disturbing' BBC Drama Everyone's Talking About

The latest addition to the Beebs stellar lineup of original dramas, Doing Money has been one of the most talked-about TV shows in November so far. Penned by Vanity Fair's Gwyneth Hughes but a world away from her slick ITV adaptation, the 90-minute thriller tells the shocking and thought-provoking true story of one woman's experience of sex slavery in Britain – and how it can hide in plain sight…

Inspired by real events, the film – directed by Lynsey Miller (The Boy with the Top Knot) – tells the story of Ana, a twentysomething Romanian woman living in London and working as a cleaner, while she studies to be a nurse. Ana is snatched off the street in broad daylight by a gang of eastern-European sex traffickers and forced into sex slavery in Ireland, where she's repeatedly raped and abused in a succession of 'pop-up' brothels.
It's a tough watch – "disturbing", "harrowing" and "brutal" are just a few of the words used by viewers to describe it – but essential viewing. It was commissioned as part of the BBC's hard-hitting 'Why Slavery?' season, a series of groundbreaking films uncovering those living as modern slaves, launched on the UN's International Anti-Slavery Day on 18th October, and aims to help the public recognise when modern slavery could be taking place on their doorstep.
Currently, an estimated 5 million women and girls are in forced sexual exploitation around the world, according to the International Labour Organisation. And Doing Money shows just how quickly and easily it can be done. The traffickers threaten to harm Ana's family if she tries to escape, quoting her mother's name and address; she's stripped of her passport, glasses and phone; moved around the country and kept in a series of brothels, doors locked. "Nobody knows where I am," she says in a voiceover. "Not even me."
Ana's heartbreaking true story is interwoven with the police investigation. Lead by DI Dougie Grant (Downton Abbey's Allen Leech), the subplot offers powerful insights into the challenges of policing a form of modern slavery that hides in plain sight. As a viewer, the frustration is palpable – the chance of rescue seems possible, and a raid is organised, but all police find is evidence of a tenancy agreement and client lists in Ana's name. Her pimps aren't prosecuted and she's the one left with a criminal record, making her even more vulnerable. A second raid takes place and once again fails – police are unable to remove an adult woman from her situation without her consent and the abused women they meet are too terrified to give it. "I'm happy," the youngest of Ana's fellow captives tells them.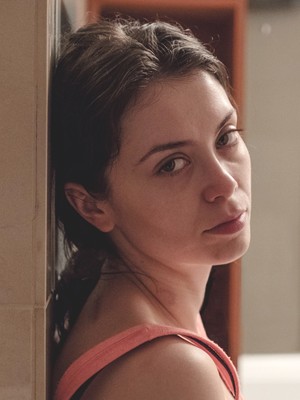 She's from my country, she was studying abroad, she had dreams, she was at the beginning of her life at only 21 years old. I feel like it could have been me.

However, the real Ana's testimony, told to politicians at Stormont, helped secure the passing of the Human Trafficking and Exploitation Act – the first new law against slavery in the UK for nearly 200 years. The police operation, as seen in Doing Money, was called Operation Burgrave and led to 13 victims from Romania, Sweden and Britain being rescued during a raid in Northern Ireland. Eventually, two of the perpetrators were arrested and sentenced to four years in prison in Sweden (but they only served two). Upon their release, they were extradited to Northern Ireland, where they pleaded guilty to charges of human trafficking, controlling prostitution and money laundering. Despite receiving another two-year sentence, they only served nine months.
Romanian actress Anca Dumitra, who plays Ana, revealed the role was a difficult one to take on as it hit close to home. "Working on this has really stayed with me. It has changed and shaped me in a way," she told the BBC. "Because Ana is a Romanian girl, she's from my country, she was studying abroad, she had dreams, she was at the beginning of her life at only 21 years old. I feel like it could have been me." It's a sentiment shared by the film's producer Alex Cooke, who said he hoped that in telling Ana's story they could "give a voice to those women who are too often invisible to the people around them".
And how invisible the women are is perhaps the most shocking part of all. One scene in particular really struck a chord with audiences: the girls – gaunt, bruised, unwashed and terrified – are in a service station, surrounded by families going about their daily business, and nobody bats an eyelid. Writer Hughes has spoken out on the moment: "I think Ana will say, 'How could people not have noticed?'. Dirty, bruised, thin, starving girls with bald patches in their hair?... Try and notice things and don't be afraid to ask questions."
Hughes also confirmed that the most depraved details in the drama are true: Ana was raped by 300 men in 13 days, half of her teeth were shattered from beatings (her dentist said he'd never seen that kind of dental damage outside of a car crash) and her glasses were taken from her when she was kidnapped, with her pimps nicknaming her 'the blind one' as she could hardly see without them. And yet, as Hughes also said, "worse things happened to Ana", however these events were omitted from Doing Money as she feared the audience would find it too upsetting and switch the film off.
And it's so vital we don't turn away from the horrific truth. "Hopefully people will use their eyes to look outside more, not only at your own job or daily life, but also at others," DumitraI said. "I hope that the show will reach people's emotions and their humanity."
If you suspect anyone to be a victim of human trafficking, you can contact the Modern Slavery Helpline 08000 121700, local police on 101, or 999 in an emergency
Doing Money is available to watch on BBC iPlayer now.
DISCLAIMER: We endeavour to always credit the correct original source of every image we use. If you think a credit may be incorrect, please contact us at info@sheerluxe.com.