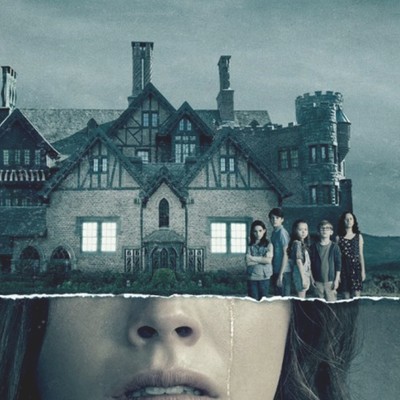 The Show You Need To Binge-Watch This Week: The Haunting Of Hill House

Twitter has been ablaze with fearful fan reviews of Netflix's latest hit horror series, a remake of the classic 50s novella, The Haunting of Hill House – but does it live up to the hype? Here's what we thought of the 2018 take on the Crain family.

What's the premise?
Based on the 1959 Shirley Jackson novel of the same name, in the summer of 1992, Hugh and Olivia Crain move into Hill House with their five children, Steven, Shirley, Theodora, and twins Luke and Eleanor, with the intention of fixing it up and selling it on for big bucks. But almost immediately, the family are plagued by evil spirits. One night after a heartbreaking loss, the family are forced to leave the house immediately and never return, but they continue to deal with the effect of living in that house for years to come. In 2018 – 26 years after the hauntings – the Crain siblings, along with their estranged father, are forced to confront the haunting memories of their time at Hill House after tragedy strikes the family once again. Flashing between past and present, they must face the demons from their old home and the terrifying events that drove them from it.

Who stars in it?
Henry Thomas (E.T., Ouija: Origin of Evil) stars as the young, sweet agreeable Hugh Crain, a professional house flipper who works alongside his wife Liv, played Carla Gugino (New Girl, Gerald's Game) with both a comforting warmth and a fearful unpredictability.
The children that are the standout stars in this production: Violet McGraw (Love, Ready Player One) as Nell; LuLu Wilson (Sharp Objects, Annabelle: Creation) as Shirley; Julian Hilliard as Luke; Paxton Singleton (The Rookie) as Steven; and McKenna Grace as Theo. Many will recognise Grace from her star turns as child prodigy Mary in Gifted alongside Chris Evans, and young Tonya in I, Tonya, but she really shines here as the black sheep of the family who shirks all physical contact.
As for the adult iterations of the children, Michiel Huisman (Game of Thrones, Orphan Black) takes on Steven, who decides to write a book about his experience at Hill House; Shirley, who runs her own funeral parlour with her husband, is played by Elizabeth Reiser (Twilight, The Family Stone); adult Theo – a child psychologist – is played by Kate Siegel (Gerald's Game, Hush); and the twins, Luke and Nell, who are both now dealing with their own demons, are taken on by Oliver Jackson-Cohen (Mr Selfridge, Dracula) and Victoria Pedretti respectively.
What are critics saying?
The reviews are in and luckily, they are largely positive. The New York Times said the series creator Mike Flanagan has made "an intelligent, engaging supernatural story in which the tension doesn't mount so much as stop and start, and occasionally sputter," while IGN praised it as both a "horror story and a compelling family drama". Vulture has some issues with the ten-episode story arch, noting it "unfolds at too plodding a pace," but gives it credit for "doing what any good ghost story does: It conjures up the unthinkable and refuses to let us look away."

Is it as scary as everyone says it is?
Compared to its 1999 predecessor The Haunting (you know, the one with Owen Wilson and Catherine Zeta- Jones), this version of events is far more fleshed out. One thing that was immediately apparent with this version is although it's billed as a horror, it's first and foremost a family drama – like This Is Us, but with a few jump scares. As adults, the family are haunted by what happened in Hill House both literally and metaphorically, and as they come together in the same space for the first time in years, they must confront ghosts of all kinds.
 
The series starts a little slow but really hits its stride about the halfway mark. The sixth episode, Two Storms, in particular uses the camera and cast to great effect, with most of the episode seemingly made up of a single camera shot, that constantly circles the family and heightens the drama. But its most clever trick is yet to come: after Hugh excuses himself to use the bathroom, he walks out of a hallway of the funeral home in 2018 and into the grandeur of Hill House in 1992. One storm to another. One reality to another. For such a fractured story, it's this seamless storytelling between the past and present that makes this series truly compelling. Once this story reaches a head in the final episode you'll be fully invested in what happens to the Crains.
 
 The Haunting of Hill House is now available to watch on Netflix. 
DISCLAIMER: We endeavour to always credit the correct original source of every image we use. If you think a credit may be incorrect, please contact us at info@sheerluxe.com.