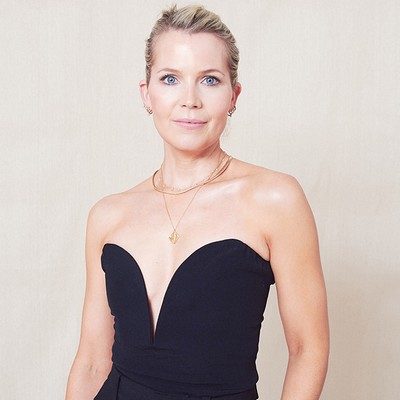 Five Outfits, One Stylish Reader

The minute we met Kate Henderson, author and former glossy mag journalist, we knew we had to get her in front of the camera. Her impeccable style makes her an inspiration to women everywhere. From leather two-pieces to Reformation bodies, these five outfits prove age is just a number when it comes to your wardrobe.

I'd describe my day-to day style as casual. I have three children, goats, chickens and cats to look after, so early in the morning I'm lugging buckets of water and animal feed, before the school run. After that, I go home to write my novel. I love checks, so you'll often find me in an oversized lumberjack shirt, a shacket from Anine Bing or a vintage plaid shirt. For events or evenings out, I like to ramp it up; if someone has taken the trouble to host a party, it's your duty as a guest to make the effort and celebrate the occasion. This is the time when I like to bust out my best pieces and give everyone in my village something to talk about.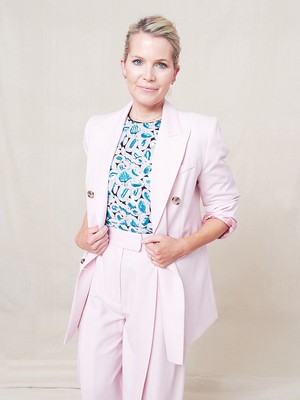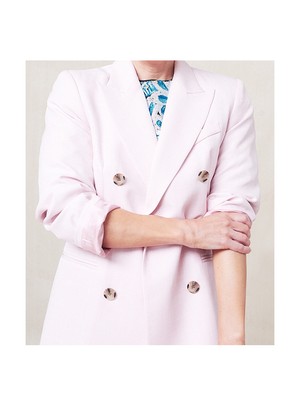 Style is a form of self-expression and I love reading so much about people from the way they dress.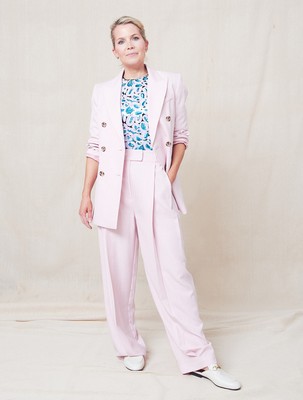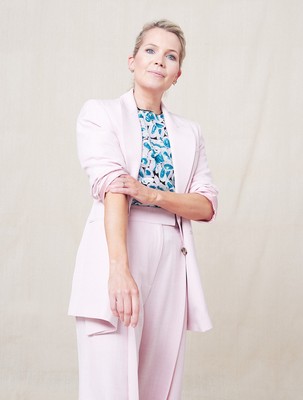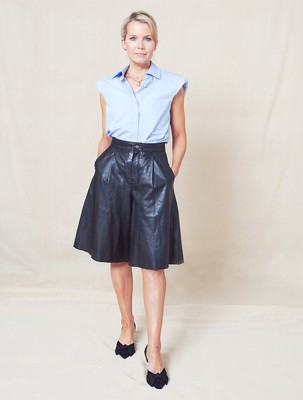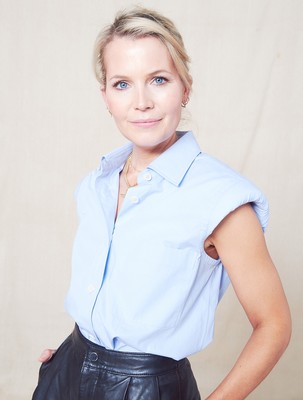 Striped Cotton-Poplin Shirt, £259 | Dries Van Noten
Pernille Pleated Faux Leather Shorts, £130 | Frankie Shop
Leather Sling Back Heels with Bow, £55.99 | Zara
  
My favourite look from the shoot would have to be the white Frankie Shop t-shirt, vintage Levi's and Manolos. This is a look I'm very comfortable in and gives me an opportunity to showcase both sides of my personality - the sporty tomboy and my more feminine side. I love the whole Americana vibe too. It takes me back to the 80s/90s when Levi 501s were worn by all the supermodels (in the iconic Herb Ritts photo) and by all the cool Hollywood boys like River Pheonix. I've also surprised myself by quite how much I am loving tailored Bermuda shorts, either in leather or other fabrics. They're surprisingly flattering, smart and non-restrictive.
 My style has evolved as I've grown older, but my true loves - denim and plaid shirts - haven't changed since I was old enough to dress myself. I love faded, soft vintage denim - I think because it reminds me of the jeans my stylish mother wore in the 70s. In fact, I still have a pair of her Wrangler flares which I love to wear in the summer with a white t shirt and dusty gladiator sandals from Valia Gabriel, a Greek designer. I'm also drawn to the oversized trend: it's both elegant and comfortable.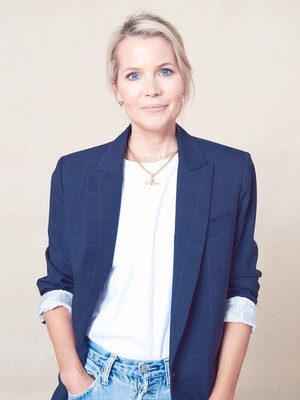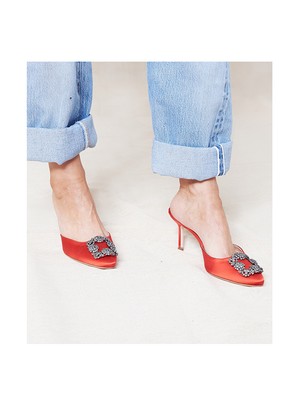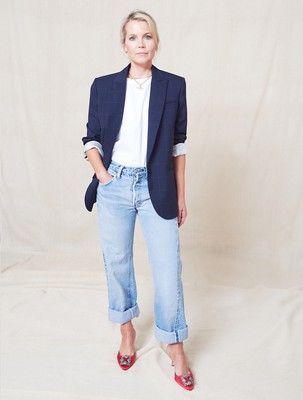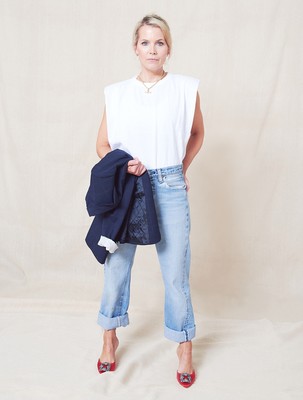 Eva Padded Shoulder Muscle T-Shirt, £58.07 | Frankie Shop
Vintage 501 Blue Denim Jeans, £40 | Levi's
Red Satin Jewel Buckle Mules, £765 | Manolo Blahnik​
Gold T-Bar Curb Link Necklace, £250 | Tilly Sveaas
I am pretty open-minded and like to try new trends, although I do mentally edit out any that aren't going to suit me. Perhaps I wouldn't have been so drawn to oversized tailoring a decade ago, when clothes were far more form fitted and jackets more cropped, but I can't see myself ever wanting to go back to a life without a really lovely, slouchy blazer.
My wardrobe staples definitely include trainers. I do a wide range of sports so I'm in them pretty frequently. I like to be able to move and love the feeling of freedom that trainers afford. I tend to go for either a retro sneaker or an under-the-radar brand, which makes my overall look feel a little fresher. I also love oversized shirts: denim, white, striped, plaid - everything. I almost prefer them un-ironed to suit my chilled vibe, and they can easily be dressed up with layered jewellery, leather trousers and a pair of heels. I wear a lot of silk in the evening. It's flattering, timeless and super elegant, without trying too hard. I especially love flowing ankle-length silk skirts with lots of movement; they are so easy to wear and can be worn dressed up or down, depending on the occasion. I especially love wearing a white or cream silk skirt with a denim shirt and a chunky necklace which, again, allows me to reflect both sides of my personality: my tomboy and my inner Grace Kelly.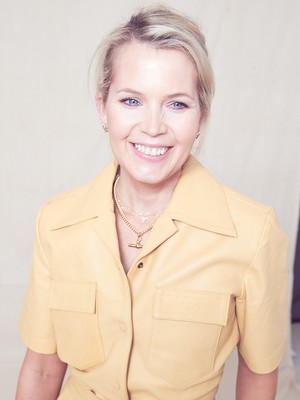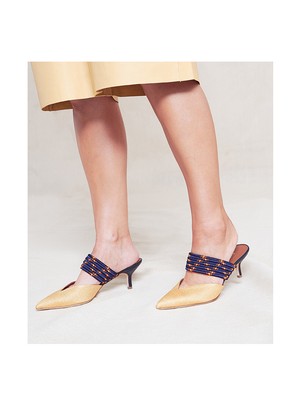 We all need clothes that are functional but also those beautiful pieces that fire up the imagination and elevate your mood.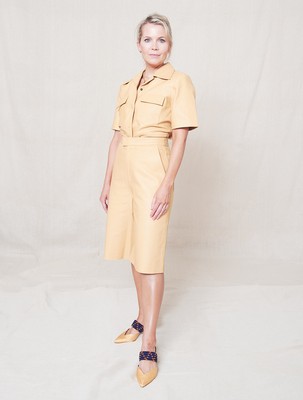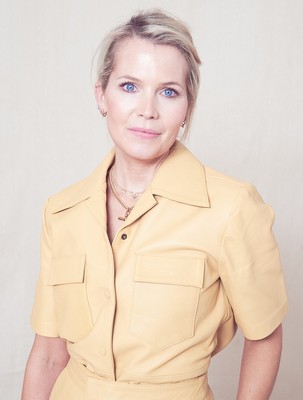 Siena Leather Shirt, £250 | Remain Birger Christensen
Manu Leather Shorts, £230 | Remain Birger Christensen
Maisie 60 Cord-Trimmed Raffia and Leather Mules, £475 | Malone Souliers
 
Preparation is key to feeling your best. I curse myself when I haven't given myself enough time to think about what I'm going to wear, especially if I'm out in the evening and end up rushing the decision. It's helpful to spend just 15 minutes earlier in the day planning what you'll be wearing at night, cutting out labels if the garment is new, figuring out which underwear will look best underneath and choosing which pieces of jewellery you'd like to put with the look.
My current favourite piece in my wardrobe is a Zadig & Voltaire navy check blazer (worn with the Frankie Shop t -shirt and Levi's in the photos). I can just throw it on and it makes me feel instantly more pulled together.
In my experience, style and age aren't mutually exclusive. My children are 14, 12 and 10, so I no longer run the risk of having my clothes bedaubed by an errant chocolate-covered hand, nor do I spend hours on my hands and knees sweeping up high-chair fallout, so I feel far more liberated. Drop any preconceived ideas you may have about how you should dress. Use Instagram for its encyclopedic styling inspiration, and shop online for items you might be too intimidated to try on in store.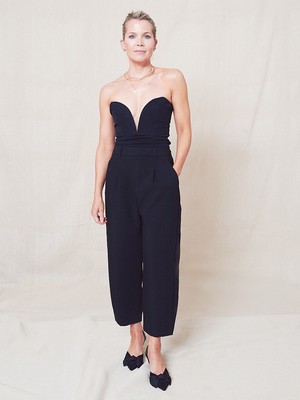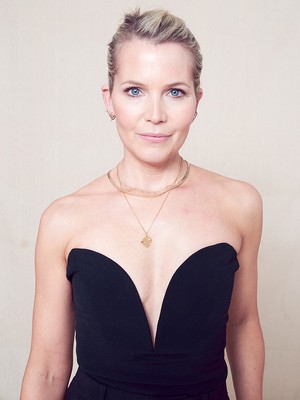 If someone has taken the trouble to host a party, it's your duty as a guest to make the effort and celebrate the occasion.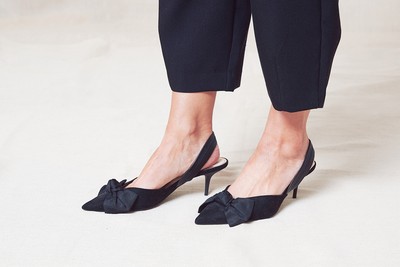 DISCLAIMER: We endeavour to always credit the correct original source of every image we use. If you think a credit may be incorrect, please contact us at info@sheerluxe.com.