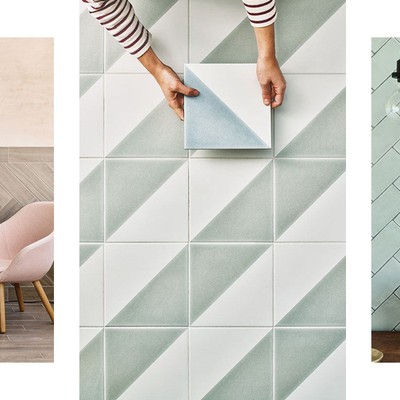 8 Ways To Incorporate Tiles Into Your Home

Tiles haven't made us this weak at the knees for quite some time. Enter, Claybrook, a tile haven with the emphasis on choice, design and quality. Already a SL favourite for stylish home renovations,we spoke to Co-Founder & Creative Director Robert Whitaker to find out more...

How did Claybrook come about?
A group of us worked together previously at an interiors brand and felt there was a gap in the market for beautiful tiles and wood flooring in interesting designs, without busting the budgets. Over the years, we have compiled an address book to die for, working with factories and artisans worldwide, so we feel confident sourcing and designing product that's perfect for today's homes. We also have a contract division working to supply designers and architects, which is also proving extremely successful.
 
What are the basic rules if you're thinking about tiling your home?
Tiles can be used either to be the focus and attract the eye or alternatively as a backdrop in a more unobtrusive way. It's best to think how everything will fit together and layer the patterns and textures accordingly. Tiles are often used to be a practical and water-resistant covering for walls and floors so check the ones you have your eye on are fit for purpose. If you have an installer, check he is happy and confident to install your chosen tile before you buy them. Costs for install vary depending on the size of tiles, e.g. small glazed wall tiles take longer than larger format porcelain tiles, so check the costs when budgeting.
 
Do tiles work in both modern and period properties?
Absolutely. Period homes almost always used tiles downstairs in halls, kitchens and high traffic areas leading from outside, such as boot rooms or sculleries. Even in sittings rooms, before fitted carpets became the norm, tiles were used alongside rugs for flooring. In modern homes tiles are still used in this way for kitchens and bathrooms due to their hard-wearing properties, although the choice in the 21st century is more varied and interesting, not to mention colourful.
What is the difference between floor and wall tiles?
Floors inevitably get a little more wear and tear and must be able to cope with the weight of people and objects coming and going so a little consideration should be given to this. Also bear in mind the floor may be out of action for a few days whilst tiling, and family life may need rejigging around this. Many tiles that work for floor are also suitable for wall. If using some of the heavier floors like cement tile for walls, speak to the installer to ensure the wall can take the combined weight. Some glazed tiles and mosaics are only suitable for walls due to their nature, but others can be used for wall and floor. It's best to check with the seller.
 
Can you mix shapes, colours and patterns?
Tiles vary enormously by design and can be utilised very much like you would layer clothes in an outfit. The little black dress paired with chunky jewellery and killer heels might translate in a bathroom. For example, a grey porcelain floor that replicates cement could be used alongside a jewel-like glazed wall tile and darker toned painted walls creating a sultry space. Likewise, cork wedges and a cotton summer dress paired with a tropical wide brimmed hat translates as terracotta flooring combines with crisp white wall tiles, and a few succulents and ferns placed around and about.
What are your thoughts on coloured grout?
The use of grouts other than grey, limestone and white is a modern twist and one many people love using to easily update the look of an interior. Only yesterday I saw white subway tiles in a brick bond off-set pattern with blue grout that gave a luxe modern feel. If clients want to see the type of looks this can achieve, Pinterest is a great source of imagery.
 
What's the best way of incorporating tiles into your home on a budget?
Patterned porcelain is a really effective way to bring colour and style to a scheme without breaking the bank. We have tiles at £39 a metre which look great and add vibrant decoration to walls and floors for a distinctive feel. Many of our glazed wall tiles are wholly usable and can be used effectively without compromising on style. Our metro deco wall tiles are almost half the price of our competitors, but with all the class and colours our clients demand.
 
The trend for pastel tiles is big news, what are your tips for keeping this look timeless?
We firmly feel that blush pink has been the new beige over the last few years and will continue as a pastel alternative to creamier shades of the past. We expect blush hues will give way to more apricot, honey and coral tones through 2019. Bathrooms only became the norm in most homes post 1910, and often not until the 30s and 40s, so were perfectly timed to use the soft jade greens and rose pinks popular at the time. This look has lived on and so never really dates, albeit used now with a more boho twist than our grandmothers tried. Probably best to avoid it becoming too mid 80's in multiple candy tones, so stick to one or two shades in pastel and pair with white or midnight blue for a modern twist.
Do you have any tips for styling tiles in an unconventional way?
Paler tile colours are easier to accessorise and keep looking fresh by changing the surrounding paint colours or furniture so if you are planning to be staying in the property for a length of time opt for neutral tiles and go crazier with paint, curtains and furniture; these will have a lesser shelf life anyway in terms of wear and tear. Don't just use items you feel are 'normal' for the space. Adding shells around a bath is pretty but fairly obvious but framed old family photos or oil portraits on the wall or even vintage childhood toys on a window sill, still feels personal yet more quirky and unexpected.
Visit ClaybrookStudio.co.uk
 
DISCLAIMER: We endeavour to always credit the correct original source of every image we use. If you think a credit may be incorrect, please contact us at info@sheerluxe.com.