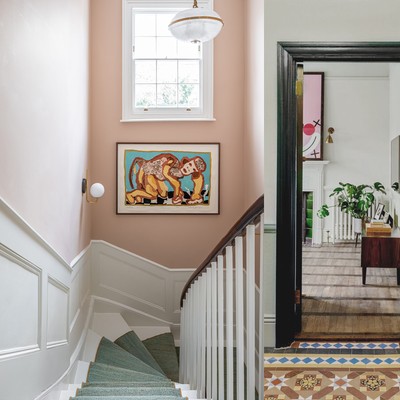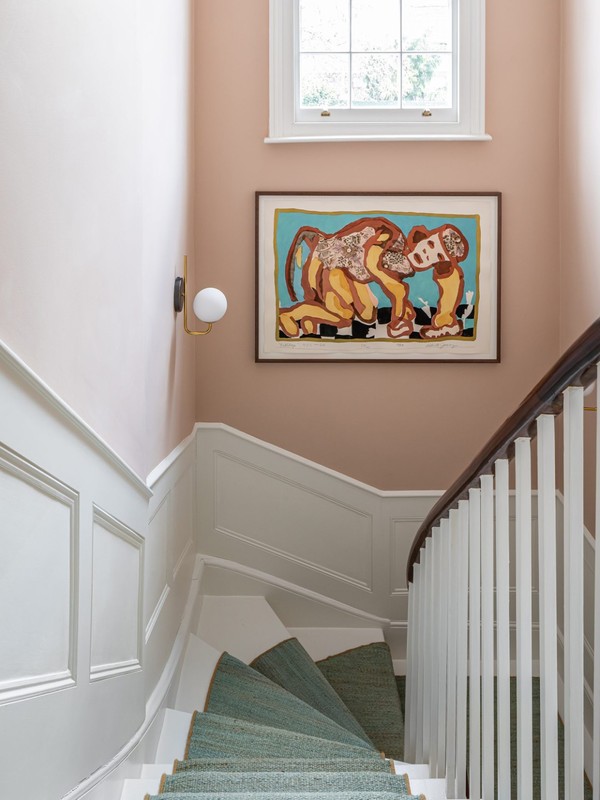 Everything You Need To Know About Stair Runners

A runner is a great way to give your staircase an overhaul. But there are a few things worth bearing in mind – whether you want to make a bold statement with a colourful pattern or embrace a natural look with a texture. We asked the experts to fill us in…

By Georgina Blaskey
What is a stair runner?
"A stair runner is a textile floor covering fitted to the stairs. It does not cover the width of the stairs – it usually sits 10-15 cm away from the edges, in the centre. If the textile floor covering covers the whole width of the stair, that's a fully fitted stair carpet." – Lorna Haigh, creative director of Alternative Flooring
When should you use one?
"If you want to make a statement with your staircase, a stair runner offers an elegant and simple solution. As a narrower width of carpet fitted to the middle of your stairs, it also leaves some of the woodwork on each side exposed, so you can paint the tread or leave it natural – offering a totally customisable look." – Julian Downes, MD of Fibre Flooring
What material should you use?
"The textile material should be relatively hard-wearing because stairs are a high- traffic area. Nor should they be slippy – some textiles wear over time and become more slippery, especially when other textiles come into contact with them, i.e. socks or tights. Avoid a deep or loopy pile, too. Deep pile carpets can grin (when you can see the backing of the carpet between the adjoining tuft rows) on the nose of the stairs which does not look attractive; large loop pile carpets can also grin and pointed heels can get caught. Wool is a wonderful fibre: natural, renewable and easily cleaned, it retains its shape and bounce. An insulator and naturally flame retardant, it's a super textile for floors 
"For stairs and hallways that get lots of traffic, a more tightly woven wool, such as a bouclé or Berber is preferable because it can be cleaned easily. Alternatively, go for a patterned carpet or a carpet with a fleck in it to hide a multitude of sins. Sisal is the most popular natural fibre option for medium domestic carpets because it's so versatile. Super hardwearing, it is available in an array of weaves and natural shades. As sisal is expertly woven in different strand shades, its often has a darker fleck in the carpet. Dark flecks also hide tracked dirt in hallways and on stairs, so it's ideal in high-traffic areas. Sisal herringbone is a popular choice for stair runners, as its linear design makes the space appear larger to the eye." – Lorna
Should it always have a trim or border?
"If your stair runner is being cut down from broadloom or full-width carpet, you have to edge the carpet – otherwise it will fray. This can be done with a trim or border or whipping yarn." – Lorna 
How can you use a runner to make a statement?
"Stair runners offer endless opportunities to introduce bold splashes of colours, stripes and geometric designs – or a combination of these. A runner looks nice when you are happy to see the edges of the stairs, and the treads and risers are in good condition, but I wouldn't put a runner on very narrow stairs as it will shrink them further." – interior designer Anna Hewitson
"Runners should not be defined as purely protective – they are also decorative in their own right and can add the perfect welcoming touch to any hall or stairway. Colour and pattern are a great way of adding vibrancy to a scheme, but stay away from light or plain colours which can be much less forgiving with stains." – interior designer Emma Stevenson
"Think about how the stairs and landing flow into the rest of the property. A brightly coloured runner will add texture and pattern to an entrance, and will carry the colour all the way through the house. Stripe runners are especially versatile, and often work well with decorative and geometric tiles and patterned or floral wallpaper. Stairs are the transient space between rooms and a runner can be used to link interior themes throughout the house with the same colours picked out in the décor and accessories." – Andy Guard, creative director of Roger Oates Design
What if the stairs are winding?
"A runner can work well on a winding staircase. A good flatweave runner has a woven structure with a natural selvedge edge, and can be fitted to almost any kind of staircase with any number of winders. You should also consider how you are going to treat the landings: do you want the runner to go along the landing or finish at the top of the stairs? If you have quarter or half landings, the runner can be fitted with mitres or overlays" – Andy
"Winding stairs require a skilled fitter and occasionally – depending on the angle of the step – we would advise certain designs over others because they flow better round tricky winders." – Sophie Cooney, founder of Sophie Cooney Runners
Is there a fixed width it should be?
"We recommend a minimum margin of 5cm either side of the runner and the edge of your staircase. Our flatweave is woven in three standard widths – approximately 60cm, 70cm and 85cm. Several of the designs are woven in more than one width and designs can also be customised in extra wide or narrow widths on request. When fitting a narrow width runner, there is no material wastage and the natural woven selvedge edge requires zero additional finishing." – Andy
How should you treat the woodwork?
"One option is to paint it – just give careful consideration to the colour of the paint you use on the exposed woodwork. You can add drama and contrast to neutral-coloured schemes or use complementary colours to enrich the stair runner." – Julian
"The stairs and the surrounding skirting boards should be painted or varnished before the runner is fitted and always with a wider margin than the runner size. The installation of the stair runner should always be the last part of a renovation project." – Andy
"Sometimes the steps will have to be repainted before fitting a runner, especially in older period properties. In this case, a contrasting colour against the edge of the runner can work beautifully." – Sophie 
What about using stair rods?
"Stair rods are such a great look. Available in different finishes, these rods accessorise the stairs , as well as having a practical role." – Lorna
"In my view, they can sometimes be a more traditional choice. Our runners are more contemporary and stair rods don't really add much in terms of design. Having said that, it's a very personal choice." – Sophie
How do you ensure it isn't slippery?
"Stair runners made in 100% wool with a woven texture shouldn't be slippery. Flatweave is a specialised material and fitting it is rather like upholstering the stairs so it's important you employ someone who is experienced in fitting them. A good fitter will deliver a high-quality installation, which will ensure the runner performs better over its lifetime. A runner should always be fitted with good-quality underlay, which will soften the sounds of feet running up and down the stairs." – Andy
Anything else worth thinking about?
"The ends of the runners. Discuss with your carpet company how you would like the ends finished at the bottom and top of the stairs. Sometimes a runner will finish just under the first riser; sometimes it goes over the top and the textile floor covering is continued onto the landing." – Lorna
"I would say the average life of a runner is approximately ten years in high traffic areas, so keep that in mind to avoid nasty financial surprises." – Emma
"Remember that what goes underneath is important, too. If the sub-floor is in poor condition, this can affect how the flooring will look and wear. Always ask for advice from a reputable fitter if you're unsure." – Lorna
DISCLAIMER: We endeavour to always credit the correct original source of every image we use. If you think a credit may be incorrect, please contact us at info@sheerluxe.com.