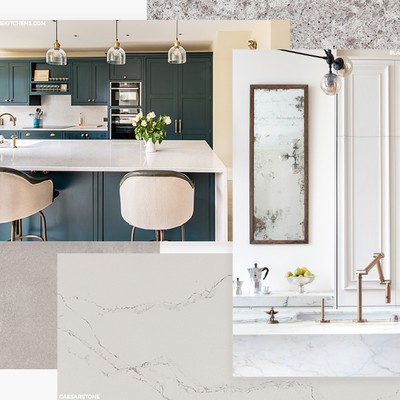 How To Choose A Kitchen Worktop

A worktop can make or break your bank balance, as well as shape and form your entire kitchen. The debate often comes down to natural marble versus man-made quartz, so we thought it best to consult the experts. Whether you're in the market for a complete overhaul or just an update to your kitchen worktops, here's what you need to know...

The hardest working surface in any kitchen is the worktop. And while it needs to be resilient and hardwearing – it's regularly exposed to heat, sharp utensils and chemical cleaning products - it should be stylish, too. And for those embarking on a design project, starting with the worktop can be the ideal launch point, usually because it makes up a sizable amount of the budget.
But with the most popular options being natural marble or manmade quartz, it can be difficult to know where to spend your money. Just remember that installation rarely makes a difference - there's a fixed cost with both – and it's the fabricating and mitre (the routed joint between two pieces of worktop) that can really set you back. 
For those embarking on a design project, starting with the worktop can be the ideal launch point.
The Case For Marble
Natural products are incredibly popular, and a huge slab of delicately veined marble is a real kitchen showstopper. Combining luxury with nature, softness with form, pattern with stillness, there's myriad reasons why it's top of many people's wishlists. "Marble is softer but it looks better, feels better and is especially good for baking on," says Jamie Blake, founder of bespoke kitchen company Blakes London. "You also see different colours in certain places and in different lights, which makes it a more interesting surface." Tim Higham of Higham Furniture agrees: "It's richer and it's undeniably pleasing to have something so natural and real."
While marble does have a tendencey to mark, it's worth bearing in the mind that some varieties are softer than others, so choose wisely. "Over time, marble is very likely to change and become softer and more porous," explains Tim. "It will stain, chip and scratch. While this is seen as a major drawback, it can be viewed as part of its age and story – a wine spill can get lost or polished away, but it's also how it gets its patina." The majority of Jamie's clients opt for marble – and never look back. "After time you won't notice the marks, it actually wears quite well. Second-time clients always come back and choose marble again, without question."
But many people still worry about the cost of marble, assuming it will be far higher than other materials. "It can actually be more cost effective. Carrera is easily sourced and there's lots of it," says Jamie. "Other types are more expensive but some man-made products can be equally expensive." Tim concurs: "Some marbles, such as Carrera, can be cheaper as it's plentiful in supply. Put simply, the rarer the marble, the more expensive it is. It's worth remembering there's a variation on price with quartz too."
The Case For Quartz
While the pull to marble is undeniably strong, many of us still struggle with the practical side. "Most of our clients prefer quartz because it's more practical," explains Elly Simmons of Herringbone Kitchens. "No one can deny marble's beauty, and we always talk through the properties of both, but our clients often have families and use their kitchens daily. Most of the time they opt for quartz because it's more stain resistant and hard-wearing." Tim says around a quarter of his clients choose marble and the rest choose quartz. "If you have a young family and you don't want the hassle or worry then it's a good option."
Quartz also offers a versatility, which its natural equivalent doesn't. "Most companies try to make their product as close to a marble effect as possible," says Elly. "Some are doing a pretty good job, too. You can have pieces book-matched to maintain the vein and often the slabs come slightly larger in quartz than they would in actual marble. It means you can have a larger island without worrying about a join."
When it comes to the practical side, most quartz companies offer a 10-year guarantee, too. "While marble is beautiful and we love to look at it, it's very high maintenance and requires a lot of love and attention. Most quartz companies offer at least a 10-year guarantee on staining," says Elly. "We often use Silestone Calacatta Gold or Caesarstone Statuario Nuvo. Both options mimic marble very well - but without the necessary maintenance."
Some Final Thoughts…
If you're prepared to manage the upkeep, you'll certainly enjoy marble's natural, beautiful and always intriguing surface. But if low-maintenance and consistency are your preference, you may be better suited to quartz. The good news is there may be a compromise. "Combinations are popular," Jamie says. "In the most-used areas, such as around the sink or where food prep is done, clients may choose a man-made surface, but then have a marble splash back".