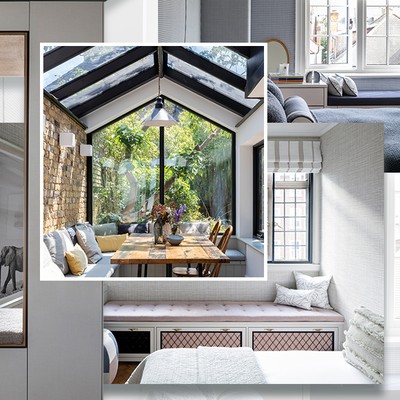 How To Create A Window Seat

Whether it's to frame a beautiful view or for a more practical purpose like making the most of dead space or adding extra storage, a window seat can be a great addition to your home. It's also more cost effective than a sofa. Here's what you need to think about...

Note The Architecture
"The design of a window seat will be dictated by the architecture of the window itself, so in the same way you would when you're thinking about curtain or blind treatment, consider this when thinking about any sort of window seat design," says interior designer Katharine Paravicini. A linear, spherical, or ultra-wide window frame will dictate your window seat design because the seat will follow the shape. As Beth Dadswell of Imperfect Interiors notes: "You can design the window seat to work with whatever space you have available, although I like to try to tuck them into cosy corners so that they feel enclosed." Modern window seats can also create a private space in a contemporary design, and can help blur the line between the home and outside. As Thea Ingram of Stanza Interior Design explains: "This is particularly cosy at night when it's dark outside. It's like you're sitting in a lit garden, but in fact you're holed up inside."
Use Joinery Wisely
"You can build joinery around a window to create space for a window seat where it doesn't already exist, and this can also be a clever way of providing storage and shelving while making a window into something a bit more special," says Katharine. Use this opportunity to create additional storage underneath the bench, ideal for children's toys, books or additional cushions and throws. You could also install soft-close, streamlined doors or make a feature of traditional hinges, too.
Consider The Height And Depth
For the seat to be comfortable, the proportions need to be right. First, work out the seat's function. Beth explains: "The ideal height for a window seat really depends on whether it is being used with a dining table, and how tall its occupants are – 45cm above floor level usually works well with a dining table, and as long as your window isn't lower than that, it should be fine. If you can factor a seat back into the design, it will be more comfortable. Try to make it a minimum of 50cm deep so that you have space for cushions, and always allow at least 3cm for a seat pad on top. Otherwise they can be really uncomfortable." Tongue and groove panelling also adds interest to the back of window seats and breaks up large expanses of paint, while adding character and detail. If you can, angle the seat back slightly so it is more comfortable – just ensure the window sill doesn't overhang to avoid it sticking into your back.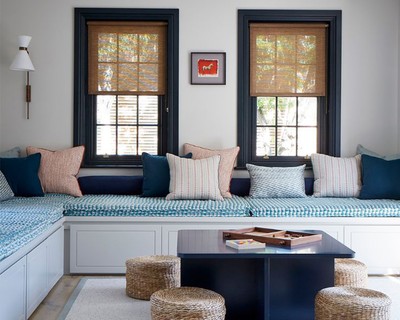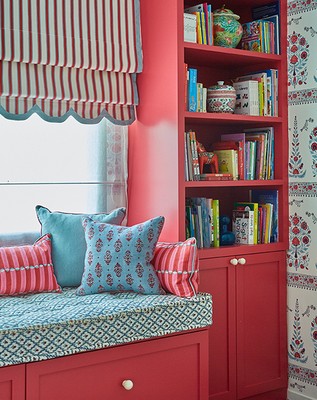 Make It Comfortable
There's no point designing a window seat that's uncomfortable. "Foam seat cushions are cheaper than feather, but tend to look flatter and less plump, so it really depends on budget and how long you think you will be sitting on them," says Beth. A good upholsterer should be able to make a made-to-measure window seat cushion. "Get a seat cushion made with an 8-10cm border so that it looks nice and generous, and soften the look with scatter cushions, which also makes the window seat more comfortable," adds Katharine. "Make it an opportunity to use lots of colour and pattern."
Don't Forget The Radiators
If you have a radiator under your window, don't panic. "Having a low radiator positioned underneath the window isn't necessarily a problem, as long as you leave the front of the bench seating open so that the air can circulate. It definitely makes the seat cosier," says Beth. A recent bay window design by Thea used grills to allow heat from the radiator to circulate: "With the radiator the side windows are important. This is what you can sit up against with cushions while the heat escapes from the central section."
For more information, visit KatherineParavinci.co.uk, ImperfectInteriors.co.uk or Stanza-ID.com.
DISCLAIMER: We endeavour to always credit the correct original source of every image we use. If you think a credit may be incorrect, please contact us at info@sheerluxe.com.