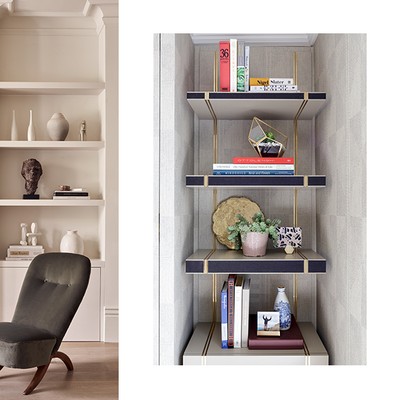 How To Maximise An Alcove Space

Thinking about how to use an alcove space opens up any number of new storage and design ideas. From creating a compact at-home office to an indulgent dressing table or even a cocktail bar, we asked the experts how to turn these hidden spaces into beautiful features in their own right…

Identify The Purpose 
The first step is to assess the room and work out where and what you want to use the alcove space for. For example, in period properties, it's common to find alcoves either side of a chimney breast. As for a good joiner, it's worth asking around and even checking with kitchen designers whether they offer a similar service on the side. Most experienced joiners have a portfolio to share and will usually provide detailed drawings on request - it could be a useful way of thinking beyond conventional design ideas. 
Combine Traditional & Modern
Although traditional designs, like cupboards flush to the floor with built-in shelving, remain popular, it's important to ensure as many modern design elements are taken into account as possible. It's also crucial to ensure the style is sympathetic to the rest of the room, while also providing interest. For instance, include access for plugs so cables can remain hidden, and go full height with shelving. Consider how much your design will protrude into the room, too, as an attempt to maximise space could end up having the opposite effect.
Add Glamour With A Cocktail Bar
Elevate cocktail hour with a built-in bar. "It is a great use of space as bars don't need to be deep and you can have clever integrated pull-out work surfaces," say Irene Gutner, founder of interior design firm Gunter & Co. It's a bespoke addition which also provides useful storage for glasses, bottles and accessories. Meanwhile, Thea Ingram, founder of Stanza, recommends using antique mottled mirror on the wall behind, reminiscent of Art Deco design and hotel bars, alongside glass shelves and brass fittings.
Make Wardrobe Doors Interesting
"When using the alcoves for wardrobes, you need to ensure the room is big enough for them to protrude into the room. You need a minimum of 58cm depth to hang coat hangers," says Irene. "If space is tight, it's still a great way of adding shelving or drawer storage for clothes." Finally, with so many options available - from mirrored doors to rattan panels - be sure to think beyond wood and enhance the room with the finish, rather than simply matching to the wall paint to disguise them.
Indulge Yourself With A Dressing Table
There's something really special about having a dressing table designed just for you. "Think about curving the edges so you don't hurt yourself by bumping into it," Irene suggests. "The space above the dressing table also lends itself to a fitted mirror with some nice wall lights." "It's nice to include a shallow drawer under a dressing table for all your everyday make up or jewellery items," advises interior designer Melanie Williams. Just don't make it too deep or there won't be room to tuck a chair in underneath.
Create A Compact Work Space
"It's so important to get desk heights and leg room right so they work practically and ergonomically," says Melanie. The same rule of curving the edges applies, and think about adding practical shelving or even some shallow cabinets for filing. It's also worth including a pull-out section to increase the useable 'desk top' space,- so notes or laptops can be hidden away when not in use. "Inlaying a contrasting finish to the desktop is a nice way to add detail and elevate the design," suggests Melanie. And don't forget what's behind: "It's a good idea to put a hard wall finish below the desk to prevent walls getting scuffed," adds Irene.
Finally, Don't Forget The Lighting
Integrated LED lighting on shelves and below a desk can bring an alcove scheme to life. Illuminate a carefully curated selection of objects for a luxe look that's both practical and elegant.
For more information visit MelanieWilliams.co.uk, StanzaI-D.com & Gunter&Co.com
DISCLAIMER: We endeavour to always credit the correct original source of every image we use. If you think a credit may be incorrect, please contact us at info@sheerluxe.com.