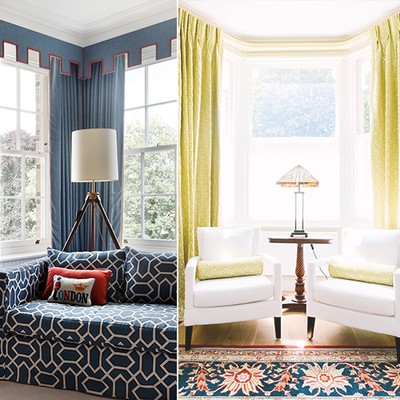 Raising The Curtain: How To Pick The Right Type For Your Home

As glass window panes became the norm in the 15th century, curtains moved from purely functional to an elaborate sign of social status. Here, SL contributor, interiors specialist Jenny Branson, reveals why these ornate styles are making an unexpected but welcome comeback, with designers embracing maximalism in the modern homes of today. Curtains can certainly make a room, but with the huge choice of styles, colours and fabrics available, it's easy to feel overwhelmed. Here's how to pick the perfect pair for your space…

The Fabric
The type of fabric you choose will affect how well your curtains function. If they're too heavy, they may not fold crisply when drawn; too light and they won't fall well. Heavier weight fabrics are useful for blocking light and keeping out the cold, but it is still advised to interline all fabrics to help with insulation, fullness and to prolong the life of the curtain. If your room gets a lot of light, avoid bright colours as they tend to fade faster in the sun's glare.
Lucy Henderson, Head Designer at MyBespokeRoom.com explains their approach to advising clients when choosing fabrics: "We encourage them to be a little bit braver with colour and pattern to ensure that even the most traditional designs stand out from the crowd." You can also customise your curtains with borders in a contrasting fabric colour, pattern or trim.
The Hang 
Different curtains require different hanging needs. Poles are ever popular and available in a huge choice of widths and finishes, but for a more modern look, opt for a fabric-covered corded metal track, known as a 'lath and fascia'. This significantly reduces the amount of light that comes through the surround, which is very useful in children's bedrooms and on bay windows. Cover both lath and fascia in the same fabric as the curtains to create a neat finish. The cord can be operated from either side but for big windows, each curtain should be corded separately.
Deciding how high to hang your curtains will also alter their effect. Designers often hang six or more inches above the window frame to give a sense of height to the room and make the windows look larger. Hang to floor level for a more modern, crisp look – or for a softer look, add two or three inches to the length to allow the curtains to 'puddle' on the floor.
A 'wave' curtain hangs directly below a ceiling-mounted track in a neat and uniform style, while Italian strung curtains are fixed in position at the top and then drawn up and down using a cord. The look is quite traditional and pretty – ideal for a nursery or little girl's room.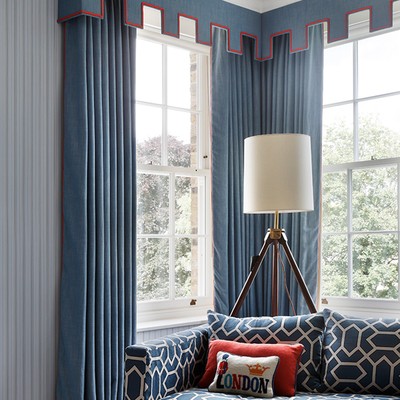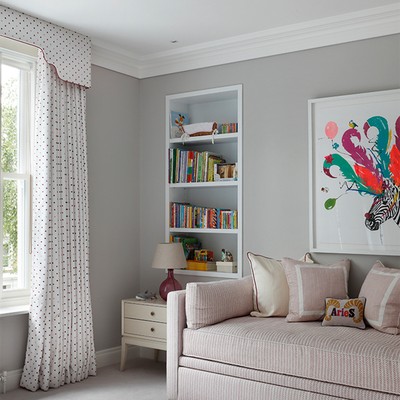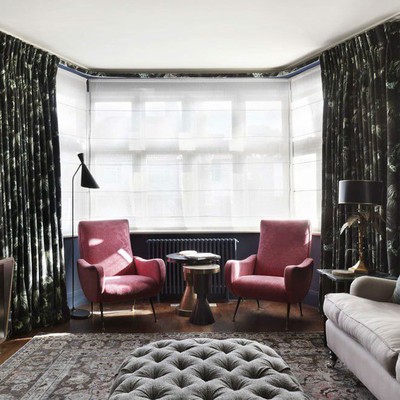 The Pleats
Pencil pleats are the most traditional heading and will work with all types of track and pole, while pinch pleats essentially gather pencil pleats into groups of two or more for a more decorative heading. This will work with most types of fabric but bear in mind that the more pleats, the more fabric is needed, so the cost of the finished curtains will increase.
 
Box pleated curtains give a very tailored look and drape into deep folds down the full length of the curtains. Tailored pleated curtains have the pinch at the very top of the fabric, while 'goblet' pleats are formed to resemble a wine glass. To keep the goblet pleats looking full and rounded they will need to be shaped with interlining.

The Extras
To add to the neatness of your curtains, try a pelmet: a decorative board fixed above a window to cover up the curtain rod or fixtures. Interior designer Emma Pocock from Turner Pocock is an advocate of using this technique: "We often use pleated valances, shape pelmets and tie backs in children's rooms to make them feel cosy in contemporary houses. In some ways, a sense of tradition seems to comfort parents – a touch of nostalgia perhaps."
Where rooms are not especially high, it looks particularly good if the pelmet goes right up to the ceiling. A soft, gathered pelmet combined with luxuriously thick curtains are perfect for a country bedroom. Alternatively, a valance looks similar to a pelmet, but is made entirely of fabric for a softer look. A lambrequin is a type of pelmet but with longer sides, which works well where you want shape, movement and an added touch of drama.
 
Opting for bespoke window treatments is obviously the more expensive choice, and the more you add to it the pricier it gets. But just think about it this way: how good you would look and feel in a bespoke, made-to-measure outfit that no one else has? Why not give your home the same treatment.
For mroe interiors advice and inspiration, follow Jenny on Instagram and visit JennyBranson.com