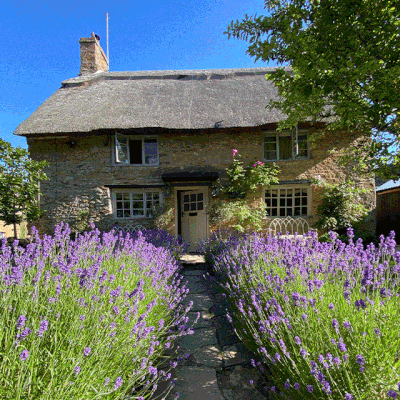 An Interior Designer Shows Us Her Dream Cottage

When interior designer Bee Osborn first left London with her teenage daughter in favour of the Cotswolds, she didn't plan on making the move permanent. But with her two other grown-up daughters quickly joining her (a response to the pandemic) the family soon settled into a new life at their idyllic country cottage. Choosing to undertake some extensive, albeit thoughtful, renovations, Bee set about creating a warm and stylish home brimming with texture, natural materials and practical space-saving solutions. Here she tells and shows us more…

The Property
The cottage had been in the same family for years, but it was tired and needed updating. I had been looking for a rental in the area, but was appalled at how high the fees were. Totally demoralised, I stumbled across this place and a 'for sale' sign, although you could hardly see it from the road. I rang the bell and the owners let me in. There were three bedrooms upstairs, two rooms downstairs and a tiny kitchen at the back – that was it. But by the time I got upstairs, I knew I was going to buy it. I was born in a cottage very like this one, and it felt like coming home. I exchanged and completed in three weeks, and in August 2017, we moved in – along with the builders! Four of them lived downstairs and got to work gutting and rewiring the entire the property. 
The Kitchen
The original cottage had a tiny kitchen – I have three daughters (two are adults who moved in with me during the pandemic) – so it wasn't going to accommodate all of us. But it also had a barn, accessible via the garden. It was set down into the ground, but had a great height to it. I investigated levelling it out but decided to keep it as it was – in the end we've found it actually works nicely. 
I wanted to keep the natural materials of the original walls, so we had to carefully build the foundations. In keeping with the original design, the roof is an old kitchen floor from a reclamation yard (the one that was there had asbestos), and there's an original Crittall window over the cooker. I took that out carefully and had it stripped down – its design forms the doors and that's why they work so well, because they're in keeping with the original style.
The flooring is called Barnwood Floor – it's one we design and sell at Osborn Interiors. It comes in four finishes – this is 'white'. I found a local joiner to make the kitchen cabinets because I wanted a natural raw wood finish – one that had been through a bandsaw. It's a lovely effect, because it makes the wood look like it has movement. We went through several attempts to get it right. The joy is that while it looks rustic, it's actually beautifully constructed, inside and out. Even the open shelves have ridges on the sides and bottom, but are smooth on top so they're easy to clean – everything is so considered. You can achieve a similar effect by using Osborn or RG Bespoke.
I really splashed out on the pendants over the island; they're from Pinch and I love their smart, rustic style. They're handmade and sustainable – and were most definitely my biggest expense!
Just beyond the kitchen there's a little TV snug with an L-shaped seating area. I had some planks left over from a new outdoor fence, so I nailed them onto the MDF carcass and painted them. There are built-in USB plugs, too, as everyone always seems to need them. As there are no springs here, the pads are made using solid feather and are very comfortable. The TV is mirrored from Picture Frame TV  and I painted the frame when it arrived to make it look more rustic. 
The Dining Room
Over the table is a huge pendant I had made by Hadeda. It's 1.2m in diameter on a solid frame – we could barely get it through the door! It makes a fantastic centrepiece, and it's part of a nine-circuit lighting scheme in this part of the cottage. I like lots of subtle, small pools of light. 
I've collected baskets for years, and the mirrors on the walls are also a result of that habit. The table is the main talking point, though. It was made with resin and 10-year-old oak in a specialist workshop. In fact, it took four months to pour 34 litres of resin onto the stripped and sanded wood. It's so practical, as well as beautiful – everyone strokes it when they visit, and I've had so many requests to make them that I'm now working with the same craftsmen so people can order one through us. 
The Blue Room
When I was renting an office nearby, one of the walls was an inky off-black with a white sofa against it. I loved the contrast. When we moved to a new office, I really missed it, so I used it here. It's called Sea Henge by Fenwick & Tillbrook, but the only way a colour like this works is with some contrasting furniture in front of it. So, I had a sofabed made, although we had to time its arrival with a new window so we could get it in – now it's never leaving this room! 
I wanted French windows in this room, but was refused planning permission. Thankfully, I was allowed to enlarge it – it's actually quite a big window for a small cottage. 
All the curtain fabrics used throughout the cottage are 100% linen, and the blinds are false blinds. When I first moved in, I wanted dress blinds to frame the windows but during the first winter, I realised I needed thick curtains as well – I love natural materials, which explains why there's lots of leather, linen and wicker throughout. The cushions are a Tissue d'Helene fabric I'd used in another project, and I painted all the mirror frames to match in Paint & Paper Library Stone V.

The Living Room
Each room in the house has its own purpose, which means we use them all for different reasons – hence why I kept the original fireplace in here. All the hampers and baskets are filled and serve as side tables, too – we plan to stock these, as I'm always asked about them. The lamps are from Loaf and the paint colour is actually made up from a variety paints I had lying around – the closest you'll find is probably Paint & Paper Library Stone V again.
Finally, I like to source my artwork from a number of places, including antique markets such as Station Mill Antiques in Chipping Norton and C'est Tout Interiors.
The Master Suite
This was a small room with a fireplace and stained glass window, which forced the bed to sit next to the door, with zero space for bedside tables. So, I took out the fireplace and window, turned the bed around to allow for more space and then created a small en-suite bathroom. It was important the bedroom linked with everything downstairs, so I had the ceilings and walls clad in wood from the reclamation centre again. There are also hidden cupboards everywhere. The bath is actually second-hand from eBay, and the loo is thunder-boxed so you can't see it. The lights either side of the bath were another expensive purchase – they are from Porta Romana – and the wardrobe handles are from Anthropologie. The leather handles in the bathroom are from House of Erjou. 
In all the bedrooms, we went for 100% linen sheets – when we lived in London, our sheets were cotton and perfectly ironed, but when I bought this place, we wanted to embrace the more relaxed look. The bedside tables are from Loaf and the headboard (which had to be cut in two to get it up the stairs) is covered in Romo fabric.
The Pod
This was made by Sandman Homes and measures 3m x 5m. It's made of reclaimed wood inside and out, and has a wildflower roof, too. There's an electric wood burner and the huge LOVE sign was bought in Banbury a while ago. Again, all the baskets are just ones we've collected over the years.
 
To see more of Bee's work, follow @OsbornInteriors or visit OsbornInteriors.com
DISCLAIMER: We endeavour to always credit the correct original source of every image we use. If you think a credit may be incorrect, please contact us at info@sheerluxe.com.