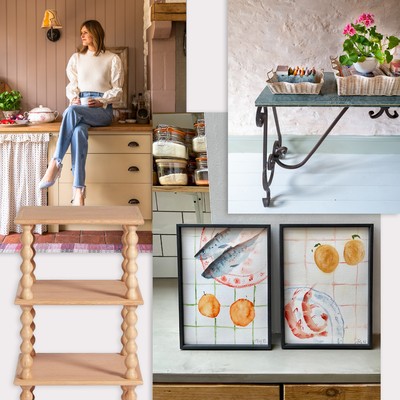 Interiors Little Black Book: Lisa Mehydene

By setting up edit58, self-confessed interiors addict Lisa Mehydene managed to turn her passion into a business. An avid traveller with an eye for those must-have pieces, Lisa now uses the platform to share some of her best finds with her loyal customers. Building relationships with craftspeople across the world – including Portugal, France and the US – has helped turn edit58 into the success it is today. Here, Lisa reveals the names and places she relies on time and again.

Textiles
Rugs and textiles help to 'loosen' the overall feel of a space and add warmth and texture. I fell in love with Howe when I lived off the Pimlico Road in my early 20s. On my daily walk to work I would pass the shop, and stare into the beautiful showroom. Fast forward 20 years later and I'm still as obsessed with the brand now as back then. Today they have a dedicated fabric/wallpaper shop around the corner (Howe, 36 Bourne Street) and their 'Tutti' Linen was always going to be the one for the fabrics we used for our kitchen skirts. It's the perfect floral ditsy print, pulls in all the colours in the space, and feels just 'country home' enough without going OTT. Of course, I had to add a signature ruffle to the skirts… just because. 
Most of the furniture in the barn is vintage (sourced from eBay, vintage markets and online dealers during lockdown). I then had the items reupholstered to give them a new lease of life, something that also gave me the chance to use some of the fabrics I've loved for years; a beautiful velvet from Rose Uniacke, classic stripes from The Cloth Shop, a sofa in a different Howe at 36 Bourne Street fabric, and headboards in Whiteworks JET collection. Our window treatments are a mix of old and new, too – they're essentially vintage tablecloths reimagined into window panels, while some simple ticking fabric adorns the other windows. 
Finally, I can't get enough of the fabrics by Nathalie Farman-Farma's textile studio, Decors Barbares and plan to use some of them as soon as I find the perfect piece or reason to.
Decorative Items
Everything we stock at edit58 has been tried and tested in my own home first. And in most cases, these items came to be because I wanted something specific that I couldn't find. It's exactly what happened with our new Rattan Ripple Trays. I had wanted an oversized rattan tray with handles that I could use in various ways, and also take outside for al fresco lunches and suppers. It's such a useful addition – I use it for storing cookbooks, condiments, plants etc… the options really are endless.
Over the years, friends and family have gifted me many Astier de Villatte ceramics – so I now have a lovely collection to use throughout the barn. The delicate simplicity, milky glaze and imperfections evident in the clay are all reflective of the handmade nature of the pieces. I'm a complete sucker their pedestal bowls. 
My classic set of numbered pudding basins from Burleigh Pottery is another favourite. Funnily enough, I bought them in Singapore when I lived there, as they just reminded me so much of home and my childhood. Ten years later, they remain one of the most used items in our. Their simple, functional and utilitarian feel is what appeals to me most.  
I also like to mount decorative plates on the wall, and these are so easy (and cheap) to find – be they vintage or new. A collection mounted on a kitchen, bathroom or entryway wall makes such a statement, and it can grow organically over time as you travel or uncover new finds. If you decide to buy new, Cabana has a lovely range, as does Casa de Folklore (Romanian pottery). I also love John Derian's decoupage plates and trays.
Furniture 
I've spent the past year renovating a barn in the Cotswolds. The vision was to create a home very much in keeping with the original barn structure, and for the interior to have a lived-in feel that was authentic to the age and style of the property.
It was important, therefore, to mix vintage furniture with new hand-crafted pieces. In the kitchen, we used a large vintage counter which was purchased from a dealer in Belgium to house crockery and linens, and it now sits alongside handmade wooden cupboards from British Standard by Plain English. By combining new cabinetry with vintage furniture, it helps to bring out that more relaxed aesthetic. I love blending the two to create warmth, texture and interest in a space, so my dining table is also an antique. I love hand-crafted furniture, so pieces from talented makers such as Alfred Newell, Galvin Brothers, Bibbings & Hensby and O B Luxton are always top of my wish list.
Rugs
Then there are the rugs. As a self-confessed rug addict, a house is not a home without a decent number of them – often a couple in each room. I look at them as artwork for your floors. They can really help to pull a scheme together.
Flatweave cotton runners are some of the most useful additions for rooms like kitchens and bathrooms, as they can be machine washed. In our kitchen space we have two, both of which are vintage, but we source and stock similar at edit58. They provide just that little bit of cosiness underfoot (even though we have underfloor heating), as well as helping to to demark the space.
Lighting 
I always want my interiors to feel individual and unique, and a lot of that can be achieved by mixing light fittings from brands such as Pooky (both the central pendant light and the wall sconces in the kitchen are by them) with elements that are more unusual (i.e. the hand-painted Bloomsbury-esque shades in our kitchen). The end look is a lot less recognisable, overall. 
On that note, we're about to launch the first edit58 lamp, the Ludlow Lamp Base, designed and handcrafted by the wonderful Jodey Collorick, creative director of Kelmscott Studio in The Cotswolds. The base is teamed with a vintage inspired scrunchie fabric shade made exclusively for edit58 by Alice Palmer.
Art
Artwork is really important to me, and you shouldn't ignore what you put up in kitchens and bathrooms. In our kitchen, we combined old with new again. Two vintage floral pieces sit either side of the Aga, and then we have a collage piece by Mary Norden sourced from Among the Pines next to our sink area. Other great sources for art are Partnership Editions, Medium Room, Domenica Marland and Etalage. 
Antiques 
If there's a bit of a background story to the pieces in our home, it makes them even more special, so I always ask dealers where items were sourced or to tell me more about their provenance. Recently, I came across  a late 19th century ebonised dining table originally used as a florist's display table via 1stDibs. Normally, I only look on there for inspiration, as it tends to be out of my price range but this came in on budget, proving it is sometimes worth looking in places you think aren't for you. I also found the eight vintage Thonet Bentwood dining chairs on there. They came from an abandoned cinema in the Czech Republic, and most of them still have the white seat number stencilled on the back.
Scouring antiques shops and eBay is one of my favourite things to do – especially when it comes to finding a special piece and bringing it back to life. I found an Indian shelf in an antiques shop that we now use to store all our mugs and teas and coffee on. It sits on top of the counter in our kitchen and adds a bit of personality to the space.
The wall cabinet in our bathroom was another early morning eBay find. Its tiny proportions and the lovely soft curves are my favourite features. I added a fabric curtain to turn it into the perfect bathroom cabinet.
 
For more information visit Edit58.com and follow @edit.58 on Instagram.
DISCLAIMER: We endeavour to always credit the correct original source of every image we use. If you think a credit may be incorrect, please contact us at info@sheerluxe.com.