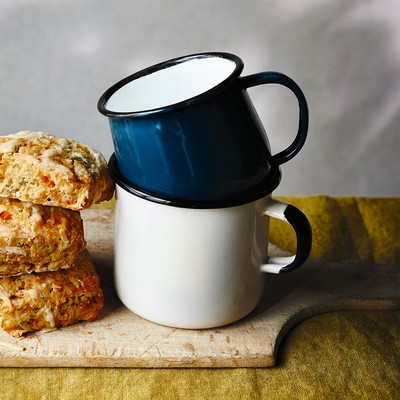 3 Hearty Recipes To Try This Month

It's soup season and if you're in need of some fresh ideas, TV chef, cookery writer and renowned teacher Rachel Allen has a new book celebrating soup, broth and bread. Whether as a starter or main dish, a quick fix or something to soothe a cold, Rachel believes there's a soup for every occasion. Here she shares two of her favourite soup recipes – and one for her famous cheese scones.

Whether it's smooth and silky, rustic and chunky or light and brothy, soup conjures up feelings of cosiness for me. When I was a child, my mum always had a pot of chicken or turkey stock on the go, ready to be incorporated into one of her soups for when my sister, Simone, and I got home from school. It not only fed us, it turned us into avid soup-makers too.
Now, my own home is filled with soup fans. It's the first thing I offer to our children if they're feeling under the weather. Soup helps soothe everything from a sniffly cold to a tired body after a tough day. Our daughter even takes broth or soup in a flask for her school lunch.
Making stocks, soups and broths is almost a state of mind. I love having a rummage in the fridge and seeing what needs to be used up and turned into a soup. It's spontaneous and creative and a good way to learn how different flavours work together, as well as being a sustainable way of making the most of leftovers. So many cooked vegetables can be turned into a soup once you have just a few other ingredients to hand. Cooked meat and seafood can also be transformed into a chunky broth or chowder with a little know-how, and leftover rice and pasta can be given another lease of life in a bowl of soup. 
Inspired? Here are three recipes to try at home…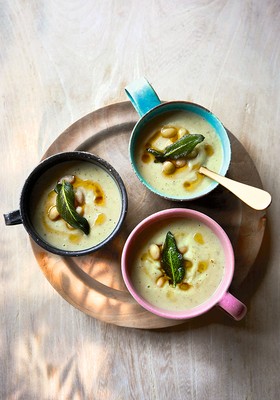 Roasted Parsnip, Garlic & Haricot Bean Soup With Sage
This is a smooth and silky soup, topped with deliciously crisp fried sage leaves. The garlic cloves, when roasted in their skins, deliver a sweet but rounded depth. A perfect soup for a cold blustery day.
Ingredients
3

medium or

2

large parsnips, peeled and cut into

2cm

chunks
1

large onion, peeled and cut into

2cm

chunks
6

very large, whole unpeeled cloves of garlic (40g in total)
2

tbsp

of extra virgin olive oil
Salt and freshly ground pepper
1l

of vegetable or chicken stock
To serve:

2

tbsp

of extra virgin olive oil
Method
Step 1
Preheat the oven to 200°C/180°C fan/gas mark 6. Place the parsnip and onion chunks in a roasting tray with the whole unpeeled cloves of garlic. Drizzle over the olive oil and toss the vegetables, seasoning with salt and pepper. Spread them out to cover the base of the roasting tray and place in the preheated oven for 35-45 minutes, until the vegetables are tender and a little golden around the edges.
Step 2
Drain the tin of beans and tip all but a generous tablespoon of beans into the vegetables. Return to the oven for 5 minutes more.
Step 3
Take the tray out of the oven and tip the beans and vegetables and any delicious juices into a saucepan with the hot stock. Add the 1 tablespoon of chopped sage and blend the soup until smooth and silky. Season to taste.

Step 4
To serve, pour the hot soup into warm bowls. Put the 2 tablespoons of olive oil into a small frying pan and allow to get hot. Add the sage leaves and fry for 10-15 seconds, until they turn a couple of shades darker and become fragrant. Spoon the sage-flavoured oil and the crispy sage leaves over the soup with the reserved beans and serve straight away.

Step 5
TIP: If you're cooking dried beans from scratch, you'll need 125g of haricot (or cannellini) beans. Soak in plenty of cold water overnight or for at least 5 hours, then drain, cover with plenty of fresh cold water and boil for 30-40 minutes, until tender.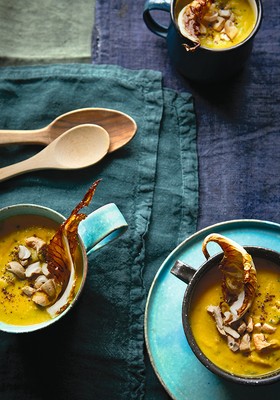 Cauliflower, Cashew & Coriander Soup
This smooth and creamy golden bowl of goodness gets its silky texture from cashew nuts and its soothing anti-inflammatory benefits from the yellow turmeric. Serve on its own, or with toasted cashews scattered over the top.
Ingredients
3

tbsp

of extra virgin olive oil
4

large cloves of garlic, chopped
1

tbsp

of ground turmeric
½

tsp

of freshly ground black pepper
1

.1l of vegetable or chicken stock
4

tbsp

of chopped coriander (leaves and the fine stalks)
Method
Step 1
First, prepare the cauliflower. Remove and discard the outer green leaves, reserving any smaller ones close to the cauliflower, and cut off and discard the base of the stem.
Step 2
Cut the cauliflower into slices, then chop it all: florets, stalks and any remaining leaves. Place the olive oil in a saucepan over a medium heat and add the cauliflower, the chopped onion and garlic, the cashews and the turmeric. Season with the pepper and a few good pinches of salt (this soup needs careful seasoning, otherwise it can be bland).
Step 3
Cover the vegetables with the saucepan lid, then turn the heat down to low and cook, stirring from time to time, for about 15-20 minutes, until the vegetables are tender.
Step 4
While the vegetables are cooking, toast the cashews. Place them in a dry frying pan over a medium heat and toss them regularly for about 4 minutes, until golden. Roughly chop and set aside.

Step 5
Add the stock to the vegetables and bring to the boil, then blend the soup well. Add the lemon juice, chopped coriander and more salt and pepper if necessary. The soup should be smooth, like velvet.

Step 6
Serve the soup straight away or reheat and scatter the toasted cashews over the top.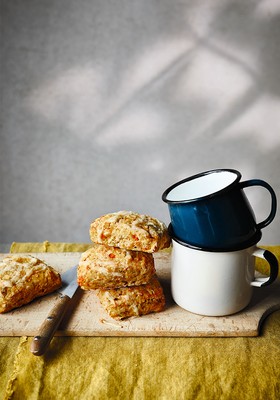 Pumpkin, Cheese & Rosemary Scones
Savoury but still light in texture, these scones are great served with a big bowl of soup. You can use any squash instead of pumpkin, and, if you fancy, add lardons of crispy bacon or diced chorizo to the mix. 
Ingredients
175g

of peeled and deseeded pumpkin (weight when peeled and deseeded)
1

pinch of cayenne pepper
2

tsp

of finely chopped rosemary
50g

of finely grated cheese (cheddar or a hard cheese such as parmesan)
100ml

of milk, plus

1

tbsp

extra for brushing the top
Method
Step 1
Preheat the oven to 200°C/180°C fan/gas mark 6.
Step 2
Cut the pumpkin into 1-2cm chunks and place on a roasting tray. Drizzle with the olive oil and roast in the oven for about 20 minutes, until completely tender. Tip the pumpkin into a bowl (leaving the oven on) and mash very well with a fork, or blend in a food processor, then allow to cool. If using canned pumpkin purée, you'll need 125g.

Step 3
Sift the flour, baking powder and cayenne into a bowl and add in the rosemary, salt and all but 2 tablespoons of the grated cheese, reserving the remaining cheese for scattering over the scones before they go into the oven.

Step 4
Whisk the egg and mix with the pumpkin purée and milk. Make a well in the centre of the dry ingredients and add the wet ingredients, then, with your hand in a claw shape, mix the two, making sure you don't knead but just mixing until it comes together.

Step 5
Tip the mixture out on to a floured surface and tidy the sides, working it into a rough square and patting the dough out to 2cm thick. Brush a little milk over the top and scatter with the remaining cheese, then cut the dough into 3in x 3in pieces, to make 9 scones.

Step 6
Place the scones on a baking tray and bake in the preheated oven for about 15 minutes, or until golden and cooked through. They should sound hollow when tapped on the base. Cool on a wire rack.

DISCLAIMER: We endeavour to always credit the correct original source of every image we use. If you think a credit may be incorrect, please contact us at info@sheerluxe.com.