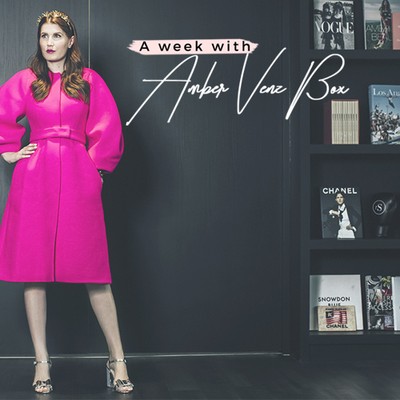 Amber Venz Box On How To Start & Grow Your Business

Fashion blogger-turned-billion-dollar tech guru Amber Venz Box is the woman to listen to when it comes to business advice. And as part of her 'Week With SheerLuxe', she's shared some words of wisdom for those in all stages of a new or potential venture – from what you need to know before starting a company to her top tips for choosing the right team and the key to making a profit…

TO START:
Have an idea and move fast: The tech industry is changing rapidly, so you need to make sure you're ahead of the game and bringing a new, fresh idea to the market.
 
Find a co-founder who's the yin to your yang: Are you a fantastic creative? Find a finance guru to not only balance the workload, but to have multiple areas of expertise.
 
Having a bad plan is better than not having a plan at all: Create a plan, assign quantifiable success metrics and execute against the plan – this will help you sleep at night.
 
Know your market, competitors and consumers: Research everything you can about them to help create and execute your brand to its fullest potential. When I was in college I took advantage of internships in different cities and different sides of the fashion industry in order to expose myself to everything I could.
 
Remember, starting a brand takes 24 hours a day: Be prepared for it to become your entire life during its early stages. Live the brand and lead to the top.

TO GROW:
Hire people who can move boulders, not ones who can rake pebbles: You would rather have a team of four best-in-class leaders than 12 warm bodies that don't carry their weight. The founding team is so vital to a firm's future success.
 
You can have the vision, but you need a team with the skills: If you're a tech firm, and most start-ups these days are dealing with some sort of technology, then you have to find experienced engineers. The second thing is finding people with operational experience as early as possible to manage your staff.
 
Be a friend to have a friend, in life and business: Be kind to everyone you meet along your journey – you never know when your paths may cross again.
 
Trust in yourself and your decisions: They can be a learning curve or the making of the brand. Leading a business can be daunting at the start, hence why a strong and proactive team are also so vital.
 
Build your connections: Create a solid network of professionals around you – whether that's with your contemporaries, gatekeepers, brands or influencers.
 
Know what motivates people: This is a greatly helpful insight if you want to create a business that solves real people's problems. We created rewardStyle as it was something I really needed – look for problems in your own life, a real problem that you and other people have, and try to fix it. And if you continue to be your own customer, then you'll be able to properly critique and improve your product.
 
Master the art of delegation: It's incredibly important. If there's somebody on your team that can do something 80% as well as you, you shouldn't be doing it.
 
Listen to the consumer: What do they like? What don't they like? What would they like to see more of? React to the feedback to ensure your product and user experience are high.
Don't underestimate the importance of marketing: Having a great idea or impressive technology is no longer enough. If you don't have a solid team, resources to market it and a user base that loves your product and tells their friends about it, then that idea won't go anywhere.
 
Great companies put themselves out of business: Think about what would disrupt your business and build that thing. For rewardStyle, that new concept was LIKEtoKNOW.it.
DISCLAIMER: We endeavour to always credit the correct original source of every image we use. If you think a credit may be incorrect, please contact us at info@sheerluxe.com.