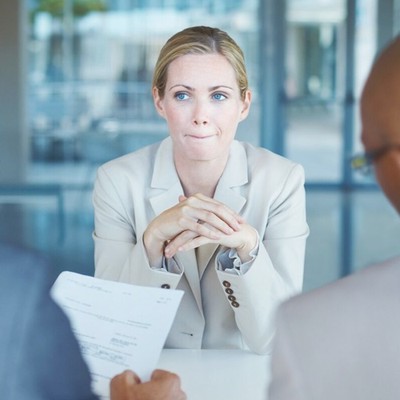 How To Get A Job You're Overqualified For

Once you reach a certain age and level of expertise, you'd expect to be able to take that experience and apply for any job in your chosen field. But it's possible your wealth of knowledge can make it harder for you to land a new position. We spoke to Kate Palmer, Associate Director at employment law consultancy Peninsula, to shed light on why 'overqualified' is such a dirty word in the hiring process, and what to do if you find yourself called it…

WHAT DOES IT MEAN TO BE OVERQUALIFIED?
The term overqualified refers to an individual who's deemed to possess too much experience or hold too many qualifications for the role in question. Take, for example, an individual with a master's degree in civil engineering and eight years' experience as a manager at an engineering firm. If this individual applied for an entry level role at a different engineering firm, many would consider them to be overqualified.
WHY IS IT CONSIDERED A BAD THING? 
Employers often question why overqualified individuals are applying for roles that, on the surface, appear to be beneath their abilities. Many refuse to offer applicants roles on this basis as they fear the individual will become quickly dissatisfied because they're not being suitably challenged or the role doesn't meet their usual salary expectations.
There's a commonly-held belief that overqualified individuals won't remain in these roles for long and will soon be looking to move on to something which better suits their qualifications and skillset. For this reason, employers are reluctant to hire candidates they consider to be overqualified as they want to avoid paying any additional recruitment costs which may come as a result of the person moving on quicker than anticipated.
Hiring managers may also be wary of taking on an overqualified individual as they believe they will be difficult to control or uncomfortable with taking direction, particularly if they've had a greater level of experience than the manager in question.
CAN BEING OVERQUALIFIED EVER BE A GOOD THING? 
The question of whether it's OK to be overqualified should be considered on a case-by-case basis. After all, organisations would benefit significantly from having as many well-qualified and experienced individuals on their payroll as possible.
It may be perfectly acceptable for someone to be overqualified if they're looking to step down into a more relaxed role with less responsibility and pressure, allowing them to offer the wisdom of their experience to more junior colleagues.
It's also important to consider that previous qualifications, however impressive, may not always relate to the role, especially if the individual is looking for a career change. For example, an individual with a master's degree in environmental science may genuinely be looking to change career and choose to apply for a marketing graduate scheme. In this respect, being overqualified is less of an issue and in fact, reaffirms that the applicant is at the very least an intelligent individual, capable of obtaining an advanced degree.
SHOULD YOU ADDRESS IT IN AN INTERVIEW?
Prospective employees are advised to address the fact that they may be overqualified during job interviews, using this as an opportunity to explain why they're applying for the role. This is likely to be the proverbial 'elephant in the room' and individuals should look to dispel any concerns prospective employers may have.
With this being said, individuals are advised not to linger too long on the issue note or allow this to dominate the conversation.
 
Kate Palmer's top 3 tips for getting a job you're overqualified for…
TAILOR YOUR CV USING THE SPECIFICATIONS PROVIDED:
Consider removing any unnecessary degrees or industry-recognised qualifications which could lead to bias in decision-making. This should, at the very least, give individuals a greater chance of reaching the interview stage, where it's possible to discuss their experience in a more open environment free from immediate rejection.
BE PREPARED TO ANSWER QUESTIONS ON THE TOPIC: 
Individuals should appreciate that employers may be curious of why exactly they are choosing to apply for a particular role. Applicants are advised to plan ahead and prepare responses that address their qualifications, whilst reassuring employers that they are, in fact, committed to carrying out the particular role.
REALLY THINK ABOUT THE ROLES YOU'RE APPLYING FOR:
Those with the relevant qualifications for other roles should have the confidence to apply for more challenging positions as they'll likely find these more fulfilling in the long run and ultimately have more success with their applications.
 
For more information and advice on employment law, visit PeninsulaGroupLimited.com 
DISCLAIMER: We endeavour to always credit the correct original source of every image we use. If you think a credit may be incorrect, please contact us at info@sheerluxe.com.