This Is What It's Like To Start A Business With A Friend

Starting a business with a friend can feel like a formidable prospect, particularly because it's not just your professional partnership that's at stake, but your personal one too. So, how exactly do you make your business work and keep your friendship intact? We spoke to six women who've done just that.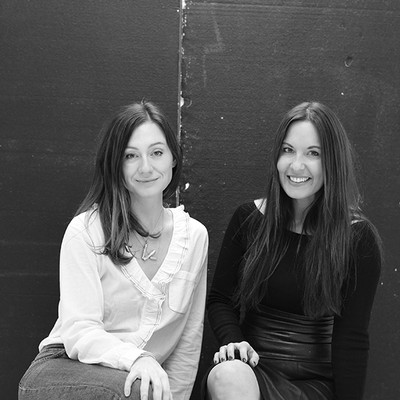 Lauren Stevenson and Virginia Norris: Aisle8 Communications
Lauren and Virginia are veterans in the fashion PR industry, with the former taking positions at the likes of luxury brand Harrods and the latter working with Whistles and Diesel, before joining forces to bring all their favourite parts of their previous jobs into their new communications company, Aisle8. Now running their own office in London, they recount how their work ethic brought them together and the key to a healthy work environment.
Why did you decide to start a business together?
Lauren: I was head of PR and Communications at Harrods and Virginia worked in global communication at Whistles. We'd always see each other at the same events. We were both in premium retailers who were trying to do things differently. The two of us had pretty extensive backgrounds in retail and delivered when it came to PR and comms, so we believed there was a gap in the market for a company that really understood the 360-degree nature of PR. 
Virginia: I got to the point in my career where I was looking for the next adventure. Lauren and I worked in the same area and had met for lunch a few times. We had a rough idea – we knew we wanted to start an agency. A year later, Lauren called me and said, "Let's start the agency". At the time we didn't know much about what annoyed each other or how the other worked, so it was a real learning curve.
Virginia: We were a brilliant team, but working closely on things without boundaries of who was doing what would often end in disaster. We learnt each other's strengths and weaknesses quite quickly.
What's been the most eye-opening about working with a friend?
Lauren: You understand your limitations much better in a partnership. I look to Virginia for so many things that I know she's better at than me. She's become somebody that, if anything happens to me professionally or personally, she will be the first person I tell. At work, we're very different in the way we manage things: Virginia is very laid-back, whereas I get very stressed about things. We're the polar opposite of each other in some respects, but I think that's why it works.
Do you talk about work outside of the office?
Lauren: We talk about work constantly, but it's because we love what we do.
How do you deal with a disagreement?
Virginia: I normally storm out the room! But I've got better at not doing that.
Lauren: It's definitely doesn't happen much. In the first couple of years there was a lot of storming out. But it's less now because we know what each other is thinking; what we like and don't like. We've also don't always work on projects together, which also helps.
Do you feel like you thrive in different areas?
Virginia: Lauren is very good at making quick decisions, whereas I like to ponder on things. It's a good combination to have – Lauren might make a snap decision and sometimes I'll challenge her on it, but you definitely need that partner to push forward with things, which has helped me hugely in making all kinds of decisions. 
What are your individual roles within the company?
Virginia: We play every kind of role, from CFO to office manager. Every day is different in that aspect. It's everything from watering the plants to having a meeting with Samantha Cameron. It's so varied.
Lauren: Virginia's got more of a creative director role. There's a natural flair. Whereas I'm more business-orientated. We're both jack of all trades really, going from one to the other.
What are your hours like?
Lauren: We've tried to create a flexible working environment so we can work from home if we need to, but we both like being in the office, so we'll be here from 10am to 6pm unless we're out at a lunch or dinner.
Has there ever been a time where you felt like the  put a strain on your relationship and how did you overcome that?
Virginia: In the early stages, I felt that I had to take on certain clients to make the business work. I put a huge amount of strain on my own life for the sake of trying to bring money into the business. But you should never take something on that you don't believe in – the money will come, you just have to stay true to your brand.
What's your secret to making it work?
Lauren: Believing in it since day one. And also the team – we employed people that we've worked with before. When you're just two people you can't be everywhere at the same time, but you're safe in the knowledge that you have people at the office who do things the way you want them done.
Virginia: You have to realise your own shortcomings and bring in people who are experts in their own fields. There's needs to be a level of self-awareness. 
What have you taken away from your previous roles?
Lauren: We've taken all the best bits from our old jobs and created a culture that we want to work in and so do our employees. We enjoy coming in every day and have made somewhere that's just a really nice place to work.
What advice would you give friends who wanted to start a business together?
Virginia: I had no understanding of how much work it would be. It's a hard slog and you have to be really, really into it to do it.
Lauren: Financially, you're putting in your hard-earned money. We didn't have a lot but we put every penny we had into the business. I used money from my gardening leave at Harrods and Virginia took out a credit card. This enabled us to get the overdraft from the bank. You have to realise that the financial side of it might put your friendship under pressure. 
Bunny Turner and Emma Pocock: Turner Pocock
Running your own interior design company is no easy feat – yet somehow Bunny and Emma do it with ease. But their success hasn't come without its own hardships; the pair recount how their company Turner Pocock has turned into a passionate and creative team of interior designers since its fruition in 2007 through hard work, trust – and joint maternity leave.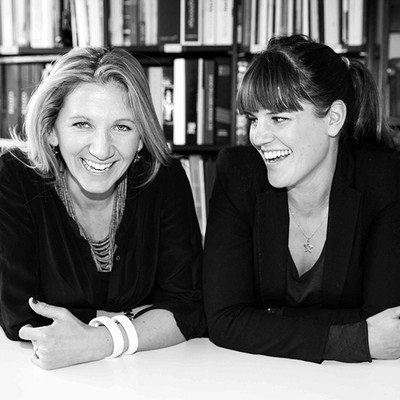 How did you both meet?
Emma: I've been an interior designer since leaving university and Bunny went into the commercial art world. We kind of knew each other already – we were in a wider circle of friends, but we weren't goodfriends. But Bunny told me she wanted to get into interior design because she was disillusioned with the art world, and like all good plans, after a couple of rosés we vowed to start a business together. At some point, whilst we were still in our respective jobs, a client asked both of us for help with their apartment and we worked on it together in the evenings. After that, we decided to just go for it. We started at my kitchen table and then slowly into an office.
Bunny: We had a shared ambition. We wanted careers and a family. We were driven and ambitious. It didn't stem from friendship – we weren't best friends then, but we are now. We just wanted to go places in a shared industry.
How did the idea for your business come about?
Emma: Anyone who is an interior designer and has an ambitious bone in their body knows the only way to make money is to start your own business. I always knew I would do that, and as soon as Bunny came into the industry she had no real doubt that she would do that too. To do it together seemed like the best thing to do.
Have you found the process easy?
Emma: I think its easier. We're very forgiving of each other. We know how hard we both work and we both have young children – we actually had our babies on the same day. And we're better designers together. Design is so collaborative and you can so easily get stuck, so to have someone else throw in their ideas helps lubricate the process.
Bunny: Now I can't imagine working with anyone else, but it was incredibly difficult in the early days. Now we finish each other's sentences and we're sort of the same person. In this business you need a very strong shared aesthetic, so that's important.
Do you have any rules to stop your work encroaching on your friendship?
Bunny: We don't have rules, but we should! Work monopolises our lives. We go on holiday together and we can't help talking about it then. It's a shared passion so it's hard to just park it.
Emma: We talk about work all the time! But we love it. I live in Switzerland so we don't see each other as much outside of work as we would if I lived in England.
Do you still see each other in a non-work capacity?
Emma: We do go out and let our hair down together because a lot of the time we're together it's quite serious. We're managing a company with a big turnover. So it's nice to get together and have some fun.
Do you ever argue?
Emma: If we do it blows over very quickly. It's normally one of us will be in a strop in one conversation, but the next conversation will be completely fine. We don't hold grudges with each other and that's critical.
What are your individual roles within the company?
Emma: We basically do the same role. We're both creative directors, we both managing directors, in charge of finances. We tend to design as much as we can together. One of us is involved in the design of every project. Bunny is perhaps a bit more on it financially.
Bunny: When the chips are low with one, the other pulls you up. I am slightly obsessive about detail and Emma is more of a big picture thinker, which is a strength when it comes to running a project.
Do you work the same hours?
Emma: We both work full time. I'm more of a morning person, so if I can I'm the one in the office early and then by about 5pm I'm pretty braindead, whereas bunny will rev up and I'll get 50 emails at 8pm. Our brains are better at different times of the day.
You both have children that were born on the same day – how did that affect your business?
Bunny: We were both really lucky. I think if it was just one of us going through it, we would have both been intolerant of maternity leave, because if you don't have kids you don't know what's involved. We didn't really get to have any maternity leave – three weeks after we both gave birth we were on a train to a meeting in Manchester, pumping in the loos. It was challenging, but we were stronger going through it together. When talk of child number two came along, we had to sit down as a foursome with our husbands and discuss it properly.
What does an average day look like?
Emma: Two days a week I commute. Today I got up at 5am swiss time, got on a plane and was at my desk by 9.30am. Bunny and I have been in meetings all day. We sort out design problems, have meetings with our office manager, go through design packages. Sometimes we might be designing a project in the office or out on site.
Bunny: We've usually been in touch by 7.30am. I get my kids ready for school and do the school, then I either go to a site meeting or come directly to the studio for meetings. I usually leave about 7pm.
What's your secret to making it work?
Emma: We're not competitive. I think we have the same goals and work ethic. Those are the fundamental things.
Bunny: Hard work. Which sounds depressing but it's really gratifying when you see it paying off.
What advice would you give friends who wanted to start a business together?
Emma: You should discuss what your goals and aims are. Are you both going to work as hard as each other constantly? Are you going to accepting of someone wanting to go part-time? You need to discuss the future.
Bunny: You have to be loving and forgiving. You have to have a bigger picture in your mind all the time. Bring out the best in each other and don't let egos take over.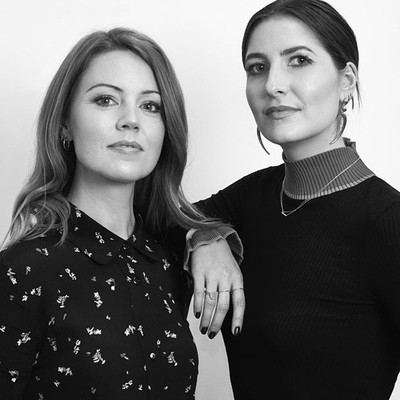 Frances Cookson and Katie Arnott: Rewritten Bridesmaids
Frances and Katie started their own business, Rewritten Bridesmaids, in 2016 after working together at fine jewellery brand Astley Clarke. After creating a business plan and securing a business loan from Virgin start-up, the pair were able to leave their jobs and take the plunge with their new venture. The pair have now sold over 3000 bridesmaid's dresses and have 20 retail partners around the world. Here, they tell us the highs and lows of starting a successful company with a friend from scratch and their key to keeping business booming.
Where did you work before?
Frances: I was head of Communications and Katie was Head of Retail at Astley Clarke. We knew we wanted to launch our own business; we'd got to that stage we wanted to go it alone and recognised we worked well together. We saw a gap in the market when we both got married and couldn't find contemporary modern bridesmaids dresses that felt luxury but weren't so expensive. It was either the traditional bridesmaids' boutiques where dresses were super expensive or the high street. Which is great, but we wanted to plug somewhere in the middle. So on a particularly wine-fuelled night, we decided to go for it.
Did the business or the idea come first?
Katie: A bit of both. It has always been a dream of mine to run my own business, but I was never quite sure of what it would be in. Fran and I knew it would be rewarding to work for ourselves and then after we got married there was a light bulb moment.
What do you like best about working with a friend?
Frances: There's no one else who understands what owning your own business feels like. You can moan to your other friends, but they don't get it. So it's nice having someone else who knows those highs and lows.
Katie: It's incredible working with your best friend. We have a lot of friends who run companies on their own and I think they find it quite isolating sometimes.
Frances: We get to commiserate the lows and get excited about the highs. We push each other; when one of us feels down about something the other will say something positive. If you work alone I think it can be easy to get stuck in these little holes, but we pull each other out of them.
Is setting boundaries something you discussed before you went into business with each other?
Katie: We didn't, but we probably should have. I remember when Fran and I started the business, Fran's dad, who's owned businesses before, told us we'd argue and that we needed to be prepared. We were sure we wouldn't, but now I know what he was talking about. It's actually made our relationship so much stronger.
Frances: We argue like sisters – we have an argument and we get over it. You have to!
Do you still want to spend time together outside of work?
Frances: Like it or not, we hang out even more! We're lucky because we enjoy each other's company. We see each other on the weekends, we go on holiday together – we're trying to get Glastonbury tickets together right now...
What does a day look like for you both?
Frances: At the moment we're having a lot of meetings for our first fundraise. It's a challenging thing to do, and we both have to be 100% on board with the decisions we're making. Our day might start with a breakfast meeting with one of the non-exec board members or a potential investor. Then we'll go to our studio and catch up on enquiries and any special orders. In the afternoon we split up and I will be with our seamstress working on new designs, while Katie might be out visiting one of our stockists.
Has there been anything that has really challenged your business?
Frances: I had the unexpected breakdown of my marriage a year ago and Katie very much had to take the reins. We've been through quite a lot with a young business, put it that way.
Were there a lot of conversations about how you would work during this period in your life?
Katie: It just took time. We just had to keep communicating about how we were feeling and what Fran felt she was capable of doing and not doing. There were definitely hard times but we came out the other side much stronger.
What's your secret to making it work?
Katie: Having fun and enjoying what we do. We love Rewritten and we love our customers. We have incredible feedback, which motivates us more than anything. When it comes to our relationship, it's all about communication – we have to keep talking.
What advice would you give friends who wanted to start a business together?
Katie: I would say they need to think about it carefully. It's not something to be taken lightly and you have to be prepared – your relationship will be tested at some point with some really difficult situations. If you don't have the kind of relationship where you can be honest then you really need to think twice about it.
Frances: Make sure you have the same shared goal when you start the business.
Katie: You have to want the same outcome, otherwise it just won't work.
DISCLAIMER: We endeavour to always credit the correct original source of every image we use. If you think a credit may be incorrect, please contact us at info@sheerluxe.com.