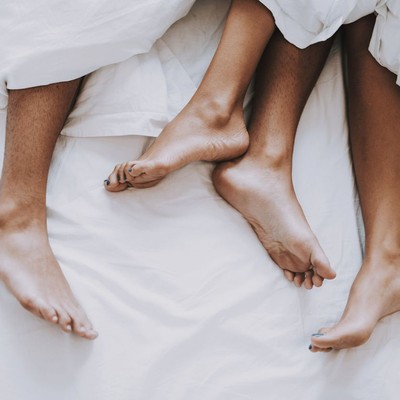 An Expert Guide To Giving A Good Blow Job

Recent statistics suggested women are twice as likely to perform oral sex as men, but research also shows only a third of women actually enjoy it. We went to the experts for the lowdown on how to go down…

Remember Foreplay
"When it comes to oral sex, don't neglect foreplay. Take your time to build anticipation and desire by incorporating full-body touch – this will wake up the nerve endings throughout the body, not just the genitals. Start with kissing and caressing, moving onto teasing the penis slowly, and then softly stroke the scrotum and penis with your hands. The tip is not to rush – taking the time with foreplay will lead to a better experience for you both." – Becky Crepsley-Fox, sex & relationship expert
Build It Up
"A lot of women head straight to the penis when performing oral, and while most receivers won't complain, taking the time to build excitement transforms a good blow job into an amazing one. If your partner is comfortable with it, experiment with ball play. You could also use your lips and tongue to stimulate the full length of the penis, except the head. By the time you've spent all this time elsewhere, they'll be begging for you to move onto the head. This technique not only builds anticipation but also increases blood flow to the penis, and therefore sensitivity." – Jess Wilde, sex expert at So Divine
Hit The Right Spot
"One of the main things you need to know is where on your man's body is the most sensitive. The head is the most responsive part of the penis, but if you want to get specific, the crown is where you can provide serious pleasure. That's the edge of the head, where it curves in and meets the shaft. The frenulum is also a sensitive spot – it's a small triangular patch on the underside of the head. Flip your tongue against it or drag your lips across it." – the Quanna team 
Use Your Hands
"Remember it's okay to use your hands and mouth together. Try using one hand on the shaft of the penis and holding it still, while focusing on licking and tickling the head of the penis with your mouth. Or, you can move your head up and down in time with your mouth while making the same movement. While using your mouth, you can also try twisting the hand on the shaft up and then de-rotating on the way down. This can feel tricky if you've never tried it before, but it's always well-received." – Becky 
Make Eye Contact
"Making eye contact during oral sex may seem intimidating, but he'll love every second of it. Warning though: this move is super intimate as extended eye contact triggers a release of oxytocin, the bonding hormone, in both of you. Use this move with caution and only with someone you're ready to take it to the next level with." – Alix Fox, sex expert
Gradually Increase The Pace
"Changing rhythm midway through a blow job can be a pleasure pauser. Ideally, you want to start slow, and incrementally increase your rhythm to where you can feel (and hear) you've hit the jackpot. Then maintain that rhythm. Switching from slow, to fast, to slow can be a great technique if you want to edge out your partner, but if you want to bring him to climax, maintaining a steady rhythm is key. For your own comfort, open your mouth as wide as possible and stick your tongue out as far as it will go. This will maximise space inside your mouth." – Jess
Taking the time to build excitement transforms a good blow job into an amazing one.
Incorporate Lube
"Many people make the mistake of thinking lube isn't needed for a blow job as the mouth is already wet, but that isn't always the case. The general rule is 'wetter is better'. Adding lube will help your lips glide across his shaft with ease from the get-go and make the whole experience more enjoyable for both of you. You can even use a flavoured lubricant to make things more exciting." – Jess 
Think About Your Lips
"A great tip is to keep your lips in a slightly fish-face position – pretend you are about to say the word 'purple'. The word naturally contorts your lips into the perfect head-giving pout. It makes the lips slightly curled and pillowy, which makes them feel wetter and creates ideal suction." – the Quanna team 
Add An Accessory 
"A vibrating toy can really enhance a blow job. A cock ring can amp up pleasure during oral when worn around the base of the penis or around the penis and balls. It can also be worn around the givers' fingers and used like a bullet vibrator to stimulate externally while giving a blow job for a blended orgasm. The So Divine Vibrating Stimulator is also one to explore – designed to be used on a penis, it has a C-shaped tip that cups the shaft, encircling it with vibrations. It's perfect for placing on the penis shaft or head. If you both feel comfortable, a butt plug is a sure-fire way to skyrocket your partner's pleasure." – Jess 
Check In
"If you notice muscle tension in his glutes and legs, this may be a sign things are getting steamy too quickly – the muscles in these areas are closely linked to ejaculation. You can incrementally decrease the pressure in which you're sucking, licking or stroking and encourage him to take three deep breaths for every two quick. To slow things down, you can also switch it up into the classic 69 position, so while he's on his back, you perform oral on him, and he performs oral on you. This can increase the time it takes for him to climax as he's distracted on the task at hand." – the Quanna team 
Enjoy It
"Being enthusiastic is the key to giving the best blow job ever, because when you love what you're doing, you'll bring a fun, naughty and sexy energy to the moment. You'll even find yourself exploring and feeling your way around, driven by intuition and a desire to bring your partner pleasure. It certainly won't feel like a chore or a 'job'. If you enjoy oral, don't be quiet about it. Vocalise your pleasure, moan with your mouth full and tell your partner how much you love doing it." – the Quanna team 
Drop The Pressure
"One of the most common mistakes women make when giving oral sex is focusing too much on the climax. Some women tend to overthink the length of time it takes for their partner to orgasm and worry they are getting bored. The important thing is to drop the expectation – relax and enjoy the intimate closeness, even if oral sex doesn't result in a climax." – the Quanna team 
Becky is the sex and relationships expert at MoreYoga Wellness TV. Also visit LoneDesignClub.com, ByQuanna.com and follow Alix on Instagram @AlixFox.
DISCLAIMER: We endeavour to always credit the correct original source of every image we use. If you think a credit may be incorrect, please contact us at info@sheerluxe.com.