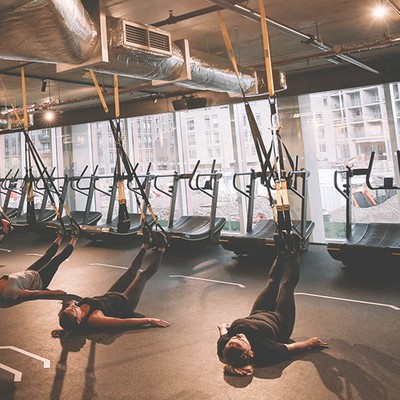 8 Of London's Best Treadmill Classes

Right now, it's all about the treadmill. Running-centric studios are popping up all across the capital, and it's high time you joined the running revolution. SL contributor and die-hard treadmill devotee Tor Cardona shows you where to get a runner's high.

Barry's Bootcamp
Since launching in the UK in 2013, Barry's has become one of the most sought-after boutique classes around the world, with branches in Dubai, Paris and Melbourne as well as its LA base. There are now five studios in London, all offering the same, heart-raising formula of sprints, incline runs and strength training. Each class combines 25 minutes of cardio with 25 minutes of weights, burning a whopping 1,000 calories in one hit. Only the brave need apply to Barry's Hell Week, a seven-classes-in-seven-days challenge. Exhausting but euphoric, Barry's is unlike any other workout you'll try.
WHERE? Canary Wharf, King's Cross, Queensway, Shoreditch and Victoria
HOW MUCH? Classes from £22
VISIT: barrysbootcamp.com
1Rebel
If you don't live or work near a Barry's, 1Rebel's Reshape is the next best thing. Suitable for all fitness levels, sessions focus on the upper and lower body as well as abs, leaving no muscle untoned. Constantly switching between treadmill sprints and heart-pounding HIIT moves is a sure-fire way to boost fitness and has earned this class cult status on London's gym scene. Refuel post-class at the resident Roots & Bulbs café – the protein-packed Whey Of The Gods smoothie is a personal favourite. 
WHERE? Angel, Bayswater, Broadgate, South Bank and St Mary Axe
HOW MUCH? Classes from £16
VISIT: 1rebel.co.uk
Precision Running Equinox
Using shock-absorbent, slat-belt Woodway treadmills that closely mimic outdoor running, Equinox's Precision Running class is a state-of-the-art offering. Sessions are built around different interval routines, and while some are run-only, others feature a handful of strength circuits with resistance band moves designed to complement the running. Instructors also offer constant guidance on form and technique, making this the perfect class for keen runners training for a race or cardio junkies looking to boost endurance. 
WHERE? Kensington and St James
HOW MUCH? Membership only; prices start from £215 
VISIT: equinox.com
KXU
Keen to try a treadmill class but not ready to commit to 60 minutes of straight running? HIIT & Run at KXU is one to try. Trainers at this luxe Chelsea studio (the pay-as-you-train version of members' club KX) are some of the best in town, think ex-professional athletes and injury specialists, so you can rest assured that both beginners and pros alike are in good hands. Sessions are an endorphin-boosting combination of treadmill speed work and HIIT exercises using kettlebells, dumbbells and bodyweight. Pricey it may be, but it's worth it for the rose gold changing rooms alone. 
WHERE? Pavilion Road, Chelsea
HOW MUCH? Classes from £26
VISIT: kxu.co.uk
Sweat IT
Nestled in the heart of Aldwych lies Sweat IT, a stripped-back yet stylish studio that serves up some of the toughest workouts in the capital. Here, classes have a 'run and rig' concept – think treadmill work paired with functional weight training on a 'rig' with 20 different workout stations. Specialist treadmills have both powerful parachute modes (to stimulate the resistance of pulling a parachute behind you) and a 'sled' setting to mimic the effect of pushing a sled. Be prepared to bring your A-game.
WHERE? Aldwych
HOW MUCH? Get your first 3 classes for £30
VISIT: sweat-it.com
The Fore
The latest addition to the recently revamped King's Cross development, The Fore is an impressive 5,500sq ft space that's a haven for gym bunnies. And, if a made-to-order, adaptogen-focused smoothie bar, seriously luxe showers and a roster of wellness workshops wasn't enough, The Fore's hero class, Fortitude, will build speed and endurance through treadmill and strength work. A high-energy class that's never the same, this super slick offering is up there with Barry's and 1Rebel. 
WHERE? King's Cross
HOW MUCH? Drop-in classes cost £20
VISIT: the-fore.co.uk
Victus Soul
Based in east London? Be sure to check out the recently opened Victus Soul, whose HIIT & Run class is quickly becoming the workout of choice for city folk. The gym boasts two spacious studios and the high-energy classes are packed with plenty of incline sprints and tuck jumps. The combination of running and strength drills may not be a new concept, but the knowledgeable instructors give this class a PT-like feel and the extended cool-down will reduce the risk of injury and maximise recovery. Dread the tread? HIIT & BOX, a boxing-inspired workout, also features on the schedule. 
WHERE? Aldgate
HOW MUCH? Get your first 2 classes for £25
VISIT: victus-soul.com
Digme
Built on three pillars – run, condition, move – Digme's hero class Matrix harnesses the power of the high-tech Skillmill, a curved treadmill powered by your legs, for a workout like no other. These intense, 50-minute sessions pair sprints with kettlebells, TRX and bodyweight work to tone every muscle and leave you burning calories for hours afterwards. Digme's latest outpost in Fitzrovia boasts an impressive schedule of back-to-back classes while its Blackfriars location is the perfect spot for the capital's commuters. 
WHERE? Blackfriars, Fitzrovia, Moorgate, Oxford and Richmond
HOW MUCH? Get your first three classes for £30
VISIT: digmefitness.com
DISCLAIMER: We endeavour to always credit the correct original source of every image we use. If you think a credit may be incorrect, please contact us at info@sheerluxe.com.