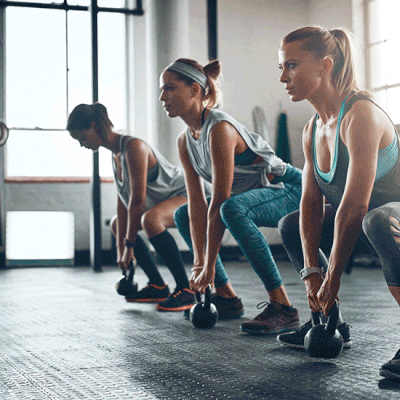 The Best Forms Of Fitness For Maximum Impact In Minimum Time

When you're short on time, it's important to know which form of exercise is really going to deliver. But is spinning better than lifting weights? Or is HIIT training the only way to go? Here, David Wiener, a training and nutrition specialist at Fitness App Freeletics, tells us which are the most efficient sessions for burning calories, building muscle or toning up…

Cardio 
What is it?
Cardio, short for cardiovascular, is a form of exercise designed to get your heart rate up. "Cardio exercises mean you're doing a rhythmic activity that will raise your heart rate into various zones," Wiener explains. Expect a bootcamp-style format, involving a mix of running, jumping and burpees or mountain climbers. 
What are the benefits?
The biggest benefit of a cardio session is that it burns both calories and fat. "Cardio also increases your lung capacity and fitness levels, reducing the risk of cardiovascular problems, high cholesterol, high blood pressure and diabetes. Plus, it can also help reduce stress levels and improve sleep," Wiener notes. 
Average calories burned in 1 hour: 300-350. 
Weight Training
What is it?
Weight-based exercises are designed to build strength and stamina. Some trainers will tell you to use actual weights (think dumbbells or weight machines) and equipment such as resistance bands, while others simply tell people to use their own bodyweight.
What are the benefits?
Strength-based exercise is ideal to build muscle and burn fat. "If you're regularly strength-training, you can expect to develop muscle tone and definition without necessarily building bulk or size," Wiener says. Even better, the benefits last much longer than the session itself. "There are studies that show this type of training boosts your metabolism and the number of calories your body burns at rest."
Average calories burned in 1 hour: 200-400.
Spinning
What is it?
This popular form of indoor cycling offers a high intensity workout that's still low impact on the body. Normally set to a pumping playlist, it involves riding a stationary exercise bike through a number of tracks, with some classes also incorporating light weights. 
What are the benefits?
As a form of cardio, spinning burns calories quick and gives your heart a healthy boost.  "Spinning can also help tone and improve muscle definition, mainly in your legs and core," Wiener describes.  It also helps with breathing, which is a good way to combat stress, too. "Spinning regularly can improve your lung capacity, which in turn  helps to control your breathing and therefore, anxiety," Weiner adds. 
Average calories burned in 1 hour: 400-600. 
HIIT
What is it?
HIIT, or high intensity interval training, involves a sequence of short bursts of intense exercise, interspersed with rest. "These sessions require you to push yourself as hard as you can for short periods to get your heart rate up, followed by short periods of rest when you can recover and bring your heart rate back down, before pushing yourself to the max again," Wiener tells us. 
What are the benefits?
You burn calories quickly, making it an ideal workout in a short amount of time. "The beauty of HIIT is it boosts excess post-exercise oxygen consumption (EPOC) which enhances your metabolic rate and means you'll burn more calories hours after finishing," Wiener says. "Studies show steady-state cardio can encourage muscle loss, but when combined with weight training in the form of HIIT, exercisers can ensure most of the weight lost comes from fat stores."
Average calories burned in 1 hour: 500-800.
Power Yoga
What is it?
Often referred to as vinyasa yoga, power yoga is a challenging workout and more fast-paced than hatha or restorative styles. "It combines a series of flowing postures with rhythmic breathing for an intense body and mind workout. It also includes elements of strength and cardio training," Wiener highlights. 
What are the benefits?
As the postures are linked in a continuous flow, it can be a rigorous workout, resulting in developed strength and flexibility. "With power yoga, you can also build upper body strength, burn calories, improve flexibility and balance."
Average calories burned in 1 hour: 300-500. 
Barre
What is it?
This ballet-inspired workout isn't too dissimilar to Pilates, but focuses specifically on small isometric movements.  "Core and strength exercises work your arms, legs and bum," Wiener says. There's a mixture of mat work, exercises at a ballet barre and small weights, resistance bands and stability balls. 
What are the benefits?
"Each isometric movement targets the core, building endurance and strength, which can also result in better toning, improved posture and balance," Wiener clarifies. As a low impact exercise, it's also kinder on your joints compared to other exercise classes, while still targeting all the major muscle groups. 
Average calories burned in 1 hour: 350-450.
DISCLAIMER: We endeavour to always credit the correct original source of every image we use. If you think a credit may be incorrect, please contact us at info@sheerluxe.com.