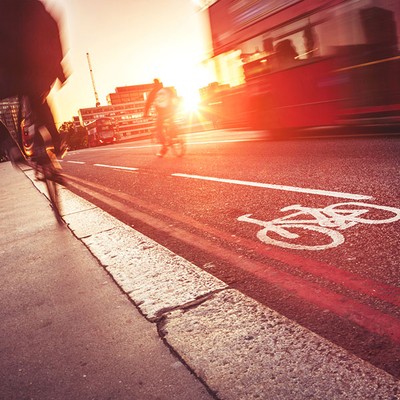 The London Cycling Routes To Know

With lockdown beginning to ease, and many of us preparing to return to work, getting there safely is of paramount importance. If you live in the capital, but don't have a car or feel uncomfortable using public transport, you might want to give cycling a go. With London's extensive network of cycleways, here are the main routes to know…

NORTH 
CS1: Completed in early 2016, this is one of the newer cycling routes in London. Extending from Tottenham all the way down to Liverpool Street in the City, the first cycle superhighway does not use 'blue paint' and is primarily non-segregated on quieter streets – making it more familiar to those who prefer to cycle on London's 'quietway' routes. Starting at White Hart Lane, it runs roughly parallel to the A10, with a safe crossing near busy Old Street. 
Total distance: 11km
Average time: 35 minutes
For a map, click here. 
EAST
CS2: This route initially consisted mostly of 'blue paint' cycle lanes but in 2016, after some safety concerns, the majority of the route was upgraded to separated cycle tracks, making it one of the clearest routes on the network. Running from Stratford to Aldgate (near the Tower of London), this is the most direct route for East End girls. 
Total distance: 11 km
Average time:  35 minutes
For a map, click here.
CS3: In 2017, Transport for London (TfL) constructed a lengthy extension of the third superhighway to Lancaster Gate in Westminster. Starting to the south of Greatfields Park in Barking, cyclists pretty much have an entire, segregated lane all to themselves for the vast majority of the route. Passing through Dagenham and Newham, the route branches southwards to avoid clashing with traffic at the busy junction between the A13 and the North Circular.
Total distance: 13 km
Average time: 40 minutes
For a map, click here.
CENTRAL
C4: This route isn't completely built yet – hence why it's not known as a superhighway – but the first section between Southwark Park Road and Rotherhithe roundabout is open. Eventually, it will be part of a major segregated cycle route from Tower Bridge, along Tooley Street, Jamaica Road and onto Deptford, and once complete, the entire route will stretch from Tower Bridge to Greenwich.
Total distance: 3 km
Average time: 12 minutes
For a map, click here.
CS5: A small, central route, superhighway five currently stretches from Oval to Pimlico via the Vauxhall gyratory, and largely facilitates connections between superhighway eight and the surrounding 'quietways'. Great for commuters coming in from the south, who need to cross over Vauxhall Bridge to access the north side of the Thames safely.
Total distance: 3 km
Average time: 12 minutes
For a map, click here.
CS6: Stretching from King's Cross to Elephant & Castle, this route is a real north-south connection across the capital. Following Farringdon Road, crossing Blackfriars Bridge and heading towards Lambeth, those on a longer commute can connect to superhighway seven once they reach the Elephant & Castle roundabout to head south-west towards Tooting and Merton. 
Total distance: 5km
Average time:  20 minutes
For a map, click here.
SOUTH
CS7: Starting outside Colliers Wood tube station, this cycle superhighway heads north towards Brixton, through Balham and follows the length of Clapham Common. The lane opens up past Stockwell tube, with the route connecting with the fifth superhighway to go into Pimlico. The last stretch to Elephant & Castle allows cyclists to avoid the busy roundabout – just follow the arrows on the road. Then, follow the signs to Southwark Bridge Road until you reach Cannon Street tube and the end of the route. 
Total distance: 14km
Average time: 43 minutes
For a map, click here.
CS8: This major cycle route heads east into central London from Wandsworth. It begins by heading through Wandsworth town centre to pick up the A3215 through Battersea, before diverting through Battersea Park to cross the Thames at Chelsea Bridge and head along the north bank to Lambeth Bridge.
Total distance: 10km
Average time: 30 minutes
For a map, click here.
LONDON QUIETWAYS 
Cycle superhighways are known for their superior safety, thanks to segregated bicycle lanes and protective barriers from neighbouring traffic. However, if you prefer to stick to quieter streets (which may or may not have designated bike lanes) here are five routes to know…
Q1: Running through Lambeth, Southwark, Lewisham and Greenwich, this route uses a series of back roads and quiet streets to take you from Waterloo train station to Greenwich train station. Along the way you'll pass Tabard Street Gardens, South Bermondsey railway and Deptford. At Greenwich, you'll enjoy views of Canary Wharf, the O2 and the Cutty Sark. 
Total distance: 9km
Average time: 25 minutes
For a map, click here.
Q5: Although parts of it remain in development, quietway five stretches from Clapham Old Town up towards Lambeth, meandering through the backstreets of Stockwell up to Oval roundabout, and through Vauxhall. It largely complements part of the nearby CS7. 
Total distance: 5km
Average time: 15 minutes
For a map, click here.
Q6:  This route connects Wanstead Flats and Barkingside via a newly built bridge in Valentine's Park, and a new two-way cycle track on Forest Drive. Once in Stratford, cyclists can connect to the second superhighway to make their way towards Whitechapel and into the City of London. Alternatively keep heading south to connect to the third superhighway using quietway 22 to make your way along the Embankment. 
Total distance: 6.5km
Average time: 35 minutes
For a map, click here.
Q21: For those who live west, and fancy starting their mornings off in nature, why not make use of this route, which makes its way across Richmond Park? For those travelling west to east, towards central London, enter the park from Ham Gate Avenue and cross over Queen's Road to continue past White Lodge and bear north to join Sawyer's Hill. Then, turn right and exit the park at Roehampton Gate. 
Total distance: 5km
Average time: 16 minutes
For a map, click here.
Inspired? Here are the apps to download now…
CycleMaps
Whether you want to store your favourite routes or receive turn-by-turn instructions as you go, Cycle Map does it all. Promising to use as little battery life as possible, it offers routes and maps for all over the world – not just London.
Download here
Bike Map
No matter what kind of bike you're on or how far you plan to travel, this free app helps you navigate local cycling paths with over 4m routes worldwide – voice navigation included. Even better, if you discover a faster way to work, you can upload and store your route so you don't forget.
Download here
Walk, Run, Cycle 
With specific apps available for different parts of London and the UK, founder Ian Bush wants people to get out and explore with his app. All routes have been created by real people, on the ground, who know the city inside out – and thoroughly vetted by Ian and his team. It might make some routes a little longer, but sometimes it's good to take the scenic route.
Download here
Santander Cycles
Designed by Transport for London, Santander bicycles are part of the self-service, bike-sharing scheme for short journeys in inner London. Use this app to send bike release codes straight to your smartphone, so you can skip past the docking station terminal and get on your bike quicker. Simply register with your bank card, and use the app to hire a bike from a nearby docking station. Tap the code into the docking point and you're good to go.
Download here
Need guidance on which bike to buy? Read our recent feature here.
DISCLAIMER: We endeavour to always credit the correct original source of every image we use. If you think a credit may be incorrect, please contact us at info@sheerluxe.com.