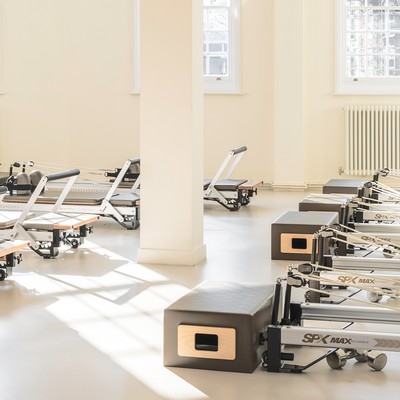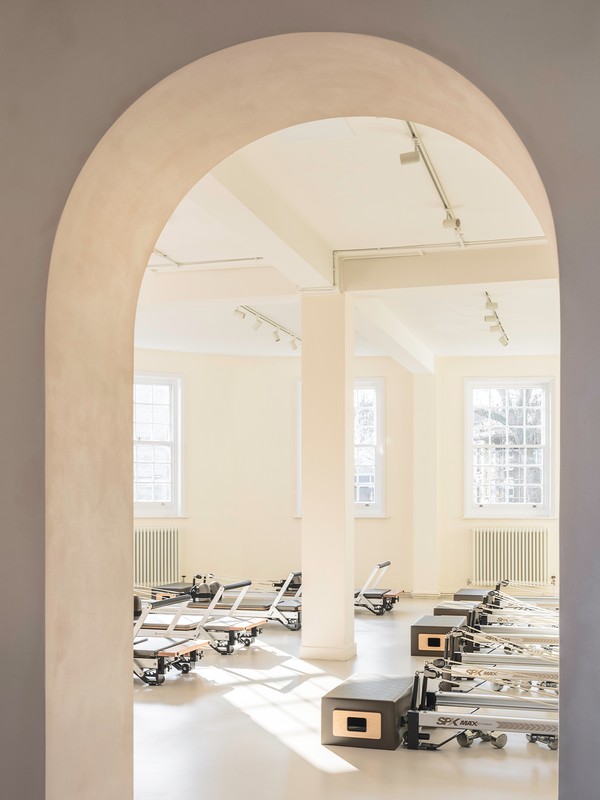 A Leading PT Shares Her Self-Care Essentials

For Lotti Benardout – Pilates trainer and founder of Studio Anatomy – self-care means a nourishing diet, quality sleep and regular acupuncture. From morning rituals to how she winds down at the end of a busy week, here are the wellness essentials she wouldn't be without.

By Tor West
All products on this page have been selected by our editorial team, however we may make commission on some products.
I'm a big believer in breakfast. Starting the day with something healthy that's going to fuel my body sets me up for a productive day. It doesn't get better than a bowl of porridge, made with coconut milk, Free Soul protein powder (a great vegan blend with vitamins and minerals to support hormone balance, mood and energy), blueberries and a pinch of salt. Making breakfast every morning is a little meditative moment – it's amazing how something as simple as stirring oats on the stove can be so therapeutic. I recently switched out my morning coffee for Dirtea's mushroom coffee blend, to which I add some additional turkey tail mushroom powder. It's worked wonders for my concentration, and my energy levels are more sustained throughout the day.
A daily shot of apple cider vinegar is non-negotiable. I have a shot every morning on an empty stomach – it's magic. I find it helps reduce bloating and improves digestion, and it's also said to have antimicrobial properties to fight off harmful bacteria in the body. If I ever feel a cold or flu coming on, I'll add it to a tea with lemon and ginger. It helps that I love the taste. I also take a shot of Symprove every morning – it's the best probiotic on the market.
I recently switched out my MORNING COFFEE FOR MUSHROOM COFFEE . It's WORKED WONDERS for my concentration.

Pilates is the ultimate workout. My attitude towards exercise has shifted in recent years. Now, I exercise for enjoyment, and not as punishment to my body. Pilates has been a big part of that shift in mindset. It's a holistic, well-rounded practice that's gentle on the joints while challenging strength, stability, flexibility and the mind. Honing my Pilates practice has shown me how being consistent can bring real results; when you start to move regularly, your body and mind begins to crave it. I'm at the studio every day and am lucky to have some of the best teachers in London at my fingertips. I'll jump into as many group classes as I can throughout the week. I tend to walk to the studio, too, while my husband takes our son to nursery. I don't listen to music when I'm walking – it's my reflective time to clear my mind, tune into my body and align myself with the day ahead.
Running makes me feel strong. As much as I love Pilates, I'm also into running and strength training. I aim for two half-hour runs a week. I'm lucky to live next to some beautiful green spaces – London Fields and Victoria Park are my favourites. My favourite running route is along the canal through to Victoria Park. I also do two sessions a week with my trainer, Marc Ellwood. Every session is different, but it's mostly free weights mixed with HIIT. The strength training really complements my Pilates practice. 
Podcasts are a source of inspiration. I recently started listening to Jay Shetty's podcasts and I'm really enjoying them. He has a diverse mix of guests and topics, but most are centred around mental wellbeing and living with purpose and intention. Diary Of A CEO is also great. I love listening to other brand founders talk about their journey – I draw a lot of inspiration from people sharing their stories, both personally and professionally. 
Being a type 1 diabetic, my diet is low in carbs and high in protein. This keeps my blood sugars in check. The tech available to help monitor type 1 diabetes is amazing these days, and it's a lot easier for me to identify which foods cause my blood sugars to spike – milk being one of them. A few years ago, I switched to nut milks over dairy as they're better for my blood sugar, but I do generally prefer the flavour. I also recently swapped out Diet Cokes for a daily Remedy kombucha. I lead an active lifestyle so keep energy levels topped up with snacks, but they need to be low sugar. My staples are cashews, blueberries and dark chocolate. I also love Fulfil protein bars – they feel like a treat but are surprisingly low in sugar. 
It's all about moderation. I have such a sweet tooth, and one of my best hacks for an after-dinner treat is Jude's Lower Calorie Chocolate Brownie ice cream as it's lower in sugar. The studio is close to some of the best bakeries in London – Forno, Popham's, E5 Bakehouse and Violet Bakery to name a few. You'll often find me picking up a pastry – it's important to treat yourself occasionally.
I love a deep tissue massage. It's not something I do as regularly as I'd like, but when I have time, I book at Masaj – all its practitioners are fantastic. When I can't have a massage, I'll use my Theragun – the effects are almost instant. It's great for post-workout recovery and I love it's something I can do myself at home, especially when pushed for time. Acupuncture is also something I've turned to over the years – I really do think of the body as a system, it's all connected. I see a wonderful acupuncturist, Wainwright Churchill, based in Muswell Hill. He particularly helped me to regulate my menstrual cycle in the lead up to my pregnancy. I'm also a fan of homeopathic remedies.  
Lymphatic drainage is worth the hype. I recently started seeing Dr Karen Doherty and have been amazed at the benefits – I love her holistic approach. For facials, Andrea Pfeffer, formerly of Pfeffer Sal, is a favourite. Her new home in Soho, Salon C Stellar, is gorgeous. I'm a skincare junkie. I can't be without Sunday Riley Good Genes, a glycolic acid serum that's great for brightening and hydration; Drunk Elephant Peptide Cream; and Soho Skin 24/7 Treatment, which is great if I'm struggling with dryness or irritation. When I have time, I use my gua sha for an at-home facial massage to reduce tension and improve blood flow.  
Staying connected to loved ones is important. I grew up in London, so I've never known anything different to the hustle and bustle of the city. When it comes to managing stress and looking after my mental health, having a support system in place is important. To manage my time and daily tasks, I try to segment bigger tasks and projects into smaller, more manageable steps. Having a good team around you in the workplace is also a bonus – I'm so lucky to have that with my Studio Anatomy family. 
I take a SHOT OF SYMPROVE EVERY DAY. It's the best probiotic on the market.

Lighting a candle is a great way to unwind. At home, Diptyque and August & Piers are my absolute favourites. In the studio, you'll often find a Vyrao candle flickering away – our signature scent is Wonder, a gorgeous combination of mandarin, orange flower, night-flowering jasmine, sandalwood and musk. 
I try to be in bed no later than 10pm. Between being a PT and managing a studio, as well as being a mum and a musician, it's important for me to create pockets of mindfulness and routine throughout the day. A good night's sleep is integral to our physical and mental health. I always sleep with a face mask and ear plugs, which is something I've done for years. This is one of my meditative ritualistic moments. Something about the act of putting these on helps me wind down – it's like a signpost to my brain that it's time to go to sleep. 
For more from Lotti or to book a class at Studio Anatomy, visit StudioAnatomy.co.uk
---
SHOP LOTTI'S SELF-CARE ESSENTIALS HERE
DISCLAIMER: Features published by SheerLuxe are not intended to treat, diagnose, cure or prevent any disease. Always seek the advice of your GP or another qualified healthcare provider for any questions you have regarding a medical condition, and before undertaking any diet, exercise or other health-related programme.
DISCLAIMER: We endeavour to always credit the correct original source of every image we use. If you think a credit may be incorrect, please contact us at info@sheerluxe.com.