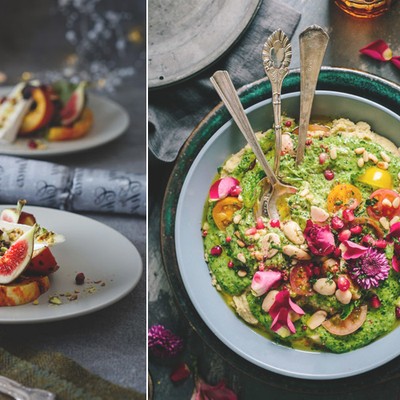 6 Easy Tips For Your First Vegan Christmas

The number of people choosing veganism is on the rise in the UK – 3.5 million of us to be precise. If you're one of the many (or hosting one) and wondering how you're going to enjoy this year's feastivities, then here are some handy tips to help.

Plan Ahead
Like always planning is the key to success. If you're cooking for both vegans and non-vegans, ask your guests about their dietary restrictions well in advance. It's important to remember that vegan food can't be cooked in the same pan as anything that's been cooked with meat or in meat juices, so ensure you have enough pots and pans to roast everything separately and enough cooking time for it all to ready at the same time. If you're the vegan guest, let your host  know about your diet as much in advance as possible. Remember not every chef will have a vegan repertoire, so prepare to offer some handy tips – maybe send over some links to your favourite food and show up early to help prepare the food with them. Jamie Oliver has a whole host of vegan Christmas recipes if you're stuck.

It's The Little Things
It's important to remember that eating vegan doesn't just mean not eating meat. Be aware of what you're mixing with the food – items like butter, honey and gelatine aren't vegan, and neither are some beers and wine. So, make sure you check all these things when planning your festive feast. Luckily, many places now do vegan versions of their best-selling sauces – Hellman's have a vegan mayonnaise (in case you're making a veggie 'prawn' cocktail), Vegan Family has a great recipe for dairy-free bread sauce, and there's even vegan cranberry sauce. When it comes to drink, Marks & Spencer are leading the way and currently stock around 384 vegan wines, whilst for beer drinkers, CELIA lager is low in calories, vegan friendly and gluten free. Ideal for a guilt-free Christmas.

Mix Up Your Cheeseboard
Remember that it's not just about Christmas dinner – it's all the bits in between that you need to think about ie a cheeseboard. But vegans don't have to sit this one out; a full and fruitful cheeseboard is a sure-fire way to impress your guests, and it's easier than you'd think to veganise. Asda have a full vegan cheeseboard, complete with faux cheddar and gluten-free crackers, if you're hosting several guests  who follow a plant-based diet. But if you just want to dot a few vegan cheese in with the regulars, Veganuary recommend trying Tesco Free-From Jalapeño & Chilli Cheddar, which has a coconut oil base, or Violife's After Dinner Cranberry Wedge – the perfect alternative to a fruity festive Wensleydale.
Give A Nut Roast A Go
The nut roast has been the butt of many a seasonal joke, but recipes which actually produce a pretty decent nut roast continue to crop up, meaning we might have to put that joke to bed. Nut roasts are a pretty versatile option, and cheap, too – why get a £40 turkey when you could get a vegan nut roast with cranberry drizzle from Waitrose for £11? If you decide to make one for yourself, though, Jamie Oliver and Mary Berry both have top-rated recipes.

Pick Up A Pumpkin
It can be hard to know what to cook for a vegan Christmas without it just being veg on veg on veg. But there are some really great vegetables that vary greatly in taste and texture. For example, pumpkins are really flavoursome, which makes it the perfect side dish to accompany your Christmas dinner. Plus, they're good for you – nutritionist Cassandra Barns says, "Eating pumpkin can be a great way to help fend off winter bugs. Pumpkin flesh contains a decent amount of vitamin C – a critical immune system nutrient. And vitamin A is also vital for a healthy and balanced immune system." Gordon Ramsey has a great nutty pumpkin soup recipe which would make an excellent starter, whilst this maple-glazed roast pumpkin is a great alternative to the classic honey roast ham on Boxing Day, too.

There's An App For That
If you're still panicking over what to make on the big day, then let Tesco lend a hand: their new 'Festive Menu Helper' app is designed to help those shopping for a free-from Christmas, with plenty of recipes, inspiration and tips. Just create your guest list and write down whatever dietary requirements your guests have, then choose from two options: create your own menu from scratch or let Tesco do the hard work by pulling options for a three-course meal for you. It'll suggest pre-made bits and easy recipes, with each course offering a few different options. The app has five vegan starters, six mains and seven puddings. Plus, if you're not sure which wine goes with what nut roast, there's also a wine-pairing service. Easy!
DISCLAIMER: We endeavour to always credit the correct original source of every image we use. If you think a credit may be incorrect, please contact us at info@sheerluxe.com.