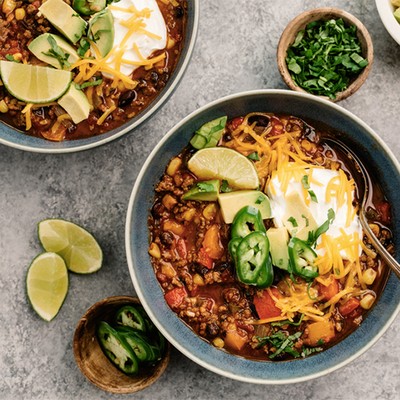 7 Chefs Share Their Chilli Con Carne Tips

From classic Mexican recipes to scotch bonnet and dark chocolate-fuelled alternatives, some of the UK's top chefs give us their tips for making chilli con carne at home…

Zoe Simons, Innovation Chef at Waitrose
Use good stock, add pancetta for extra flavour and don't use too many tinned tomatoes. First, put a good glug of oil in a saucepan. Once the oil is hot, crumble in your beef mince and whisk over a hot heat. Whisking helps break up the mince so you don't get any large, uneven chunks. Remove the mince from the pan and add onion and diced pancetta, letting the onion cook in the fat from the pancetta. Add cumin, ground coriander and ancho chilli powder and cook for five minutes. Add a good glug of red wine and good quality beef stock and simmer gently for 45 minutes. Blitz up a handful or parsley and coriander with a small amount of water and, just before you serve your rice, stir a tablespoon of the herbs through, to add colour and a fresh, fragrant flavour. 
Visit Waitrose.com
Ryan Matheson, Sea Containers Restaurant
Use red wine to braise down the beef – it's often a case of the more the better. This gives the dish a real richness and adds a deliciously luxurious note to the ultimate comfort food. Adding star anise lends the dish a sweet and spicy flavour that is not dissimilar to liquorice, too. Alternatively, add a little Caribbean spice, such as a scotch bonnet chilli, for those who love a little extra heat.
Visit SeaContainersLondon.com
Mark Hartstone, La Fosse at Cranborne
A quick tip to add greater depth is to add either cocoa or dark chocolate at the end of cooking. A little nutmeg or mace also works. You want sufficient chilli to make it warming, but vindaloo strength is not essential. You can also add bespoke sauces – try Devon chilli grower Chilliman, which can be delivered in the post. Smoked ingredients also add greater flavour.
Visit La-Fosse.com
Rupert Willday, Charlie Bigham's
The key lies in the best quality meat, which should be well-browned. Allow the ragu to simmer gently, think slow and low when cooking this dish – no rushing. The chillies are also very important; a combination of chipotle gives smokiness plus heat, while ancho chillies add depth of flavour. One ingredient used to enhance the flavours of Charlie Bigham's chilli con carne is chorizo, which adds a combination of spice, smokiness and sweetness. For those finishing touches, top with some queso fresco – a soft crumbly cheese which originates from Mexico – a sprig of coriander for freshness and, my personal favourite, a spiced Mexican rice.
Visit Bighams.com 
Ioannis Grammenos, Heliot Steak House
Place a large non-stick saucepan over a medium heat and add the onions and garlic cook for few minutes. Next, add the beef and cook together for five minutes, stirring and squishing the beef against the sides of the pan to break up the lumps. Add one or two teaspoons of chilli powder, depending on how hot you like your chilli, and the cumin and coriander. Fry together for a couple of minutes more. Sprinkle over the flour and stir well. Add the wine and then the stock, stirring constantly. Tip the tomatoes and kidney beans into the pan and stir in the tomato purée, caster sugar, oregano and bay leaf, season with a pinch of salt and ground black pepper, bring to a simmer on the hob, then cover loosely with a lid. Reduce the heat and leave to simmer gently for 45 minutes, stirring occasionally until the mince is tender and the sauce is thick. Adjust the seasoning if need it. If you want to mix it up, use dark chocolate instead of sugar. Don't forget to add guacamole or sour cream on top.
Visit HippodromeCasino.com
David Coutts, The Runnymede on Thames
Sweat onion, garlic and chilli in olive oil until softened, then add dried spices and cook until they give off a nice aroma. In a separate pan, seal the minced beef in moderately hot oil to brown the meat. Brown the meat in small batches, so that it colours evenly, increasing the flavour. Add the beef to the onion and spices and mix together. Add the tomatoes and simmer for a few minutes. Add the stock, bay leaf and tomato paste and bring to the boil, before turning down to a gentle simmer for about 45 minutes. Add kidney beans and continue to simmer for another 15 minutes until it has thickened slightly. Season to taste and serve with steamed rice, a sprinkling of chopped parsley and a dollop of sour cream. Remember, chilli con carne always tastes better the next day when the beans have soaked up the flavours.
Visit RunnymedeHotel.com
Georgie Soskin, Eight Food
Start by heating a little coconut oil in the pan and heat up. Add in onion and sweat, allowing them to get a little colour. Add in red pepper, carrot, celery and sweat together until beginning to soften. While doing this in another pan begin to brown beef mince – make sure you break it up as small as possible. Use a large frying pan heated to a pretty high heat with a little amount of coconut oil – you want the beef to take on a good depth of flavour and colour. When done add in chopped liver and cook for about 30 seconds to 1 minute. Go back to the vegetable pan and add in garlic and cook out. Next add in the beef mince, liver, star anais, cinnamon, cumin, coriander and paprika. They will instantly make the pan dry. Quickly add in the tomato puree, stock and a bay leaf. Add in the balsamic vinegar to help balance and sweeten. Bring up to a boil then down to a simmer pop into an oven (preheated to 150°C) for an hour and a half. Next add in the beans and return to the oven for another 30 minutes. Taste and season if necessary.
Visit EightFood.co.uk
DISCLAIMER: We endeavour to always credit the correct original source of every image we use. If you think a credit may be incorrect, please contact us at info@sheerluxe.com.