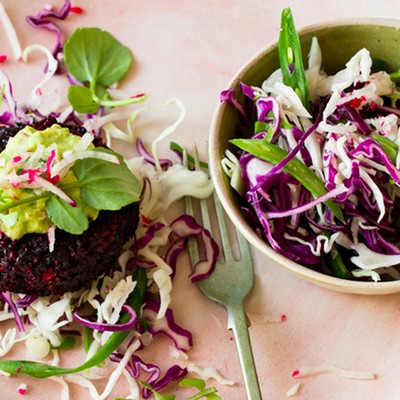 8 Ways To Make Coleslaw More Exciting

No BBQ would be complete without coleslaw. Incredibly simple to make from scratch – and much tastier than the supermarket stuff – there are plenty of ways to make yours more interesting. From adding coconut and chilli, to giving your dressing a Mexican twist, here's what eight top chefs recommend…

Thomasina Miers, Wahaca
"To give coleslaw a Mexican-style twist, mix 1 tbsp of good quality mayonnaise, 1 small clove of grated garlic, the juice of half a lime, 1 tbsp of sour cream and 2 tsp of chipotle sauce together and add a pinch of salt and pepper. About 10 minutes before you sit down to eat, toss your slaw with the dressing and sprinkle with toasted pumpkin seeds. Try serving on top of a tostada for a summery starter."
 
Visit Wahaca.co.uk
Henry Russell, Belazu
"The crunchy texture of cabbage works well with the fresh citrus flavours of chermoula and lemon juice. And while coconut isn't traditional, using it with fresh chilli means this classic summer side dish has a fruity tropical flavour. To make the zesty dressing, mix 2 ½ tbsp of chermoula, 5 tbsp of mayonnaise, 5 tbsp of plain yoghurt, the juice and zest of half a lemon and 1 tbsp of white wine vinegar in a bowl and season with salt. Stir well to combine. Add the dressing to your cabbage mix and use tongs or a sturdy spoon to mix and combine so that nothing is left dry. Add in 40g of coconut flakes and 1 chopped green chilli and mix again. Serve."
Visit Belazu.com
Kerth Gumbs, Ormer Mayfair
"To make a zesty dressing, mix 75ml of Double Dutch lemon tonic, 65ml of lime juice, 40ml of lemon or orange juice, 20ml of Japanese vinegar, 1 clove of garlic, 1 small red chilli, 1 diced shallot, 2g of Maldon salt and 10ml of fish sauce in a bowl, then whisk in 60ml of sesame or peanut oil. Shave some white cabbage, purple cabbage and carrots and add to a large mixing bowl with spinach leaves, thinly sliced mango, a sprinkle of pumpkin seeds and sesame seeds. Pour over the dressing and serve slightly chilled."
Visit Flemings-Mayfair.co.uk 
Rupert Willday, Charlie Bigham's 
"You want to make the coleslaw as colourful as possible, so thinly slice or shave crunchy vegetables like red cabbage, kohlrabi, carrot, turnip and kale. Don't succumb to the temptation to slather your raw veggies in a shop-bought mayonnaise, especially if you're cooking for a vegan in your party. Instead, create a punchy dressing with leftover jalapeño pickling juice, mixed with a little cider vinegar, lime juice, extra virgin olive oil and salt and pepper to season. Finally, to give the flavours a bit of zing and heat, garnish with fresh herbs like fragrant coriander and mint, and top with some finely grated ginger or chilli."
Visit Bighams.com
Rosalind Rathouse, Cookery School at Little Portland Street
"What makes coleslaw delicious is homemade mayo mixed with yoghurt, as that will give your dressing a lovely tang. Apples give a nice sweetness, but if more sweetness is required, you can throw in some cranberries or raisins which will add some colour too. Using red and white cabbage also makes it look more interesting."
Visit CookerySchool.co.uk
Cesar Fernandez, Miele GB
"Don't limit yourself by using only cabbage, there are plenty of vegetables that you can use to make slaw – from shaved brussels sprouts and raw broccoli to cauliflower leaves. The type and quality of mayonnaise and vinegar you use will change the flavour of your final slaw. If you're not a big fan of raw onions, fry them in a little oil until crispy and then garnish the coleslaw with them to add a different texture. Try using Japanese mayo – it tends to be thicker and creamier with a tangier and slightly sweeter flavour. A little goes a long way with it. You can always use apple cider vinegar instead of white wine vinegar for dressings and this is no exception."
Visit DerKern.Miele.co.uk
Paul Bough, Staub
"Add seeds to your coleslaw to give an extra crunch and texture as well as a delicate flavour accent. They also provide protein, which is valuable for those eating a vegetarian or vegan diet. Plus, seeds are high in nutrients and vitamins so it's a healthy, tasty win-win. Add some fresh herbs, such as mint, to give a lovely aroma and really lift the freshness in the palate. Use red onion instead of white onion for extra sweetness. And include some rapeseed oil to offer a warm background note which also helps to absorb and combine the different flavours of the vegetables. It also adds a lovely golden colour and gives a lighter mouthfeel compared to mayonnaise-bound coleslaw."
Visit Staub-Online.com
Justine Murphy, Mymuybueno
"Swap mayo for a maple and tahini dressing instead (10 tbsp of tahini, 4 tbsp of maple syrup, 2 tbsp of lemon juice and 5 tbsp of hot water all whizzed together in the blender). This makes it vegan. Grated raw celeriac and a handful of dried cranberries is delicious, too."
DISCLAIMER: We endeavour to always credit the correct original source of every image we use. If you think a credit may be incorrect, please contact us at info@sheerluxe.com.