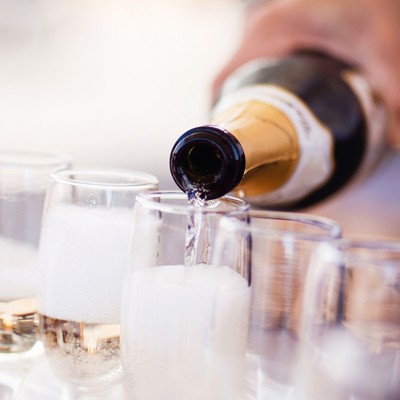 9 Top Bottles Of Fizz For Christmas Day

Christmas is all about celebrating with your nearest and dearest, and nothing says celebration quite like champagne. Here Gridiron sommelier Lucy Ward (formerly of Noble Rot) offers her five golden rules for buying fizz at Christmas, alongside nine top suggestions. Cheers!

1. Always buy magnums… It's more fun, it makes you look fancy and it's better for the environment.
2. Surprise guests with something a bit different and buy British… Don't tell them and see what reactions you get.
3. Try and think about food pairing when you're buying champagne... The combination of 80s amuse-bouches (think salmon mousse and vol au vents) served with some Bollinger will leave your aunts and uncles feeling incredibly nostalgic. Always have rosé champagne on Christmas morning – it goes perfectly with smoked salmon and scrambled eggs.
4. If you're sticking to one type of fizz, get to know your chosen bottle before you purchase… Go out and by six different bottles for yourself and test them out before the big day.
5. When it comes to Christmas Eve, think about doing a cocktail... My suggestion? One sugar cube, a dash of Angostura bitters and 15ml of brandy, topped up with your chosen champagne.
LUCY'S TOP CHAMPAGNE PICKS:
LAHERTE FRERE, 'ULTRATRADTION', CHAMPAGNE NV, £29
An amazingly priced, classy champagne from a small grower.
ERIC RODEZ, 'ZERO DOSAGE' GRAND CRU, CHAMPAGNE NV, £61.96
This champagne has no added sugar, which gives it an exquisite acidity. Absolutely delicious.
BOLLINGER, SPECIAL CUVEE BRUT, NV, £42
It's a classic – don't knock it. An ode to Absolutely Fabulous.
LUCY'S TOP CREMENT PICKS:
DOMAINE J. LAURENS, CRÉMANT DE LIMOUX, 'LES GRAIMENOUS', 2016, £13.99
From the south of France, it's got all the complexity of champagne at a third of the price.
DOMAINE BRETON, VOUVRAY METHODE TRADITIONELLE BRUT 'LA DILETTANTE', 2014, £21
A biodynamic sparkling chenin blanc from the Loire Valley, this is a great one to serve with cheese.
FRANCOIS MIKULSKI, CREMANT DE BOURGOGNE, 2015, £16
A fresh, clean sparkling wine from Burgundy, with the added bonus of an obscure grape variety called aligoté.
LUCY'S TOP ALTERNATIVE PICKS:
BLACK CHALK 'WILD ROSE' ENGLISH SPARKLING 2015, £40
A rosé from Hampshire. English sparkling wine doesn't get better than this.
RAVENTOS I BLANC, BLANC DE BLANCS, 2015, £12
Keeping traditions strong, this sparkling wine is only made from indigenous grape varieties from Catalonia. 
MALIBRAN, PROSECCO COL FONDO 'SOTTORIVA NV, £21.99
This one's made traditionally, so it's a little cloudy. It has an amazing price tag and is the most interesting prosecco out there.
DISCLAIMER: We endeavour to always credit the correct original source of every image we use. If you think a credit may be incorrect, please contact us at info@sheerluxe.com.