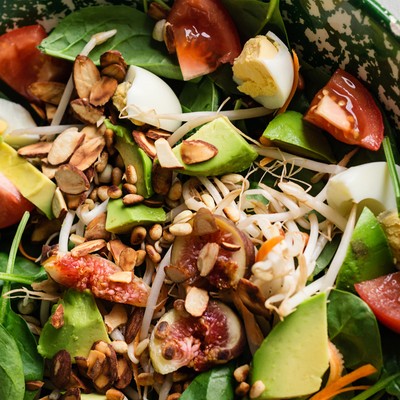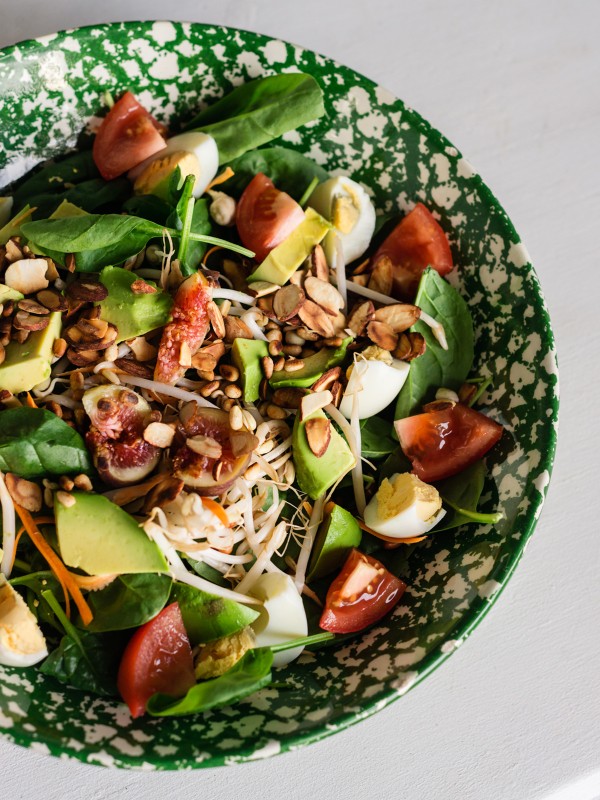 A Nutritional Therapist Shares Her Healthy Kitchen Essentials

Looking for new ways to eat well this autumn? Where better to find inspiration than in a nutritionist's kitchen? From nutrient-rich brunch dishes to speedy supper solutions, here's what Aliza Marogy –founder of supplement brand Inessa – has been eating recently…

By Tor West
My approach to food is framed by my upbringing in a Middle-Eastern household. We always cooked from scratch and used an abundance of vegetables, herbs and spices.  It's been fascinating to watch Middle Eastern food trends making their way to the UK – whether it's topping dishes with pomegranate and mint or adding harissa and cardamom for a bit of spice. My mother is an incredible cook. From a young age, I always enjoyed cooking and experimenting with her in the kitchen. She always cooked with herbs and spices, which is something I incorporate in my kitchen today. 
I eat my first meal of the day around 10am. I naturally don't have an appetite before then, which suits me well, as mornings are spent with my son and making sure he's ready for school having had a nourishing breakfast. Most mornings, he has porridge with fresh berries. If I'm peckish, I'll pick at strawberries or blueberries while prepping his food, or grab a handful of raw, unsalted nuts. In the winter, I tend to feel hungrier – I'll snack on a slice of gluten-free sourdough with avocado or nut butter and sliced banana. I'll also have a mug or two of fresh black coffee. 
Shakshuka is the ultimate weekend brunch. At the weekend, we like to have a late breakfast as a family, which will often be a smoky bean shakshuka or warm lentils with spinach, avocado, eggs and a generous serving of herbs. I don't use herbs sparingly – they form an integral part of a dish. This is partly because of the flavour but also because herbs are nutrient powerhouses. Parsley and coriander are particularly great, easy to grow or buy, and are packed with vitamins C, K and A and folate. 
I cook a lot with pulses. They're filling, a good source of protein, fibre and minerals, and can easily be incorporated into any recipe. You'll always find jars of cooked beans, lentils and chickpeas in my cupboard – if I'm working from home, I'll often make a chickpea stew or soup for lunch, adding cavolo nero, kale or spinach for added nutrients. White beans also make a delicious mash alternative, and lentils are a healthy swap for meat in a vegetarian Bolognese, which I often make for a fast and filling lunch. I'm fortunate to have a fishmonger round the corner. In the summer, I like to make a quick dish of butter beans and clams cooked in a pan with olive oil, garlic and parsley. It's the perfect light lunch. 
White beans make a delicious mash alternative, and LENTILS ARE A HEALTHY SWAP FOR MEAT in a vegetarian Bolognese.

Curries and stews are a great way to pack in nutrients. You can easily make them in bulk and freeze portions for busy days. Many of my go-to dishes are variations on a bean, cavolo nero and mushroom stew, and a haricot bean and lemon soup. El Navarrico makes the best-tasting cooked pulses ready to make into meals in minutes. Its white haricot beans are incredibly creamy and its chickpeas tasty, soft and easier to digest than canned ones. 
I make a weekly trip to my local farmers market. It's a great way to eat seasonally. On a recent visit, I picked up some sorrel, which made a delicious addition to a potato salad, and edible chrysanthemum, which worked well in Asian dishes. I always pick up some shitake mushrooms, too. They're quick to cook and packed with B vitamins, fibre, immune-supporting beta glucans, selenium and copper. 
Leafy greens, eggs, parmesan and salmon are staples I always have to hand. Tomatoes, fresh chillies and tofu also feature regularly in my weekly shop. You'll always find a couple of tubs of hummus in my fridge, too, which I love with oatcakes. With those, alongside store-cupboard staples like pulses, rice or noodles, you can make a whole range of dishes. King Soba makes delicious noodles – the pumpkin and ginger variety is particularly good. For tofu, which can be tricky to cut and often doesn't have the best flavour, I find TofooCo tastes and cooks the best. Regardless of how busy I am, you'll never find ready meals in my fridge – I avoid ultra-processed foods where possible. 
I'm not a big snacker. I don't tend to snack between meals. It's not a conscious decision, but mostly down to a lack of time between work and our son's school routine. As I have a proper meal for lunch around 1.30pm, I'm often full until dinner, which tends to be early. When I do feel a bit peckish, I like miso soup, some fresh fruit with a few walnuts or almonds, or occasionally, some Nairns oat chocolate chip biscuits. 
Stir-fry is a go-to dinner in our house. For a quick, healthy meal, M&S stir fries make life simple. I tend to buy two servings of the prepped vegetables and one packet of the ready sliced beef and then make the rice myself, but if I'm feeling lazy, I'll also pick up some cooked rice noodles. I make my own sauce with soy sauce, ginger, garlic, chilli, sesame oil and maple syrup – a far healthier alternative to sugar-laden, pre-made options. A stir fry is probably the quickest meal you can make and an easy way to consume a wide variety of vegetables in one go.
I make pho once a week. You can vary the veg and protein source, and the broth is comforting. I'll often have lots of leafy greens, French beans and shitake mushrooms, topped with chicken or tofu, lots of fresh herbs, sliced onion, chilli and lime. I also love a traybake of salmon, sweet potatoes, red onions and greens – I roast everything in the same dish to save on washing-up.
If I don't take magnesium IT TAKES NOTABLY LONGER TO FALL ASLEEP and I'm more prone to waking at night.

Chicken noodle soup is my go-to when I'm feeling under the weather. Not only is it full of vitamin-packed vegetables, but chicken contains amino acids that help us make antibodies and T-cells, and the warm broth is soothing. I like to add garlic, ginger and turmeric for their antiviral, antibacterial and anti-inflammatory properties, and some chilli to help clear congestion. Homemade spaghetti Bolognese or a vegetarian risotto is also pure comfort food when I'm tired. There's always a batch of Bolognese sauce in my freezer, although I try not to eat red meat too often as I have ulcerative colitis and red meat can trigger gut inflammation. I make sure I eat plenty of eggs, soybeans, chickpeas, kidney beans, almonds and leafy greens for iron. 
Garlic is the one ingredient that makes everything taste better. It's also a great way to make sautéed vegetables taste delicious – cook with either extra virgin olive oil or butter. 
A grazing board is a great healthy entertaining option. For last-minute entertaining, I'll pull together a platter with homemade guacamole, a beetroot dip and hummus garnished with crudites. I also love a mackerel pâté, which is high in both protein and omega-3s. Don't be afraid of cheese in moderation – it's rich in protein and packed with calcium and vitamin D. Serve with fresh figs, grapes and oatcakes. Simple, healthy and delicious. 
London is a foodie haven. My husband, son and I make the trip to Borough Market as often as we can. We love wandering about, and more often than not we end up at Juma to enjoy some delicious Iraqi food, pick up some fresh produce to take home, followed by a pitstop at Elliot's for a glass of natural wine. I recently had a great dinner at Fallow. The food was excellent – highlights include the mushroom parfait and corn ribs – and the team were thorough with allergies and intolerances. Saucer & Cup in Wimbledon is my local. When time permits, I'll pop there for lunch and take some reading material. The team are meticulous about ingredient sourcing. I always order the mushrooms with feta, olive tapenade, aioli and sumac served on sourdough, topped with a poached egg.
Chamomile tea is an evening staple. A mug an hour before bed helps me unwind. I've been a poor sleeper since my teens, but chamomile tea and magnesium help. If I don't take magnesium, it takes notably longer to fall asleep and I'm more prone to waking at night. Magnesium helps the body relax and increases calming neurotransmitters in the brain. You can find it in leafy greens, wholegrains, avocados, nuts and seeds, although it could be worth topping up with a supplement as it can be tricky to get our daily requirement through food alone. 
For more from Aliza, visit InessaWellness.com
DISCLAIMER: Features published by SheerLuxe are not intended to treat, diagnose, cure or prevent any disease. Always seek the advice of your GP or another qualified healthcare provider for any questions you have regarding a medical condition, and before undertaking any diet, exercise or other health-related programme.
DISCLAIMER: We endeavour to always credit the correct original source of every image we use. If you think a credit may be incorrect, please contact us at info@sheerluxe.com.