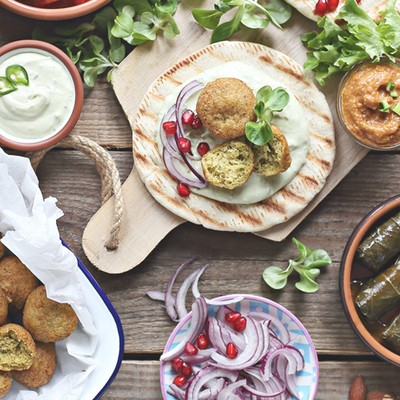 The Best Christmas Smorgasbord Recipes

For a delicious Yuletide, these gorgeous smorgasbords will wow your guests, promises SL food contributor Chloe Scott-Moncrieff. 

Simple Seafood Platter
INGREDIENTS
300g of cooked prawns ​
2 tbsp of mayonnaise
2 drops of Tabasco sauce
1 cucumber, pickled in vinegar (or 300g of pickled cucumbers or cornichons)
300g of rye bread, sliced
300g of smoked salmon or gravlax, at room temperature
4 tbsp of capers, drained
1 lemon, halved
1 packet of dill, finely chopped
METHOD
Make a prawn cocktail by combining the prawns, mayo and Tabasco. If you've chives in the garden or on the balcony, pick, slice thinly and stir in.
Slice the cucumber into thin circles and pickle with 100ml of white wine vinegar, 1 teaspoon of sugar and half teaspoons of salt and dill. Leave to sit for an hour, then run under cold water to remove the salt.
On a large wooden chopping board or plate, lay out the salmon, ryebread, piquant prawns, pickled cucumber and lemon wedges. Pile with capers on each side. 
Garnish with dill.
The Modern Vegetarian (V, GF)
INGREDIENTS
750g of baby potatoes
125-250g of buffalo mozzarella, sliced
1 pomegranate, seeds removed and saved
1 tin of lentils, drained
1 precooked vacuum-packed beetroot (not in vinegar)
2 clementines, peeled and sliced into rounds
1 tbsp of honey
90g of rocket leaves
30g of dill, finely chopped
200g of soft goats' cheese (optional)
60g of pine nuts
2 tbsp of lime chutney
METHOD
Preheat the oven to 190ºC. Pop the potatoes and olive oil in a baking tray with a garlic clove or two; herbs, if you're using them, could be dried thyme, rosemary or sage. Season with salt and pepper. Stir well. Roast for 30-40 minutes.
Slice the clementines into rounds. Mix with the beetroot, rocket and dill; toss in honey and olive oil. Rounds of soft goats' cheese are delectable in this combo. Season with salt and pepper. 
In a separate bowl, stir together the lentils, mozzarella and pomegranate. Season with salt and pepper, a shallot or smidgen of finely chopped red onion, and a slosh of olive oil.
Meanwhile, toast the pine nuts in a saucepan on the hob in a drizzle of olive oil, and season with salt and pepper. Sizzle for about 4-5 minutes until golden.
On a large plate or two, or a wooden plank, pile up the roast baby potatoes, mozzarella and lentils, and clementine and beetroot salad. Sprinkle over the toasted pine nuts. Garnish with any remaining dill and lemon wedges. 
The Falafel, Roasted Carrot, Cumin & Sumac Flatbread Combo (V)
INGREDIENTS
1 tin of chickpeas
1 onion, finely chopped
1/2 tsp of bicarbonate of soda ​
1 pinch of cumin
1 tbsp of flour
3 tbsp of sesame seeds
1 handful of mint, finely chopped
200g of tomatoes
1/2 onion, finely chopped
1 cucumber, cubed
Roasted Carrots & Cumin
300g of carrots, peeled and halved, sliced into batons or rounds
​1 tbsp of honey
1 tsp of cumin seeds
1 lemon's zest
6 pitas or flatbreads, sliced into 2cm chunks and toasted
300g of hummus or a yoghurt tahini sauce*
1 pinch of sumac
METHOD
Blitz the chickpeas with the rest of the falafel ingredients; season with salt and pepper. Mix it together well in a bowl and shape into 4-5cm patties and dip into a plate of sesame seeds. Chill the falafels for 15 minutes in the fridge. Fry in a pan on a medium heat.
Meanwhile, heat the oven to 190ºC. Roast the carrots in cumin seeds, honey and butter for 25 minutes. Toast the flatbreads and slice into chunks.
To serve, lay the warm carrots, falafel and breads in piles on a large serving plate, accompanied with bowls of hummus or tahini sauce with a pinch of sumac.
*If you're opting for tahini sauce, it's simple: in a blender or Nutribullet, whizz together 1 tbsp of tahini, half a crushed garlic, 1 lemon's juice, a pinch of salt, 2 tbsp of greek yoghurt & 1 tbsp of cold water. Taste, season accordingly and adjust if you wish.
Chilli Crab On Toast, Avocado & Little Gems
INGREDIENTS
200-300g of crabmeat
100-150g of soured cream
8 slices of white bread or sourdough
2-3 avocados, skinned and de-pipped
1 shallot, finely chopped
1 handful of coriander, finely chopped
1 lime's juice
4 eggs, hardboiled
1 gem lettuce
​1 lemon
METHOD
Mash the avocado with the lime, chilli, coriander and shallot.
Mix the crabmeat with sour cream; season with salt and pepper. Toast and butter the bread. Slice into triangle quarters. Top each one with the avocado, then the crabmeat. Sprinkle over finely chopped coriander to finish.
Simmer the eggs until hard-boiled. Peel and slice into quarters. Season.
Serve the crab toast quarters in the middle of a large board, place the eggs at the end with gem lettuce leaves divided and piled up. Dress the lettuce leaves with olive oil, squeeze over lemon juice and season. Sprinkle over any remaining coriander leaves as a garnish.
DISCLAIMER: We endeavour to always credit the correct original source of every image we use. If you think a credit may be incorrect, please contact us at info@sheerluxe.com.