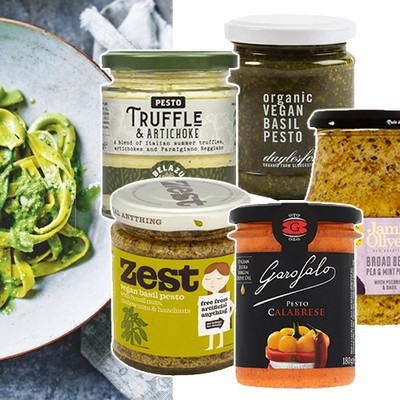 The Best Pesto On The Market

We're not knocking a classic green pesto – let's face it, who hasn't got a jar of Filippo Berio in their kitchen cupboard? But now that it's made with the likes of harissa and truffle, this cupboard essential can be used as a flavour enhancer for anything from fish tagines to salad dressings. For when you're next able to get your hands on them, here are 13 of the best...

Belazu Genovese Pesto
This classic Genovese pesto is made to a traditional recipe with Italian basil, aged parmigiano reggiano and pine kernels. Simply stir into pea and spinach gnocchi or spread onto a fillet of salmon before roasting. If you're going down the traditional route, use two tbsp per 100g of cooked pasta for the best result. 
Available at Ocado.com
Daylesford Organic Basil Pesto
We're a big fan of Daylesford's product and this aromatic basil pesto is no different. Packed full of basil, it's delicious stirred through cooked pasta, spooned over white fish or chicken before grilling or baking, and added to minestrone soup just before serving.
Available at Ocado.com
Zest Pesto
A vegan-friendly option, Zest pesto is made only from the leaf of the basil plant and without cheese or any other animal products. Ideal with salads and baked potatoes and an excellent option for homemade garlic bread. If serving with pasta, make sure to stir in two generous spoonfuls.
Available at Ocado.com
Lazzari Organic 50 Basil Pesto 
A newcomer to the UK market, this pesto brand uses a traditional recipe from Liguria. A deliciously aromatic sauce, this pesto is made with organic ingredients: extra virgin olive oil, Italian pine nuts, mature parmigiano reggiano and lots of fresh basil. Best of all, the brand makes its sauces as if they were homemade: without machinery; and using fresh ingredients from organic Italian farms.
Available at Ocado.com
Epicure Chimichurri Pesto
This vibrant pesto can be used as a marinade, dip or stir-through sauce. Made with coriander, parsley, shallots, lime and oregano, this is a flavour-packed jar that adds oomph to salad dressings, chicken skewers, steak sandwiches and salmon pasta.
Available at Ocado.com
Garofalo Red Pepper & Ricotta Pesto
In Italy this pesto, known as pesto calabrese, is made with red peppers, spicy peppers, fresh ricotta cheese and basil to create a spicy sauce than can be used both as a dip and a pasta sauce. This is best served Italian style – with garofalo pasta and a drizzle of extra virgin olive oil.
Available at Ocado.com
Jamie Oliver Broad Bean, Pea & Mint Pesto
The addition of mint makes this a really fresh-tasting pesto. The pea and broad bean combination create a nice change from basil and pecorino cheese: we like to use it brush onto grilled fish or simply dotted over creamy buffalo mozzarella, served with crusty bread.
Available at Ocado.com
Belazu Rose Harissa Pesto
Mediterranean and North African flavours come together to create this spicy pesto. Belazu's signature rose harissa is blended with sun-dried and semi-dried tomatoes, rose petals and a selection of spices. Suitable for vegans, this flavoursome pesto won a Great Taste award in 2018 – and we can see why.
Available at Ocado.com
Sacla Fiery Chilli Pesto
When Sacla says 'fiery', it means it – you'll experience explosions of heat with every forkful. Whether served with halloumi or tossed into spaghetti, this punchy pesto combines the fail-safe flavours of garlic, olive oil, hot chillies, red peppers and tomatoes. It's never been easier to add heat to your favourite dishes – think chilli con carne, lasagne and spaghetti bolognese.
Available at Ocado.com
Saclà Black Truffle Pesto
Italian brand Saclà has been making traditional pesto for generations, but its most recent launch centres on truffles. It's a small jar, but the sauce packs a real punch and adds an earthy hit to pasta, rice and egg dishes. Add a couple of teaspoons to crème fraîche, fried mushrooms and parmesan to create a quick and flavoursome pasta sauce.
Available at Ocado.com
Sacla Sun-Dried Tomato Pesto
This flavoursome pesto uses tomatoes that have been dried under the Mediterranean sun for seven days. The tomatoes are then blended with fresh basil, grana padano cheese and pine nuts. The sweet and satisfying result is best used as alternative to garlic butter in homemade chicken kievs, pairs perfectly with chorizo dishes and makes a tasty addition to a cottage or shepherd's pie.
Available at Ocado.com 
Belazu Truffle & Artichoke Pesto
Belazu has fast become one of our favourite condiment brands, and this Italian black summer truffle pesto is no different. Featuring artichokes from Puglia and aged parmigiano reggiano, this sauce is an indulgent twist on the Italian classic. Spread on the base of a steak sandwich, stir into mashed potato or use as a salad dressing – it's a truly versatile product.
Available at Ocado.com
Sacla Olive Pesto
This recipe combines dark Italian olives with oil, nuts, cheese, fragrant basil and a dash of balsamic vinegar. As versatile as it is tasty, the rich flavour adds a hit of flavour to everything from flatbreads with haloumi to fresh fish tagines.
Available at Ocado.com
DISCLAIMER: We endeavour to always credit the correct original source of every image we use. If you think a credit may be incorrect, please contact us at info@sheerluxe.com.