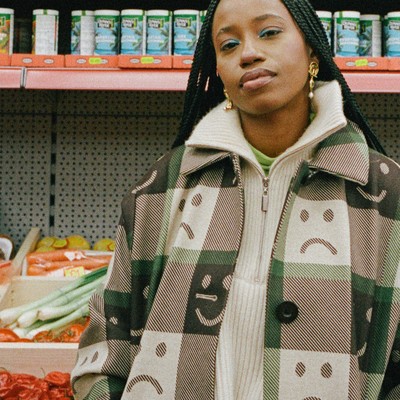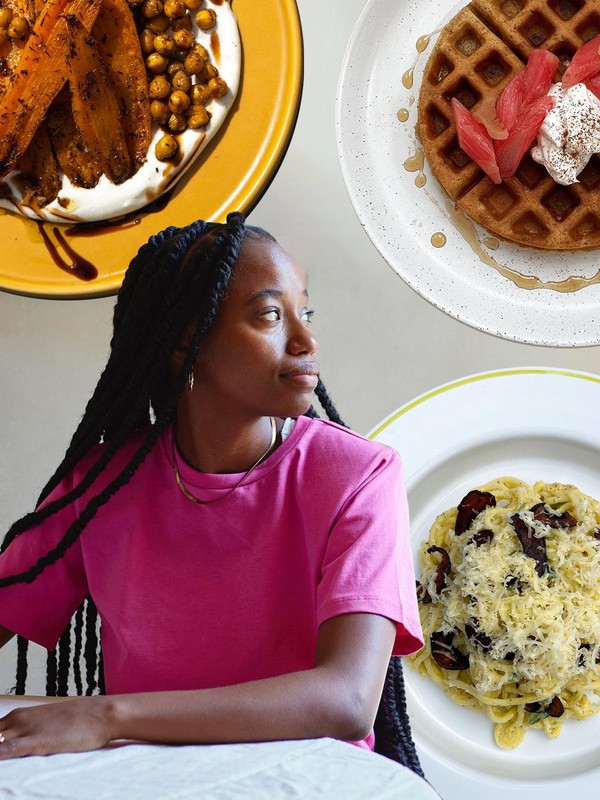 A Cool Vegan Chef Shares What's In Her Online Food Shop

Denai Moore is a singer-songwriter who's also behind Dee's Table, running supper clubs and pop-ups around the UK. She recently released a cookbook that celebrates plant-based Jamaican dishes, so we thought it a good time to ask her for her weekly food staples – from Jamaican store cupboard ingredients to vegan 'chicken' nuggets…

By Sherri Andrew
Cabbage
Cabbage is good year-round, very cheap and versatile. I love to eat it in many ways – raw and thinly shredded in a salad, roasted with soy sauce and black vinegar or steamed with a large amount of fresh garlic. InM argate I mainly shop at the international store, which is a great green grocer. 
Allium Veg
With the risk of sounding dramatic, I can't live without the allium family – brown onions, shallots, spring onions, leeks and garlic. Spring onions are probably my favourite and I love to eat them raw or quickly fried in olive oil.
Lemons & Limes
I live for citrus fruits because they add a bit of acidity and zing to any meal. I use them pretty much every day in savoury dishes, but they're also lovely squeezed on top of mango, which is my current obsession.
Plantain
Plantain = enjoyment. Sunshine in colour and the sweetest flavour! I always have an abundance of plantain in my house for steaming, frying or baking. It's delicious on its own with a sprinkling of salt, or with other dishes as a side.
Fresh Herbs
Herbs can elevate most dishes. I'm currently obsessed with mint and dill, but flat leaf parsley is a great all-round staple.I tend to put parsley in everything, from pastas to salads and even curries. Herbs are an easy way to level up most dishes.
Vegan Block Butter
As a recipe developer, I go through this stuff like crazy. Vegan butter has come a long way and there are some really good block butters out there. I often brown it and use it in dressings, too. My favourite is Flora's Salted Block.
Thick Coconut Yogurt
I love yogurt as a snack or as the base for a simple vegetarian dish. The Coconut Collab is my favourite – the vanilla flavour tastes like ice-cream!
Tofoo Firm Tofu
Tofoo is a genius for producing a tofu product  you don't have to press! Its tofu range is amazing, but I normally always have the firm variety on hand – a great staple for vegan dishes packed with protein.
Soy & Oat Milk
Soy milk is my choice as it's creamy and high in protein. I love using it to bake as it has a similar profile to cow's milk. I'm also using a lot of oat milk for iced coffees at the moment.
Pickles & Kimchi
I love anything pickled. Pickles are essential for an emergency tuna melt and I like to have a few on the side when I'm eating a sandwich. Kimchi is delicious on top of rice bowls or with grilled cheese. Pickled jalapenos are equally delicious – spicy and tangy.
Tahini
I adore tahini on porridge with date syrup and seeds, and mixed into dressings. It's also a great ingredient to bake with. That intense sesame flavour is something I always crave.
Salted Garlic Chilli Paste
This has become a staple for me over the past year as it's a quick way to add a hit of both chilli and garlic. I'm currently using it a lot in dressings and marinades for tofu and vegetables. It's also very good on buttered toast.
White Miso
Miso is a staple ingredient in vegan cookery. It's so dense, with lots of umami flavour so it packs a punch. White miso is a lot more mellow than the other types of miso, so I find it to be the most versatile. I get mine from Loo Fung in Stratford.
Soy Sauce
I use this almost every day. It's such a wonderful and versatile ingredient. Delicious with most things. I'm not loyal to a specific brand but I recently bought the scotch bonnet infused soy
sauce from Island Spice, which is really good.
Good Quality Olive Oil
Olive oi is always in my house. I like to cook with it and drizzle it over some over my dishes. Olive oil over ice-cream is also delicious – it brings out the fruity, sweet flavours. I particularly love the Brindisa extra virgin olive oil.
Basmati & Jasmine Rice
As an island girl, rice is a staple in my diet. I eat it every week without fail. You'll never catch me eating long grain rice, though. I love the flavour and fragrance of jasmine and basmati best. I usually make enough so there are leftovers. I'm really into the coconut rice recipe in my book at the moment, which is very low effort but so flavoursome.
Creamed Coconut
Creamed coconut has a rich and delicious flavour. I use it in curries, cakes, dressings and rice dishes. It's amazing because it doesn't add any water to dishes, so you get that pure coconut flavour without the extra liquid.
Jarred Butter Beans & Chickpeas
I live off butter beans. They're so cheap, creamy and nutritious. I usually throw them into a pantry salad with lots of dill and mint. Delicious.
Ackee
Ackee is always in the cupboard for emergency comfort food. Ackee instantly brings me back to Jamaica. I'm just about okay with eating it from a tin here, as you can't access fresh ackee in the UK.
Vinegar
Acid is an important part of cooking, so I like to have a few variations at home. This includes apple cider vinegar, spiced coconut vinegar, black vinegar and balsamic. Spiced coconut vinegar is my favourite as it's slightly sweet and goes well with ginger and garlic.
Sweet & Salty Popcorn
This is probably my favourite snack ever. Popcorn is just so moreish – when a bag is open, I find it hard to stop. Sweet and salty is my favourite combo.
Ripe & Green Plantain Chips
Green plantain chips are what I reach for when I want to nibble on something a bit salty in front of the TV. Although I love Kettle Chips and regular potato chips, green or ripe plantain chips always hit the spot.
Coconut Rice Rolls
This is a new obsession. They're dangerously good, with a crispy, toasty rice flavour and a bit of sweetness. I'm not normally a biscuit tea dunker, but these are so good.
Dark Chocolate
I like to end most nights with a couple of squares of good dark chocolate, but nothing over 70%. I love Ombar or Hu, which is more of a 'treat myself' purchase.
Frozen Parathas
Addiction isn't a strong enough word! I always have them to hand because they're good with everything, especially with ackee for a late weekend breakfast.
Frozen Peas
High in protein, frozen peas are so cheap and delicious. I like to add them to pasta or thaw them out and put them in a pasta salad for a bit of bite.
Frozen Vegetable Dumplings
These are my go-to for a lazy dinner or lunch. If I'm up for it, I like making a crispy lace edge when frying the dumplings. I'm not loyal to a particular brand – I like to try different ones when I spot them in the supermarket.
Vegan Nuggets 
This is my guilty/not so guilty pleasure. Sometimes all you need in life are chicken nuggets. There are really good ones out there, like the Impossible Nuggets which are the best ones I've ever had. They're quite hard to find but they taste just like the ones from McDonald's.
Frozen Blueberries
I love frozen fruit because it lasts so much longer than the fresh stuff, and you get more bang for your buck. I use it mainly in smoothies, but I also love to top my porridge with blueberries.
Coconut Water
I could drink coconut water all day, every day. I would prefer it in a fresh coconut, but Fountains of Youth is my favourite brand. Rebel Kitchen also makes delicious coconut water.
Trip CBD Soft Drink
This feels like a very millennial drink choice, but I swear by Trip. Especially when I'm not trying to drink as much, it's so nice to have instead of a glass of wine after dinner. I normally go for the peach and ginger flavour which is refreshing and not too sweet.
Kombucha
I love kombucha so much. It's good for your gut health and isn't very sugary. I'm currently really into Momo's Coffee Kombucha, which gives you that caffeine hit but isn't too intense.
Natural Wine
Unfortunately I judge and buy wines by the label and how pretty it looks. I'm not a wine snob, but I will go out of my way to buy a nice bottle. I love Emile Wines and Nouveau Wine. Djuce is also a wonderful new brand that is making great natural wine in cans.
Tonic water
I'm not always an at-home cocktail drinker, but every now and then I like making myself a G&T. It feels like a proper treat.
---
FEELING INSPIRED?
Shop Denai's Favourites
DISCLAIMER: We endeavour to always credit the correct original source of every image we use. If you think a credit may be incorrect, please contact us at info@sheerluxe.com.