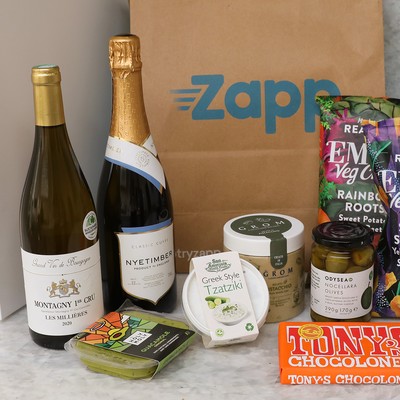 The Delivery App To Download Now

Apps come and go, but some can change your life for the better. Zapp falls into the latter category. Delivering everyday items including drinks, snacks, essential groceries, personal health and hygiene goods, over-the-counter medicines, and household products all to your doorstep in minutes, 24/7, Zapp really is worth downloading. Here's what you need to know – plus an exclusive £12 off a £20 shop for new customers...

Created in partnership with ZAPP
SheerLuxe has teamed up with Zapp to give new customers £12 OFF a £20 shop. Simply download the app via the App Store and enter the code 'SHEERLUXE' at checkout.
Read On To Find Out More...
Zapp is available in the UK and Netherlands, and has quickly become a leading convenience delivery app in London and Amsterdam. Aimed at spontaneous purchases and urgent need use cases – rather than those looking to do a weekly shop – this 24/7, on-demand app delivers everyday essentials in minutes. And it's not just limited to fresh goods – the company's fleet of riders can also drop off over-the-counter medicines, baby essentials and household cleaning products.
The app stocks over 2,000 items – from global brands to local favourites – so you can shop all your top essentials at any time of the day or night. Suddenly got a craving for cake while watching your favourite cookery show? Have a few friends popped round for one drink that's inevitably turned into many more? Or have you developed a splitting headache just as you've run out of painkillers? Zapp is where you'll find solutions to all your last-minute needs.
Here's Why Customers Love It…
Zapp offers 24/7 delivery, in minutes. 
Standard delivery is just £1.99. And when you spend above £30, the delivery fee is waived.
Refer a friend and you'll receive £10 in credit for each person who downloads the app and places an order.
Each delivery is made on an all-electric fleet (such as e-bicycles and e-mopeds) and all delivery bags are fully recyclable. 
The company works with food-sharing app Olio to reduce food waste. This partnership sees unsold food being shared with the local community instead of being thrown away. 
Zapp also works with tech company Planetly to help track and reduce emissions and develop carbon offsetting measures.  
Unlike gig economy companies, all Zapp riders are directly employed and are full members of the team. 
---
Already planning your first purchase? Here's how the SheerLuxe team used Zapp on three different occasions…
From bottles of NYETIMBER to premium bars of CHOCOLATE, ICE-CREAM, GUACAMOLE and CRISPS, Zapp has every craving covered when it comes to snacks and drinks with friends.

Whip up an EPIC breakfast in a hurry: simply add eggs, croissants, jam, oat milk, yoghurt, orange juice, avocados and bread to your Zapp order. Don't forget the coffee – we went for a tin of PRETTILY PACKAGED Grind.

Don't fancy heading out to a restaurant? Whether your idea of ROMANCE includes lingering over a bowl of pasta, baking a camembert to serve with a bottle of red, or eating crisps in front of a new series, a LAST-MINUTE ORDER from Zapp is sure to make the evening extra special.

SheerLuxe has teamed up with Zapp to give new customers £12 OFF a £20 shop. Simply download the app via iOS or Android and enter the code 'SHEERLUXE' at checkout.
For more information about Zapp or to download the app, visit TryZapp.com
DISCLAIMER: We endeavour to always credit the correct original source of every image we use. If you think a credit may be incorrect, please contact us at info@sheerluxe.com.