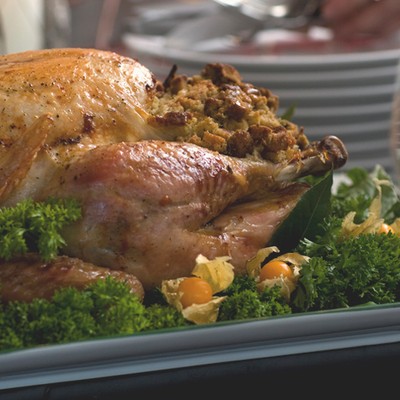 Healthy Food Swaps To Make This Christmas

Lashings of turkey, roast potatoes and sausages wrapped in bacon - Christmas lunch is gastronomic indulgence at its traditional best. For that reason, any attempt to cut back on calories can feel like deprivation. However, some of the nation's most informed nutrition and health experts have got some ideas for making your festive feast that little bit lighter – without any sacrifice on flavour.

Go For Festive Toppings At Breakfast
From smoked salmon blinis to a full English – it's all too easy to dive straight into rich food on Christmas morning. But the British Nutrition Foundation still advises eating a healthy breakfast to kick-start your metabolism, so try sprinkling some cinnamon, a handful of nuts or traditional dried fruit such as cranberries, dates or figs onto your regular cereal or porridge to give it some festive flair. It'll keep the calories low and be far easier on your digestive system first thing in the morning.
Avoid Fattier Turkey Cuts
Turkey is an excellent source of lean protein and B vitamins, both of which will help to support a healthy immune system – crucial during flu season. Just avoid fattier cuts, like wings and legs, and don't over-salt your meat ahead of cooking. Plus, leftover turkey rarely goes to waste – use it to make burgers, in spaghetti sauces or as cold cuts during the blissful transition between Christmas and New Year.
Consider This Alternative To Pigs In Blankets
It might be the ultimate comfort food, but getting rid of the bacon blanket around a cocktail sausage instantly takes the calorie count down, while swapping a high-fat pork sausage for the turkey variety makes it leaner. If a plain sausage doesn't feel festive, consider whipping up a wholegrain mustard or tomato-based dip – just steer clear of sticky honey glazes that are higher in fat. Finally, swap pigs in blankets for some bacon-wrapped dates or prunes, aka devils on horseback. Not only do they halve the meat content, but dates are a great source of calcium, iron, phosphorus, potassium, magnesium and zinc.
Mix Roast Potatoes With Root Vegetables
Potatoes dramatically increase your intake of potassium and vitamin C, while root vegetables – like parsnips and carrots – are also a prime source of fibre, manganese and folic acid. The British Nutrition Foundation recommends a mixture of roasted potatoes, parsnips and other vegetables for greater variety, while leaving the skins on to boost the fibre. Top British chef Adam Byatt suggests roasting potatoes in vegetable oil to avoid an overly greasy end result. For any vegetarians, it's good to load up on side dishes so there's still plenty of choice. We love the look of this roasted beetroot option from nutrition and wellness expert Rosemary Ferguson.
Opt For Sprout Heads Over Brussels Sprouts 
It might be a hard fact to swallow, but brussels sprouts are a really good source of vitamin C and folate. They also provide fibre, which is vital for a healthy gut. A good tip to up the flavour is to parboil before roasting them with more exciting ingredients like chestnuts and nutmeg, or hazelnuts and orange zest for a truly festive feel. Alternatively, Byatt suggests leafy sprout heads as a possible swap as you're less likely to suffer the unpleasant after-effects. Just give them a quick boil for three or four minutes before frying with brown butter for a truly scrumptious side dish. 
Go Easy On The Gravy
Health experts agree that pre-packaged gravy and gravy granules contain unhealthy levels of salt and saturated fat. Making your own might be added legwork, but it gives you more flexibility; for example, you can use a non-wheat flour to avoid gluten sensitivities. Remember to skim all the fat from the meat and poultry juices; or use the cooking water from the vegetables for an added vitamin hit. Finally, go easy on the pour to keep the calorie count down. 
Remember To Reuse Leftovers
It's five o'clock and the turkey, stuffing and pigs in blankets have been devoured. All that's left are some soggy-looking carrots and unloved broccoli. Instead of chucking them, simply blitz with a splash of milk for a winter soup which will see you through to New Year. Don't be hasty when it comes to binning the turkey carcass either. Use the bones for a probiotic-rich broth, such as this one from Hemsley & Hemsley. It needs few ingredients, but is rich in collagen, keratin and vitamin D. 
Choose A Fruity Pavlova Over Figgy Pudding
Figgy pudding, chocolate yule log and a creamy trifle sound wonderful, but their sky-high calorie counts can leave you feeling bloated. There are small swaps you can do, such as switching the brandy butter for low-fat yoghurt, but we love the look of this low-fat pavlova. It not only limits sugar intake, but gives you the chance to load up on fresh berries. 
Watch Your Portion Size
If cutting out desserts or festive snacks is too much deprivation at this time of year, dietician Jo Travers has the easiest health hack of all: just eat less. "It can be really tempting to eat large portions – it is a feast after all – but feeling bloated for half of December, and sometimes part of January, is not fun. Try to stick to fist-size portions of carbs and palm-size portions of proteins. Make up the rest with veg and you will feel great all the way through."
Reach For Herbal Digestive Aids
Thanks to its antispasmodic effect, a warm cup of peppermint tea can ease stomach cramps or other signs of indigestion. As for detoxing some of the copious amounts of booze in your system, nutritionist Rosemary Ferguson points to the healing benefits of milk thistle. "It's a powerful detoxifier and liver supporter. It helps rebuild liver cells while removing toxins from the body that are processed through the liver, and is wonderful at reversing the effects of a boozy night. It can also help protect us from pesticides in our food and pollution."
DISCLAIMER: We endeavour to always credit the correct original source of every image we use. If you think a credit may be incorrect, please contact us at info@sheerluxe.com.