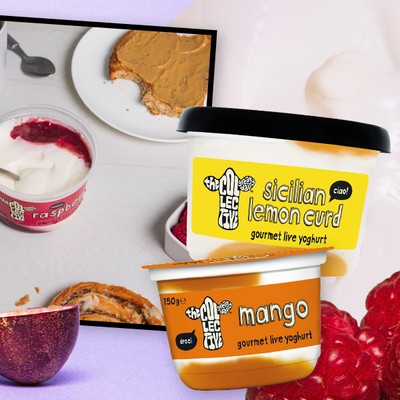 The Healthy Yet Luxurious Yoghurt Brand To Know

At the forefront of the kefir trend, The Collective Dairy creates luxurious live yoghurts in a selection of tasty flavours – each one ideal for a healthy snack or midweek pudding. The brainchild of chefs Angus Allan and Ofer Shenhav, here's how the New Zealand brand got started, why it's so popular and the reasons these Great Taste award-winning yoghurts are worth a try…

CREATED IN PARTNERSHIP WITH THE COLLECTIVE DAIRY
Founded in New Zealand a decade ago, The Collective Dairy creates luxury, all-natural yoghurts. Now available to buy in Tesco, Sainsbury's, Waitrose, Co-op, Morrisons, Asda and on Ocado, its range spans everything from gut-friendly kefir and children's on-the-go 'Suckies' to gourmet live yoghurts layered with limited-edition flavours such as Banana Butterscotch and Cranberry Cosmo.
 
Beyond the tempting flavours, all The Collective Dairy's products are gluten free, vegetarian, packed with protein, made with natural ingredients and British milk, and full of live cultures. Each pack comes in two sizes – a single serve and one to stash in the fridge for the whole family – and the yoghurts make ideal breakfasts, snacks and sharing puddings.
 Here's what you need to know about this award-winning brand…
When we arrived in the UK in 2011, we stood out immensely from the rest of the yoghurt offerings: we had bright and friendly packaging, and produced yoghurt that didn't taste like yoghurt. So many of our consumers start by saying they don't normally like yoghurt, but then really like ours. We've continued to bring tasty, fun yoghurts to market with our 'Suckies' range for kids and our latest launch into kefir – drinks that not only look and taste great, but are really good for your gut too.
What makes our yoghurts luxurious is the quality of our ingredients. Our yoghurt is made from the best-quality British milk, so we don't need to add thickeners and stabilisers to produce a thick and creamy consistency. We only use natural ingredients – the type that you would find in your kitchen cupboard – and don't use artificial flavourings, colours or preservatives. We also look for the best-quality fruits and fruit purées that we can find. We put so much care and attention into developing the finest flavours and are always keeping an eye on trends to make sure we have the best flavour combinations in our range. We also pride ourselves on having the best looking and most sustainable packaging too. We think our pots are perfect for sharing and look great on any dinner table. 
We launched in the UK with our 'Gourmet' range. Smooth, silky and moreish, these yoghurts really do melt in your mouth. We offer a variety of different flavours, each with dollops of fruit on the bottom and top of the yoghurt, so you can stir in or scoop bits of compote up with the yoghurt. Produced in big tubs, they're a perfect breakfast combo, or an afternoon or after-dinner snack.
 
Yoghurt is a great alternative to cream or ice-cream – just dollop on top of any dessert or pudding. Our Raspberry and Morello Cherry flavours are delicious alongside fruity desserts like summer pudding and crumble, or with fresh fruit and meringue. We also have an unsweetened, natural yoghurt in our range called Straight Up which is amazing to cook with. It has a delicious lemony tang which makes it perfect in dips, marinades, cakes and curries. Lift the lid on our Straight Up pots and you will find a different recipe on the seal for you to try every time you pick up a pot. The blackboard on our website also provides some exciting recipes using yoghurts from across our range. 
The wellbeing of our gut and the bacteria living in it affects so many different aspects of health and how we feel. Having a healthy gut doesn't just mean we have good digestive health, it also affects our immune system, weight, skin and even mental health and brain function. We have trillions of bacteria living in our gut – this is our gut microbiome. A healthy microbiome is one teeming with a diverse range of 'friendly' or 'good' bacteria. Yoghurt is a natural source of live bacteria and many of these probiotic cultures are found in the gut. There are an increasing number of studies out there that show eating tummy-loving products like yoghurt may support gut health.  
Kefir is as good as everyone says. Our gut health can be affected by so many things including diet, stress, exercise and medication. One of the easiest ways to start improving your gut health is by adding more fermented foods to your diet. We have a range of kefir cultured drinks and yoghurts made by fermenting milk with live cultures. Our kefir contains billions of good bacteria and has a diverse blend of 13 different culture strains. Our kefir is also naturally low in lactose (the naturally occurring sugar found in milk) so is also suitable for people who sometimes find lactose hard to digest. We would definitely recommend introducing kefir into your diet for a daily dose of goodness for your gut. 
 Tempted? Shop The Collective Dairy's Bestselling Products Below…
DISCLAIMER: We endeavour to always credit the correct original source of every image we use. If you think a credit may be incorrect, please contact us at info@sheerluxe.com.