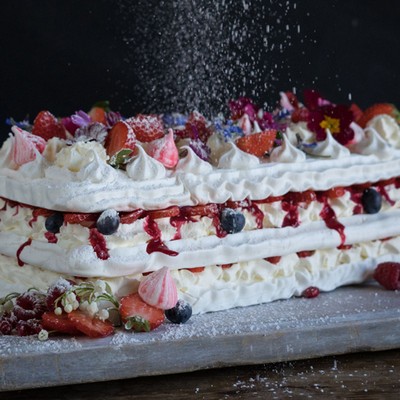 Home Cooking Tips From Catering Pro Ellie Short

Whether it's a stylish country wedding or a corporate dinner in the City, London-based catering firm Chilli Bees does it all. Having just celebrated its tenth anniversary, founder Ellie Short sat down to share her tips on everything from quick and easy midweek suppers to hosting a party to remember.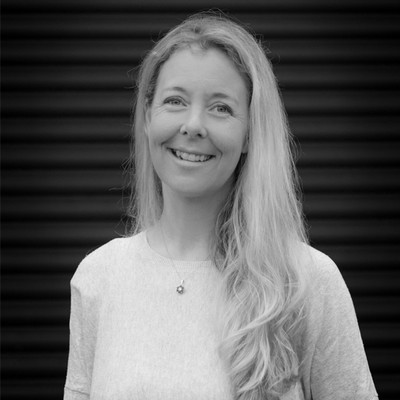 Let's to start off by finding out when you learned to cook...
I learned to cook from a young age when my mother, who was a caterer, had to work in the evenings. I would feed my brother and myself, and while it was pretty basic, it helped me to learn about timings, how to keep things simple and that adding an extra ingredient could transform a basic macaroni cheese into something really yummy.
 
How did catering end up being your career?
It wasn't really until one summer in the kitchen at the Peligoni Club in Greece that I found myself thrown in at the deep end. I was suddenly working with chefs who had worked in kitchens for years. Long story short, I blagged my way in, started cutting carrots correctly, ignored the swearing and overcame my fear of fish. Two summers later I was the head chef at the age of 21. I never looked back.
How would you describe your cooking style?
Simple yet delicious – food that sings with flavour because you have the right seasoning. I started Chilli Bees from my mother's kitchen in south west London and I soon realised how easy it was to make delicious food just by jazzing up classic dishes with herbs and spices. 
What are your top tips for easy mid-week suppers?
Chicken is actually incredibly versatile for quick kitchen suppers. Just pair it with unused bits in your fridge. From satay marinated chicken strips with a medley of oriental veg, to Cajun butterflied chicken with a quick lemony couscous, there's always a way to use what's sitting at the back of the fridge. The key is to have a store cupboard full of your favourite dried spices, rice and pulses.
Are there any store-cupboard essentials you think people don't know about?
Nduja is my new favourite store-cupboard essential along with coriander seeds and black garlic. In fact, black garlic purée is a revelation because you can have it with anything: meat, fish or veg. I also think Maldon salt is the one ingredient everybody needs.
It's actually one of the easiest styles of food to experiment with as long as you have the essential sauces to hand.
What do you think are the most underrated meat, fish and veg?
Poussin, if cooked perfectly, is delicious, delicate and not too heavy. As for fish, smoked haddock is so versatile; you can make some really delicious, flavoursome canapés, for instance. When it comes to fruit and veg, I love sweet potato and kumquat – this season we are using a lot of both.
Is there a way to make easy vegan dishes?
Carrots are my favourite vegan staple to work with at the moment. I love roasting heritage carrots and creating a purée so you have two different textures going on. Serve with some tofu and drizzle with a pine nut and herb salsa – just use some of those herbs that always linger in the fridge before mixing with the nuts and a little bit of lemon juice.
In your view, what makes the perfect salad?
The perfect salad needs to be sweet and salty, with some added crunch. Classic combos such as sweet beetroot, nuts, peppery rocket and salty bacon or halloumi. And don't forget to add a banging dressing.
Do you have a favourite homemade soup?
My favourite is a tom yum soup with plenty of vegetables such as mange tout, sugar snaps, carrots and courgettes. You can cheat by buying a tom yum paste from the supermarket which you add stock and coconut milk to. Throw in some extra ginger and lime zest for added zing. 
We're all trying to make our food healthier. Do you have any tips?
Both times I have been pregnant I've had gestational diabetes and it was a real learning curve. I love nothing more than a bowl of pasta, but it has to be in moderation. Quite often I'll supplement half the pasta for some spiralised vegetables, before coating in a spicy tomato or roasted red pepper sauce.
What oils do you like to use when you're cooking?
I use a mixture of olive oil and coconut oil, depending on the style of food I'm making. The coconut oil is healthier so I'll use it in more oriental dishes – it's not really suited to British flavours.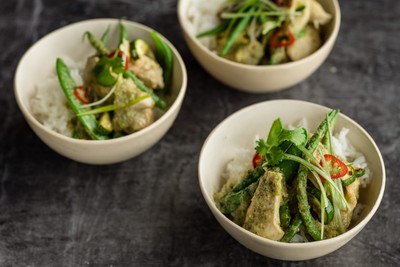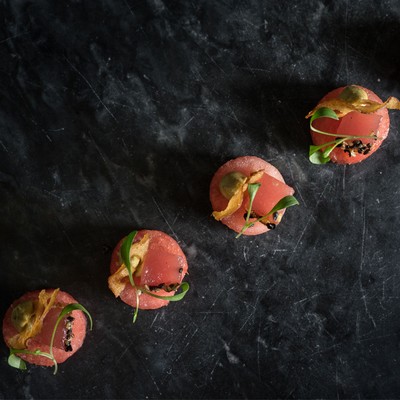 What do you think people always get wrong or use too much of? 
It's not that healthy, but I never think people use enough salt. I also think if you want to add flavour to something, you better make it punchy.
Can you recommend three good cookbooks everyone should have on their shelf?
Essential by Annabel Langbein is a great all-rounder, while Fresh India by Meera Sodha has loads of ideas for fabulous side dishes and salads. Finally, the book from the ladies behind Tart London is so pretty and inspiring, with plenty of fresh takes on the classics. 
Asian food is delicious but seems tricky to do well yourself – any tips? 
Just don't be afraid. It's actually one of the easiest styles of food to experiment with as long as you have the essential sauces to hand. By that I mean sweet chilli, soy, teriyaki and ginger. Like with anything, the more you cook, the more confident you'll become. Don't be afraid to ask for feedback from your friends and family so that next time you can make it even more delicious.
When the weekend rolls around, is there a twist on a cooked breakfast you recommend?
I love to add things such as dukkha, chilli, lime and coriander to my cooked breakfasts, and normally on crushed avocado and on eggs. Add chilli jam on the side with some honey-roasted bacon and you have a perfect way to start the day.
What are some of your top dinner party menus?
For a show-off starter, I like seared scallops with crispy Serrano ham and fresh basil dressing. It's actually very simple and all of it can be prepped ahead. Follow that with a fillet of lamb and a sweet potato dauphinoise, with baby carrots, green beans and a caramelised red onion and redcurrant jus. For dessert, I love frozen berries with hot white-chocolate sauce.
The more you cook, the more confident you'll become.
Alternatively, I like to prep a sea bass ceviche with avocado purée, with lots of lime, chilli and coriander. You could do this in individual portions or as one big sharing plate among your guests. For the main, try a Kenyan green chicken curry with rice, mini poppadums, mango chutney, and roasted broccoli and cauliflower on the side. Finish with some lemon mousse, topped with passionfruit and fresh berries.
What are the best starters you can prepare in advance?
A classic starter that can be done in the morning is smoked salmon timbale with avocado, prawns, lime, chilli and ginger. Line a ramekin dish with cling film and lay down the smoked salmon strips so they cover the base. Keep the strips long enough to go over sides of the ramekin to ensure it can be folded back over your filling later.

To make the filling, roughly dice two ripe avocados and mix with around 200g of cooked prawns, the zest and juice of two limes, 1cm of finely grated ginger, 200g of cream cheese and 2 tbsp of creme fraiche. Finely chop half a red chilli and a small handful of coriander, and mix all the ingredients together in a bowl. Season with Maldon salt and coarsely ground black pepper. Taste to check there's a nice balance of ginger and lime. Spoon the mixture into your smoked salmon-lined ramekins; fold over the remaining salmon strips and cling film, then put in the fridge until later. When serving, turn out onto a plate with some rocket to garnish and either melba toast or chargrilled ciabatta with a lime wedge.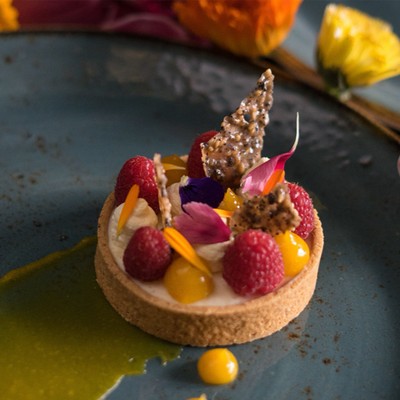 Can you give us some simple puddings that still have the wow factor?
One of my personal favourites is a caramelised fruit yoghurt recipe. At the bottom of a glass, place a mixture of seasonal berries. Spoon over a quarter of a pint of whipped cream followed by another quarter of a pint of natural Greek yoghurt. Aim to fill two-thirds of the glass. Finally, sprinkle over soft brown sugar to cover the top and leave for at least two hours. The sugar will slowly fuse downwards, caramelising the yoghurt – very simple and very delicious!
A favourite pudding among friends and family is my fresh fruit sorbet with hot white-chocolate sauce – it sounds elaborate, but is really the easiest thing in the world. Buy some fresh berries – strawberries and raspberries work best – and pop them in their packets into the freezer. To make the hot white-chocolate sauce, add equal amounts of double cream to broken up pieces of white chocolate, depending on the number of guests. Microwave the chocolate a minute at a time to melt and stir through to ensure it doesn't burn. When you're ready to serve, take the berries out of the freezer, scatter them across the plates and pour the piping hot sauce all over. Guests always want more sauce, so put any leftovers in a jug on the table.
Are you a fan of a cheese plate? What's your favourite to serve?
I personally love a cheese called Chaource. You need to let it ripen outside of the fridge before serving to really get the full creaminess. 
Ellie, it's been wonderful to chat to you. Let us finish up by asking what your secret is to a throwing really good party? 
Probably having a good caterer! And one that you really trust so you can relax and enjoy the evening. It's their job to ensure there's enough to eat and drink – people who are hungry often leave a party if the food is running short. 
If you want to go it alone, just don't over-complicate the menu. Stick to what you know and just make it delicious – that way you will be confident and relaxed, rather than flapping and stressing.
Visit Chilli Bees here
DISCLAIMER: We endeavour to always credit the correct original source of every image we use. If you think a credit may be incorrect, please contact us at info@sheerluxe.com.