How 5 Foodie Couples Met, Cook & Work Together

Think Valentine's Day, and you conjure up a busy restaurant, crammed with couples tucking into carefully curated set menus. But we rarely consider those behind the scenes, rustling up chocolate puds (with two spoons) while missing out on seeing their other half. So we asked five pairs of restauranteurs – who also happen to be couples – to celebrate each other, share how they met, name their most romantic meal and reveal what they'll be whipping up for their own dinner a deux.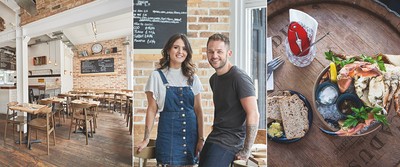 Kate & Rick Toogood, Prawn On The Lawn
How and when did you meet?
Katie: We met nine years ago on a dating website called My Single Friend (shame it wasn't Plenty of Fish!). Your friends write your profile for you, so you don't have much say in the matter. The fact Rick liked cooking really made him stand out – who doesn't love a man who can cook?
What's the first dish you both made for each other?
Rick made me a fish pie (of course) and I made him a moussaka. 
 
What's your go-to meal to cook together?
By the time we finish service and get home to cook together it's usually gone midnight so we need something quick but also tasty. We make a lot of Asian-style soups/broths – Thai, Vietnamese, Indian. You just chop onion, garlic, ginger, whatever veg you like and fry in some coconut oil. Then throw in a couple of tablespoons of curry paste (either homemade or from a jar if you don't have the time). Add some stock, kaffir lime leaves, noodles and some prawns and simmer until it's all cooked and you're good to go.
 
How do you balance working together with your life outside the restaurant?
We used to have hectic, unsociable jobs (I worked in music and Rick worked as a general manager of a restaurant), so we never saw each other. That's one of the reasons we started Prawn on the Lawn, as we needed to find something which allowed us to spend time together doing something we were both passionate about. We do our best to try and leave work in the restaurant but that's easier said than done sometimes! We go out for dinner together every couple of weeks and ban work chat. Although we love working together, since we've opened Barnaby's in Padstow it's been great, as now we don't work with each other 24/7 we have something different to talk about.
 
What will you be doing this Valentine's Day?
We're both working this year (in different restaurants), but as they're only 20 metres apart we should be able to pop out for a cheeky glass of fizz on our break. We're postponing Valentine's Day until 17th Feb and going away together for the night.
 
Where's the best restaurant you've been to on the big day?
We haven't been out on Valentine's Day since we started Prawn on the Lawn nearly six years ago. The last place we went on the big day was Clos Maggiore in Covent Garden, but now it would probably be Brat and Smoking Goat in Shoreditch or Sabor in Mayfair.
 
What's your ultimate Valentine's Day meal?
It has to be oysters (either raw or deep-fried) – the ultimate Valentine's Day combo.

Deep fried oysters with garlic crème fraiche
Ingredients:
12 meaty and plump oysters (Porthilly, if possible)
Vegetable oil, for frying
Plain (all-purpose) flour, for dredging
Garlic crème fraiche (see recipe below)
2 spring onions (scallions), sliced into thin slivers and kept in ice-cold water until ready to serve, for garnish
Micro fennel, for garnish (optional)
 
For the garlic crème fraîche:
4 tbsp crème fraîche
½ tsp garlic paste (shop-bought)
2 spring onions (scallions), finely sliced
1 tsp lemon juice
A pinch of sea salt and freshly ground black pepper
 
Method:
1. Mix all the ingredients for the garlic crème fraîche together.
 
2. Shuck the oysters, removing the meat into a sieve to drain any excess liquid (this will keep the oysters crispy). Keep the cupped (not the flat) part of the shells and arrange on a serving plate. You can use a stack of rock salt to steady the shells, or some seaweed if you can get hold of it.
 
3. Ideally, use a deep-fat fryer and heat the oil to 190°C/375°F. You can also use a deep, heavy-bottomed pan or wok, but take care with the hot oil.
 
4. Coat the oysters in the flour and fry in the hot oil for two minutes. Remove with a slotted spoon onto paper towels to drain.
 
5. To serve, add a teaspoon of garlic crème fraîche into each oyster shell. Place a deep-fried oyster on top of the crème fraîche and garnish with a sliver of spring onion and some micro fennel, if you have it.
 
Prawn on the Lawn, 292-294 St Paul's Road, Islington, N1 2LH
 
Visit PrawnOnTheLawn.com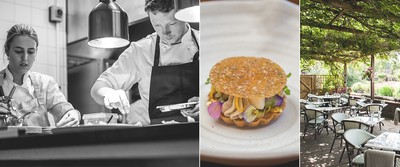 Dan & Natasha Smith, The Fordwich Arms
How and when did you meet?
Dan: We met ten years ago when we first started catering college in London and have been together ever since. I guess you could call us high school sweethearts!
 
What's the first dish you both made for each other?
We both remember the first dish we made for each other quite vividly. It was carrot and coriander soup at college just after we had started dating (so romantic!).
 
How do you balance working together with your life outside the restaurant?
This is a bit of a tricky one as we live above the pub! It was particularly tough to balance working together and life outside the restaurant for the first three or four months after we opened as we didn't employ any other chefs so the two of us worked every shift – every day. Now we have a bigger team and try to get out and explore new restaurants once a week, sometimes up in London. We also think our two dogs, Dougal and Dunsten, have played a big part in making things work as we have to walk them everyday, which is always a nice break.
 
What will you be doing this Valentine's Day?
We try to celebrate a few days before or after as we're working all day on Valentine's. The two of us usually go for cocktails and dinner somewhere nice – maybe The Sportsman in Whitstable this year – with a stroll along the beach beforehand.
 
Where's the best restaurant you've been to on the big day?
When we were 18, we went to LA together to a lovely restaurant on Sunset Boulevard. We weren't able to drink alcohol there yet, but the meal came with champagne cocktails so they'd assumed we were 21 and we stayed there drinking all night!
 
What's your ultimate Valentine's Day meal?
Half a dozen Whitstable oysters and grilled lobster. We particularly like our oysters with a mignonette dressing – made with shallots, pepper and vinegar.
 
The Fordwich Arms, King Street, Fordwich, Canterbury, CT2 0DB
 
Visit TheFordwichArms.co.uk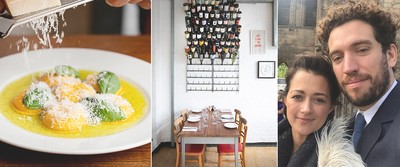 Josie Stead & Ed Wilson, Brawn 
How and when did you meet?
Josie: We met in 2012 when a mutual friend had his birthday lunch at Brawn. We went out for breakfast at Towpath Cafe in Hackney the following day, followed by lunch.
 
What's the first dish you both made for each other?
Josie: Ed cooked me a fideua (a Valencian version of paella, made with noodles instead of rice). 
Ed: Josie cooks more Asian inspired dishes. Her first dish for me was okonomiyaki (Japanese savoury pancakes).
 
What's your go-to meal to cook together?
Josie: It usually involves Ed cooking Pastificio Gentile pasta (we stock up when in Sicily) with a simple sauce. Usually bottarga (cured fish roe) or anchovies and always chilli. I'm usually sitting on the bench top, opening a bottle from the cellar. Veal schnitzel with picked cucumber and new potatoes or a version of mapo tofu (a popular veggie dish from Sichuan) are also firm favourites. 
 
How do you balance working together with your life outside the restaurant?
With us both now operating Brawn with two young children there's a lot more playing tag. I tend to be at the restaurant when Ed isn't. My mum lives with us, so she shares the childcare which enables Ed and I to do some shifts together. It still feels quite novel working together. We have similar values, expectations and ambitions so our partnership in both the workplace and at home is supportive. I won't lie, it can be combative too as we're spirited people! It's great to partner with someone where you feel you have all areas of a restaurant business well covered.
 
What will you be doing this Valentine's Day? 
Working! Or possibly dinner, bath and bed for the kids then enjoying a meal and chat.
 
What's your ultimate Valentine's Day meal?

Spaghetti ai ricci
Ingredients:
150g x best quality dry spaghetti
3 fresh sea urchin (preferably Galician if you can find them)
1 x clove garlic
Pinch of dried peperoncino (dried Calabrian chilli)
2 x best quality preserved tomato
Lemon
40ml olive oil
 
Method:
1. In a sauté pan, add the olive oil and warm gently. Finely slice the garlic clove and add the pinch of peperoncino.
 
2. Add the tomatoes and crush them with the back of a spoon. Allow them to warm through and gently emulsify in the oil. Remove from the heat.
 
3. If you are not comfortable preparing and cleaning your fresh sea urchins, ask your fishmonger to do it. Remove the orange roes using a teaspoon and place them into a small bowl.
4. Place a large pan of salted water and bring to a rolling boil. Add the spaghetti and cook until al dente. Add a ladle of the pasta cooking water to the tomato sauce and put back on a very gentle heat. Add the drained spaghetti and coat the pasta with the sauce. Finally add the sea urchin roes and toss them through the pasta. The roe will break down with the heat of the pasta and sauce. Finish with a good squeeze of lemon juice and serve immediately.
 
Brawn, 49 Columbia Road, Bethnal Green, E2 7RG
 
Visit Brawn.co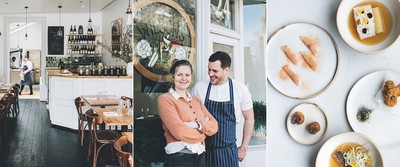 Jan Ostle & Mary Wilson, Wilson's 
How and when did you meet?
Mary: We met working in a small and ridiculously busy restaurant in Notting Hill in London in 2014. Jan was head chef and I worked as a waiter.  
 
What's the first dish you both made for each other? 
Jan bought a cockerel from Queens Park farmers market one Sunday. It was huge, he roasted it and we ate it with shavings of raw ceps in truffle mayonnaise. I think the first thing I cooked for Jan was a bacon sandwich. 
 
What's your go-to meal to cook together? 
Roast chicken, homemade chips, salad and mayonnaise (not from a jar). 
 
How do you balance working together with your life outside the restaurant? 
We have two children: one is three-and-a-half years old and the other is ten weeks old, so balance doesn't exist at the moment! We just spend as much time together as possible. 
 
What will you be doing this Valentine's Day?
Trying to catch a cup of coffee together before Jan goes off to the restaurant. We work every Valentine's Day, so always try and make time on another day to go out for a meal together. 
 
Where's the best restaurant you've been to on the big day? 
Wilks in Bristol – it's our favourite place to eat in the city. 
 
What's your ultimate Valentine's Day meal?
As we rarely have a chance to make a big Valentine's Day meal we try to add a spot of elegance to our staff food with the below.

Black truffle linguine
Ingredients:
Homemade pasta
Butter
Black truffle
Gouda
 
Method:
1. Blanch the pasta until al dente.
 
2, Drain, then toss the pasta with very good, warm butter and a load of grated black truffle. Finish it with an aged Cornish gouda, which is a fantastic British cheese that acts in a similar fashion to a parmesan.
 
Wilsons, 24 Chandos Road, Bristol, BS6 6PF
 
Visit WilsonsRestaurant.co.uk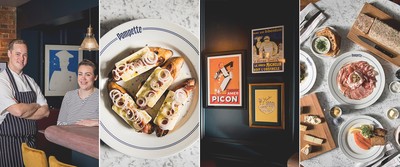 Laura & Pascal Wiedemann, Pompette
How and when did you meet?
Laura: We met in 2011 on eHarmony. Pascal was working crazy hours as a chef and I worked in fashion which didn't help when trying to meet someone. We both decided to try online dating and have been together ever since.
 
What's the first dish you both made for each other?
Laura: Pascal made me an incredible rib of beef served with dauphinoise potatoes, green beans and a red wine sauce.
 
Pascal: Laura made me lemon curd cupcakes with lemon buttercream – she had them ready for me when I got back from the late shift.
 
What's your go-to meal to cook together?
Laura: We like doing a roast dinner together. Pascal does the majority of the cooking but I'm always there to help with the chopping.
 
Pascal: Laura does the sweet, usually a sticky toffee pudding with caramelised apples underneath and a sticky toffee sauce, or a nice bread and butter pudding.
 
How do you balance working together with your life outside the restaurant?
Laura: After just launching our first restaurant together – we don't! It's always tricky trying to balance work life and home life. At the moment we have our management meetings at night before bed. We know this will change eventually and we're looking forward to that.
 
What will you be doing this Valentine's Day?
Laura: Since we've only just opened Pompette, we'll both be working. But we'll celebrate on the Sunday night – probably with a cheese board, some wine and maybe even a special pudding made by Pascal.
 
Where's the best restaurant you've been to on the big day?
Laura: One Valentine's Day we went to the launch night of our friends' restaurant, The Other Naughty Piglet in Victoria. It was amazing.
 
What's your ultimate Valentine's Day meal?
Laura: Probably exactly what Pascal cooked for me the first time - that rib of beef. But I think I'd have to change the dessert to Pascal's chocolate mousse pot with griottine cherries and almond praline. You need chocolate on Valentine's Day!

Chocolate mousse pot
Ingredients:
120ml milk
4 egg yolks
60g caster sugar
140g dark chocolate buttons
275g double cream
100g flaked almonds
10ml Madeira
10ml brandy
20g caster sugar
Griottine cherries
Crème fraiche
Method:
1. Warm the milk. Beat together the egg yolks and sugar until pale and thick.
2. Add warmed milk to the egg mixture. Return to the pan and cook over a low heat until it thickens to the point where it's just coating the back of a spoon, between 80-82°C.
3. Pour the hot egg and milk mix over the chocolate to melt, stirring until smooth. Whip the double cream until soft and ever so slightly thickened.
4. Fold the cream into the chocolate mixture in three goes, taking care to preserve as much air in the mixture as possible.
5. Pour into moulds and allow to set, takes 1-2 hours.
6. Set the oven to 160°C. Warm the madeira, brandy and sugar until sugar is dissolved. Pour the sweet boozy mixture over the almonds and toss to coat.
7. Spread the nuts on a lined baking tray and bake, tossing and turning them every few minutes. Once golden, remove from the oven and carry on tossing and turning every so often until the nuts are cooled.
8. Remove the mousses from the fridge. Place around six griottine cherries on top with a little of the soaking syrup. Scatter with a few glazed almonds and finish with a little crème fraiche if you like.
7 South Parade, Oxford, OX2 7JL
Visit PompetteRestaurant.co.uk
DISCLAIMER: We endeavour to always credit the correct original source of every image we use. If you think a credit may be incorrect, please contact us at info@sheerluxe.com.