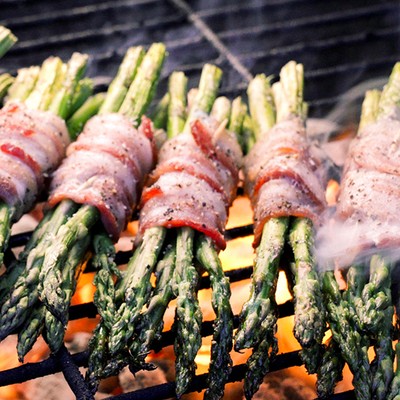 How To BBQ In Style This Weekend

With summer on its way and another bank holiday on the horizon, it's time to get BBQing. Here, fire-cooking expert Genevieve Taylor tells us which BBQs and grilling accessories to buy, which fuels work best with which meats – plus, six chefs share their favourite recipes, from tandoori cauliflower steaks to grilled garlic prawns…

Genevieve Taylor, author of Charred
Which fuel is best for BBQs? 
The best fuel for a BBQ is charcoal, in particular sustainable British lump wood charcoal. Cheap supermarket charcoal often comes from tropical rainforests, so has a large carbon footprint and tends to contain accelerant chemicals, which help it to light quickly but can be fairly noxious and toxic. Try to buy sustainable lump wood charcoal, because it's better quality and better for our environment, woodlands and wildlife. That's not to say that gas isn't great too – it burns slightly cleaner than charcoal, but the downside is that it isn't renewable. You can use gas all year round – especially if you're in a real hurry or during the winter when grilling something strong-flavoured like fish, but if the weather is nice, charcoal is preferable. It's a lot more fun to cook on.
Why choose charcoal, wood or gas? 
Charcoal, wood and gas each have their merits – but it depends on your lifestyle and desired outcome. Charcoal is simply wood turned into carbon and the better the charcoal, the purer and cleaner it will burn. If you like big strong flavours and use a lot of marinades, herbs and spices in your cooking, then any subtle flavour profiles from different species of charcoal will be lost on cooking. A BBQ of charcoal alone will not add much in the way of smokey flavours to your food. To add smoke, add wood chunks or chips to your BBQ and you will get different aromas from different species of wood. Gas BBQs are quick and efficient, and good models often have a special tray for wood chips to add that classic smokey BBQ flavour. Even if yours doesn't have this capability, wrap some wood chips in tin foil, pierce a few holes into it and add them to the cooking grates.
Do different woods work better for different foods?
When it comes to smoking food there are lots of flavoured wood chips or chunks to choose from, so consider whether the dish is best paired with something sweet, rich or oaky. There are no rules with wood chips as the flavours tend to be subtle, especially if the food itself is heavily flavoured, but for red meats like beef or lamb you might choose something like mesquite which produces a really strong flavoured smoke or a whiskey-barrel chip for a toasty-oak flavour. For other long smoking meats like pork, bacon or ham, you can try hickory wood chips which give an intense smokey flavour. Chicken is nicely paired with maple wood chips for a subtle yet balanced smoke. For seafood, particularly salmon and shellfish, try using apple wood chips which give a lovely sweet smell and taste. You could even experiment with smoking fruits and vegetables – something tart and fruity like cherry wood works well.
And what's the best fuel for everyday grilling?
The best fuel for day-to-day BBQing is British sustainable lump wood charcoal – if you can't get hold of this I would always use gas over bad charcoal.
Genevieve's Top BBQ Picks:
Gas: Rogue XT 425 with an infrared side burner
Charcoal: Pro Charcoal Kettle Grill 
Smoker: Apollo 200 3-in-1 Charcoal Grill
Genevieve's Top BBQ Accessories:
Cast Iron Charcoal & Smoker Tray 
Stainless Steel Marinade Injector 
Visit GenevieveTaylor.co.uk
 
Inspired to fire up the grill? Here are six recipes to get you started…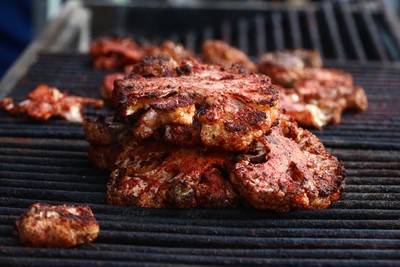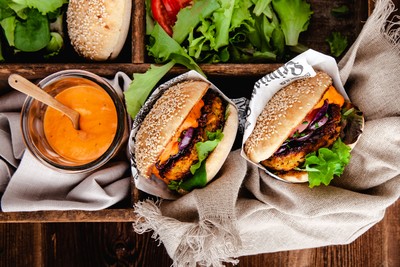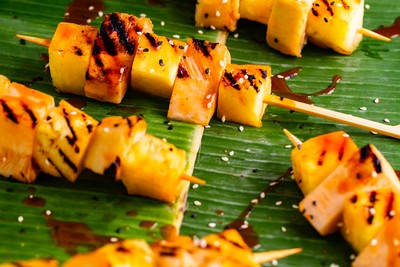 Prawns With Chilli, Ginger & Garlic Butter, Justine Murphy of Mymuybueno
INGREDIENTS
100g of unsalted butter, chopped and softened

2 cloves of garlic, peeled and grated

1cm of ginger, peeled and grated

½ red bird's eye chilli, finely chopped

½ tsp of flaked sea salt

1-2 tbsp of fresh parsley, finely chopped

1 tbsp of sunflower oil

16 large raw prawns, deveined with shells on

Grind of black pepper

1 lemon, cut into wedges
METHOD
Place the butter, garlic, ginger, chilli and salt in a small saucepan over a medium heat until the butter has melted and is bubbling. Remove the pan from the heat and stir in 1 tbsp of chopped parsley.

Heat a BBQ or griddle pan and, using a silicone brush, brush the grill rack or pan with the sunflower oil.

Thread the prawns onto 16 metal skewers from the tail, so the heads are at the top of the skewer. Place each prawn skewer on the heat and cook for 3 minutes on each side, until they are pink and you can see some charring. Brush the prawns while cooking with your flavoured butter. If they are really large prawns, you can cook them for a little longer, but it's better to undercook fresh prawns –the residual heat will finish the process – than to overcook them, making them hard and dry. 

Place the cooked prawn skewers onto a platter and pour over the remaining flavoured butter. Top with parsley, a pinch of salt and a grind of black pepper.

Serve with the lemon wedges. These are delicious peeled and dipped in aioli. Have a finger bowl and lots of kitchen paper available.
Visit MyMuyBuenoPrivateChefs.com
Chorizo BBQ Brunch Burger, Alex Head of Social Pantry
INGREDIENTS
For the burgers:
160g of chorizo, finely chopped

250g of minced beef

1 tsp of paprika

Pinch of sea salt

1 sprig of thyme leaves
 For the relish:
4 cherry tomatoes, quartered

½ a red onion, finely diced

½ a clove of garlic, finely chopped

Pinch of paprika

Pinch of smoked paprika

1 tsp of chopped fresh parsley
To serve:
Large handful of rocket

2 burger buns, halved
METHOD 
To make the burgers, place the chorizo, minced beef and paprika in a bowl and use your hands to combine. Put in the fridge for approximately 10 minutes. Once out, form 4 patties and season with a few pinches of sea salt.

While the burger mix is in the fridge, mix the relish ingredients together in a bowl and season.

Cook the patties in a hot griddle pan over high heat for 3-4 minutes on either side.

Heat the grill to medium-high and toast the buns for 2 minutes. Spread both the top and bottom side of the bun with the relish.

To garnish, add the rocket and either freshly sliced avocado or a fried egg.
Visit SocialPantry.co.uk
Flat Iron Burger, Zoe Simons of Waitrose & Partners
INGREDIENTS
1 pack of Waitrose Black Pepper & Soy Flat Iron Steak 

4 brioche rolls 

3 of toasted sesame seed oil 

3 tbsp of mayonnaise 
For the gherkin ketchup:
200g of gherkins

250ml of gherkin pickle liqueur

1 tbsp of fresh dill

25g of caster sugar
METHOD
Light your BBQ and wait for around 30 minutes for the flames to become amber's. this will be the perfect temperature to cook on. 

To start make the gherkin ketchup, Place the gherkin, gherkin liqueur, dill and sugar into a pan and bring to the boil. Simmer for 10-15 mins until almost all of the liquid has evaporated. Pour the gherkins into a blender and purée until smooth. Then pass through a fine sieve. Place into the fridge until needed.

Mix your sesame seed oil and mayonnaise together until well combined and set to one side.

By this time your BBQ should be the perfect temperature to cook on. Place your steak in the hottest part of the BBQ so you get a lovely char on it. Around 2-3 minutes each side. Take the steak off the BBQ and let it rest on a plate. While it is resting cut your brioche buns in half and toast on the BBQ. Once toasted remove from the BBQ and place on a board ready for serving. You now need to place your steak back onto the BBQ and cook a slightly colder part of the BBQ for around 5 minutes each side or until cooked to your preference. (A good tip to achieve accurate cooking is with a temperature probe. 

These temperatures are a good guide for you to test how your meat is cooked. Rare is 45-55°C; medium-rare is 55-60°C; and medium is 60-65°C).

Once cooked let your steak rest for 2 minutes before thinly slicing. 

To serve, spread a tablespoon of your sesame mayonnaise on your bottom brioche half, top a few slices of your steak followed by your gherkin ketchup and the last half of your brioche bun.
Visit Waitrose.com
Spicy Jackfruit and Pineapple Skewers, Wing Yip
INGREDIENTS
1 tin of young jackfruit, 300g drained weight

300g of pineapple, cut into 2cm cubes

1 tbsp vegetable oil 
For the marinade:
2 tbsp of light soy sauce


1-2 tbsp of sriracha, depending on how spicy you want them 

½ tsp of sesame oil 

1 tsp white sesame seeds 
METHOD
Soak the skewers in cold water for at least 1 hour before assembling.


Drain the jackfruit and cut any large chunks in half so that you have 12 pieces. 

Mix together the marinade ingredients and then add the jackfruit and pineapple. Mix well to ensure all of the pieces are evenly coated. 

Starting with the pineapple, thread the pineapple and jackfruit onto the skewers so that you have 3 pieces of pineapple and 2 pieces of jackfruit per skewer. 

Heat a frying or griddle pan over a medium-high heat and add the vegetable oil. When the oil is hot, lay the skewers carefully in the pan and cook for 2 minutes on each side until they have started to caramelise and are hot. 

Sprinkle over the sesame seeds and then serve immediately. 
Visit WingYip.com
Courgette, Sweet Potato & Chickpea Veggie Burgers, Microplane
INGREDIENTS
2 red onions

1 tsp of butter

1 tsp of sugar

250g of sweet potatoes

250g of courgette

400g tin of chickpeas 

1 egg

2 tbsp of flour

3 tbsp of breadcrumbs

½ bunch chives, finely chopped

2 garlic cloves, crushed

Pinch of salt, pepper and smoked paprika spice

Lettuce leaves

4 burger buns

1 tomato, sliced

Chipotle mayonnaise, to serve
METHOD
Cut the red onions into thick rings, melt the butter with the sugar and brown the onion. Set aside.

Peel the sweet potatoes and the courgette, then grate both with a microplane.

Drain the chickpeas and roughly crush half of them. Add the vegetables, egg, flour, breadcrumbs, chives, garlic, salt, pepper and the smoked paprika spice into the bowl. Mix everything together to a dry mass.

Form the burgers either with your hands or with a burger-shaper, rub a little oil on each side and cook them on the BBQ. Once cooked, remove from the BBQ onto kitchen roll.

Toast the burger buns on the BBQ or in the toaster. 

Assemble burgers: bread roll base, salad, burger, onions, tomato, mayonnaise and finally the bread roll lid on top.
Visit Microplane.com
Tandoori Cauliflower Steaks, Grace Regan of Spice Box
INGREDIENTS
1 medium cauliflower, outer leaves removed and sliced into steaks

150ml of veg oil

4 large cloves of garlic, peeled and grated or crushed

A thumb-size piece of ginger, grated

1 tbsp of smoked paprika

1 tsp of chilli powder

½ tsp of turmeric

1 tbsp of curry powder

½ tbsp of ground cumin

½ tbsp of ground coriander

1 tsp of fine sea salt

½ a lemon, juiced

Salt, to taste
METHOD
Prep your cauliflower by removing the tough outer leaves but make sure you keep the other leaves intact. Cut the cauliflower in to steaks about 1.5cm thick and lay them on a baking tray

Mix all the ingredients together in a bowl and pour the spiced oil over the cauli steaks, using your hands to make sure each side is well coated. Leave them to marinate for 20 minutes.

Place the steaks on your BBQ and cook for 10 mins on each side, or until they are soft and evenly golden, and charred in places. 
Visit EatSpiceBox.co.uk
DISCLAIMER: We endeavour to always credit the correct original source of every image we use. If you think a credit may be incorrect, please contact us at info@sheerluxe.com.