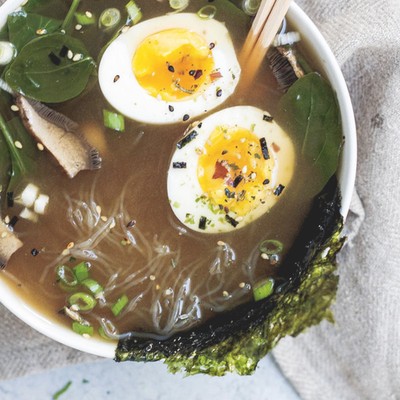 How To Cook Japanese Food At Home

We all love popping out for Japanese food, but why grab sushi for lunch when you could learn to make all your favourite dishes at home? We've enlisted the help of Koya co-founder Shuko Oda to talk us through the essential ingredients to stock up your cupboard with – and, crucially – what to do with them to make your own Japanese feast at home…

What are the health benefits of a Japanese diet?
The Japanese diet tends to be very well-balanced and varied, usually consisting of several different dishes for each meal, with each dish in separate bowls or plates. It usually features of rice, a soup such as miso, vegetables, pickles and sometimes meat or fish. In Japan, you refer to a meal as one soup and three vegetables.
The Japanese taste palate consists of five basic tastes: sweet, salt, sour, bitter and umami. The fact that we value umami, which is the strong savoury flavour only recently recognised by the Western palate, means that we value the flavours of the ingredients themselves which therefore requires less seasoning, meaning you use less salt in the cooking.
We eat a lot of pickles in Japan and they are a staple of nearly every meal. There are multiple health benefits to pickles, particularly the fermentation process which is known to aid the digestive system. The same thing goes for natto, the fermented soya beans common in Japan. Natto helps to build the immune system. It is also especially nutritious because its soybeans undergo a process of fermentation which promotes the growth of probiotics which in turn supports gut health. 
We eat many things raw, such as vegetables in salad and raw fish and meat. Eating things uncooked means you don't lose any of the nutritional value during the cooking process.
Alongside natto, key ingredients include white Japanese rice, which is full of a balanced mix of vitamins, protein and calcium. Seaweed is full of minerals, vitamins and antioxidants, and is an easy way to add nutrients to your diet and create an antioxidant effect. It also contains a lot of fibre which is great for the digestive system. Meanwhile, pickled plums (umeboshi) are good for the digestive system and known to be good for your skin due to their high antioxidant content. They also protect the liver.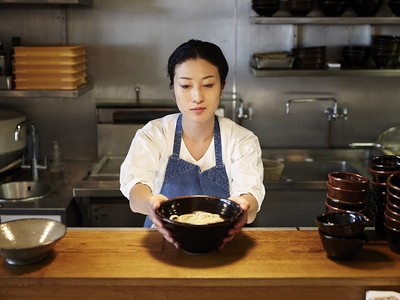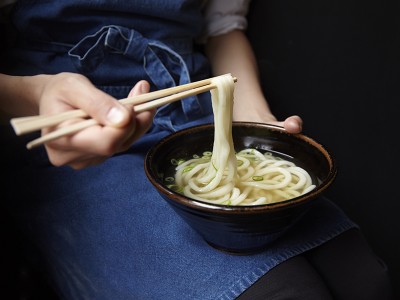 What are the cupboard staples for a home cook who's new to Japanese cooking?
In a Japanese kitchen, the main staple ingredients are vinegar (usually rice wine vinegar), soy sauce, mirin, sake, kombu, bonito flakes, miso, and udon noodles.

What can you do with each ingredient?
Rice vinegar – has a softness and sweetness that's perfect in salad dressings. It's also brilliant for braising meats such as pork, breaking down the meat and helping to tenderise the fat.
Soy sauce – a very versatile ingredient that's used for everything, from seasoning, to dipping, dressing and even pickling.
Mirin – this rice wine is a great way to add sweetness to cooking without that processed sugar taste. It is used alongside soy or sake in different ratios to build the sweetness of a dish or sauce.
Sake – can be used to steam seafood or vegetables, either mixed with water or solely on its own for a deeper flavour, or combined with dashi to make broth for udon.
Kombu – seaweed that has a very deep umami flavour. It's great to use at home to make a vegan dashi broth instead of bonito flakes, and you can then re-use the sliced pieces, they are great to pickle along with other vegetables!
Bonito flakes – generally used for dashi, which is one of the more common Japanese broths for udon noodles, as oppose to the heavier meat version ramen that's made with pork. It's also great to use as a garnish on top of udon or other rice dishes (a bit like how we'd use fresh herbs in the UK).
Miso – most often used in soup, but can also be used for salting sauces and dishes instead of table salt or soy. Great mixed with other seasonings and used as a dip, and it can be great to pickle vegetables in for added flavour.
Yuzu juice – like lime juice, but less sharp and more fragrant. Great with dressings or simply served with noodles.
Shop your Japanese cooking essentials below...
Where are the best places to stock up on these ingredients?
My go-to shops in London to stock up on ingredients are the Japan Center on Tottenham Court Road and Rice Wine on Brewer Street.

Are there any home appliances you need to buy?
You'll have much of the equipment in a British kitchen already, but it might be useful to buy a Japanese grater, a pestle and mortar (if you don't have one already – we use these a lot in Japanese cooking) and a Tawashi brush which we also use a lot to scrub vegetables.

What Japanese cook books do you recommend?
Japanese Cooking: A Simple Art by Shizuo Tsuji
Is very good to understand the basics and to get an overview of what Japanese cooking is all about. I love the illustrations too. 
Visit Amazon.co.uk 
Japan: The Cookbook by Nancy Singleton Hachisu 
Introduces recipes cooked every day in Japan. 
Visit Amazon.co.uk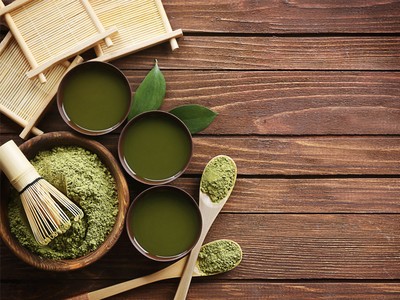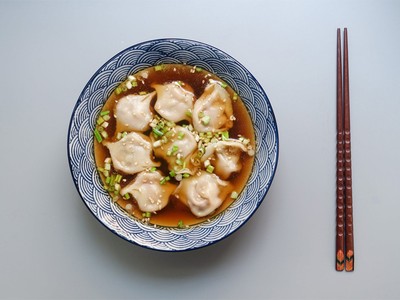 Stocked up on the essentials above? Here are two of Shuko's recipes for you to try at home…
Cherry Tomato, Green Apple and Mint Sunomono Salad, serves six-eight people
This is a very simple sunomono (pickled) salad. It's tempting to add more ingredients, but the more you add the less you taste what's in it. The sweet, ripe tomatoes, the vinegary kick of the dressing and the acidity of green apples works brilliantly.
Prepare in 15 minutes, plus overnight soaking
600g cherry tomatoes
25g pack mint
2 green apples
Sunomo brine
5g dried shiitake
100ml rice vinegar
7g salt
50ml mirin
1. Make the sunomono brine the day before. Soak the dried shiitake in 150ml cold water for six-eight hours (or overnight). Take the shiitake out (save the mushrooms to use in a soup or salad) and mix the vinegar, salt and mirin into the soaking liquid.
2. Make sure the tomatoes are at room temperature. Cut them in half and lay them in a shallow bowl. Pick the mint leaves and tear them with your hands and scatter them on top of the tomatoes. Halve, core, then thinly slice the apples and lay on top of the mint. Pour over the sunomono brine and serve immediately.
                    
                                                                      
Whipped Miso Tofu With Grilled Courgette, Peas And Mint, serves six-eight people
This is an easy vegan dish which is great for a light lunch, or as a side dish for dinner. The creamy tofu has a hint of miso umami and goes well with the charred courgette and sweet peas.
 
Prepare in 10 minutes
Cooks in 15 minutes
 
2 handfuls fresh peas (or about 100g frozen)
3 courgette        
2 tbsp extra virgin olive oil, plus extra to serve
Half a 25g pack of mint, roughly chopped
Juice of half a lemon
 
For the miso tofu
500g firm tofu
40g white miso
25ml olive oil
Pinch of salt
 
1. Bring a pot of salted water to the boil and add the peas. Turn off the heat as you add the peas and let them cool in the water; then drain just before serving. For the whipped miso tofu, whizz together all the ingredients with an electric hand mixer in a food processer until quite smooth.
2. Cover the whole courgette in olive oil and a couple of pinches of salt and put on the BBQ (or place under a hot grill). Keep turning the courgette until surface is charred. Cut on an angle into 0.5cm thick slices.
3. Spread the misotofu over a large plate. Lay the courgettes on top, then sprinkle with the peas. Drizzle over more extra virgin olive oil, scatter the mint and squeeze over some lemon juice.
 
10-12 Bloomberg Arcade, Bank, EC4N 8AR; 50 Frith Street, Soho, W1D 4SQ; Market Hall Victoria, 191 Victoria Street, Victoria, SW1E 5NE
 
Visit Koya.co.uk
 
DISCLAIMER: We endeavour to always credit the correct original source of every image we use. If you think a credit may be incorrect, please contact us at info@sheerluxe.com.