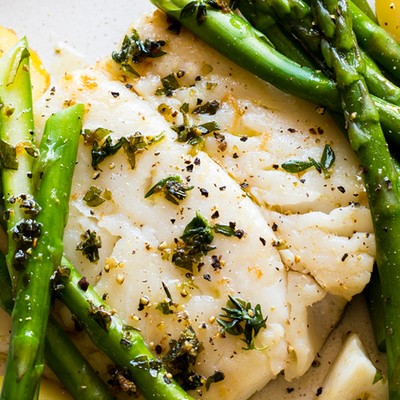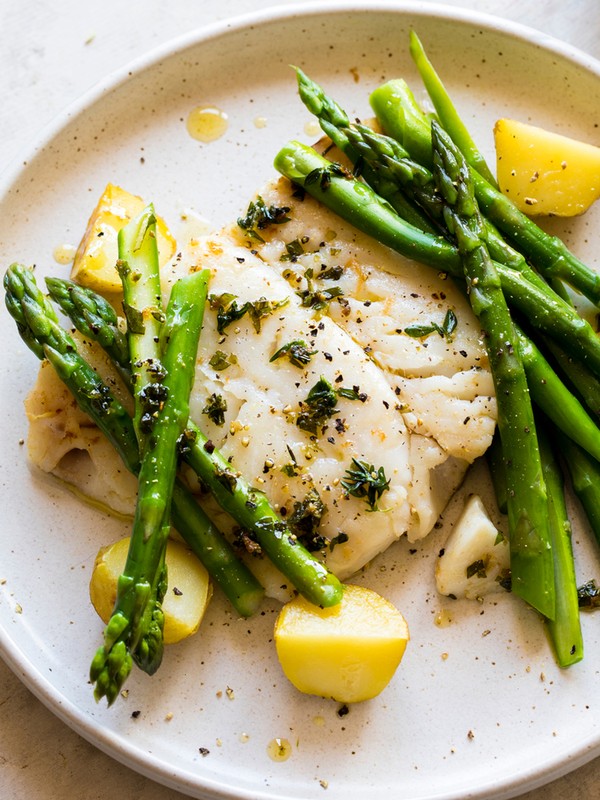 How To Cook White Fish At Home

Professional chefs will tell you the likes of cod, sea bass and halibut are best cooked and served as simply as possible – it's the freshness of the ingredients and accompaniments that matter most. Here, we asked eight to share their tips on how to cook white fish perfectly, the best flavours to use and the pairings to try…

By Sherri Andrew
All products on this page have been selected by our editorial team, however we may make commission on some products.
Emilia Strazzanti, Strazzanti
"One of the easiest types of white fish to cook at home is sea bream as you can cook it in a hot oven or under the grill for about 10 minutes, just with a drizzle of olive oil. The skin comes out crispy and the flesh is succulent because it's so thin and quick to cook. Generally, I prefer flat fish like lemon sole as it's sweet and delicate, but still robust enough to carry some stronger flavours like capers and parsley. If you prefer fried fish, always fry it skin-side down on a high heat until the skin is crispy. Then, flip the fillet over and turn off the heat. For a fresher finish, I like to use olive oil as opposed to butter so it doesn't overpower the subtle, delicate notes of the fish."
"Salsa verde is a delicious accompaniment that can be made in minutes. Blitz together a handful of fresh flat leaf parsley, a tablespoon of capers in vinegar, half a garlic clove, and a glug of some good quality Sicilian extra virgin olive oil. This is perfect served with roasted new potatoes cooked with garlic. If you want a bit more bite, you can add two tablespoons of chopped almonds, two tablespoons of breadcrumbs, and some fresh herbs to make a crust. Add some Sicilian minced sundried tomatoes if you have them, too."
Visit Strazzanti.com
Cesar Fernandez, Miele
"For an easy midweek dinner, choose halibut or hake. If you're buying it from a supermarket, make sure it has a certified sustainable logo. Hake will always be my number one choice as I love the texture and flavour which is a little more delicate than cod – it's a great substitute if cod is your go-to. For a quick supper, steam it in the oven on a low temperature for no more than 10 minutes. It will be flaky, tender and just perfect. Otherwise, bake it in a really hot oven for 5-6 minutes, allowing it to rest for a couple of minutes before you serve it. To make sure it doesn't dry out, you could even cook it en papillote (in a baking paper parcel) with some sliced fennel, sliced lemon and a tablespoon of white wine. Keep it simple with just salt and black pepper, then serve it with a sauce that's full of flavour. Thinly slice a couple of garlic cloves and fry gently in some olive oil for about 10 minutes. Turn the heat off and add two tablespoons of soy sauce (Thai mushroom soy sauce has a great depth of flavour) and baste the fish with this."
Visit Miele.co.uk 
Kate Austen, The Nest
"Cod is readily available at supermarkets, but it's worth remembering that it's fished in vast quantities, so it's worth looking for haddock, flounder or halibut from your fishmonger. Make sure your fish has come to room temperature before cooking and you've got a few healthy knobs of butter to hand. Realistically, it's easier for your fishmonger to fillet the fish for you. It takes them no time at all, and they have very sharp knives to make the whole thing easier. I love crispy skin, but you can also ask them to remove it if you'd rather have it without. 
"I love cooking with haddock – it can be very versatile and stand up to slightly larger flavours. You can buy it smoked and have it in a leek and potato soup, flaked on top, or infused in milk. You can mix it through a kedgeree (one of the most underrated dishes) or just pan fry it and serve it with crushed potatoes and peas. It might not be the healthiest, but I love my fish cooked in a pan with foaming butter with some thyme and a garlic clove to add extra flavour. Be careful not to have the pan too hot otherwise your butter will burn. If the fillet is thick, I would finish it in a 120°C oven for a few moments. I like ratatouille with fish – you can make a big batch and freeze it, and add different ingredients afterwards to change it up a bit. You just need good quality tinned tomatoes, fresh herbs and seasonal veg. Throw in some olives, or paprika to make it more Spanish inspired, and serve it with green vegetables like broad beans."
Visit TreehouseHotels.com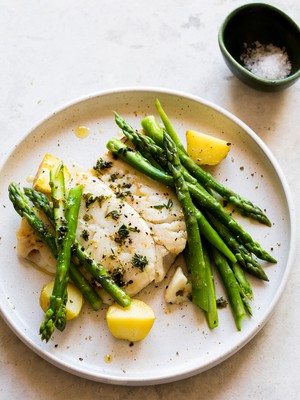 NADINE GREEFF/STOCKSY UNITED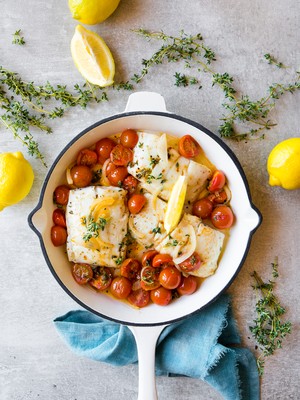 NADINE GREEFF/STOCKSY UNITED
Chris Archer, Pentonbridge Inn
"Turbot isn't called the king of the sea for nothing. Get your fishmonger to fillet it for you as it can get quite messy, then pan fry it with butter and a squeeze of lemon – you usually have more control over the heat than baking or steaming, so it doesn't dry out as easily. You can even cure the fish for 10-15 minutes in salt, then wash it and dry it before cooking. The salt not only seasons it perfectly, but also draws out excess water, which helps to keep the fish firm and moist. Being an Englishman, I'd always go for butter over olive oil, especially with white fish. Olive oil has a strong taste that can overwhelm delicate fish such as halibut – fatty fish like salmon and mackerel are better with that. Once you've let it rest for a couple of minutes, add capers, lemon and chopped parsley to the browned butter left in the pan – classic French à la grenobloise."
Visit PentonbridgeInn.co.uk
Nitisha Patel, chef & author 
"White fish is incredibly easy and quick to cook because it has a low fat content. I love to cook cod or sea bream at home, which is quite firm and meaty with a delicate, subtle Mediterranean flavour. You can cook both for a few minutes on each side over the hot coals of a smoky BBQ – or a griddle if it's not BBQ season. Just make sure to keep it simple and treat fish fillets how you would a piece of meat. Prior to cooking, drizzle over a little olive oil and a sprinkle of sea salt and cracked black pepper. Once cooked, squeeze over fresh lemon juice to bring out the flavours. Serve this with a bit of pesto drizzled over crushed baby potatoes, but if you don't have any pesto to hand, basil and olive oil blended together works just as well.
"I also like to serve white fish with robust sauces such as a chimichurri or a simple red pepper ragu. To make a chimichurri sauce, mix together finely chopped fresh parsley, oregano, finely grated garlic with olive oil, red wine vinegar, sea salt and red chilli flakes. You could also try adding a dry spice blend into the seasoning – toasted cumin seeds, coriander seeds, and fennel seeds always works well."
Visit NitishaPatel.com
Vitelio Reyes, Amazónico London
"If you can get hold of them, red bream and John Dory are delicious. The latter especially has great bones which gives the fish a lot of flavour, plus it's very meaty. Good quality fish doesn't need lots of seasoning – use a little to bring the flavours out without masking them. A bit of salt and lemon will let it take centre stage on the plate. Pan fry it and finish it in the oven to keep it nice and moist. Fattier fish such as red snapper only needs a drizzle of olive oil, while Dover Sole needs the extra fat from butter to bring out its flavour. If you're cooking a whole fish (as opposed to a fillet) add a salted herb crust for some aromatic flavour – breadcrumbs, lemon zest and seasoning – then serve it with a fresh sauce of lemon juice, olive oil, oregano and a little bit of sumac. As a general rule, remember citrus products go very well with most types of white fish, as do artichokes and Jersey Royal potatoes, which are currently in season."
Visit AmazonicoRestaurant.com 
Arbinder Singh Dugal, ASD
"Sea bass hardly takes any time at all to cook once it's been filleted, although tilapia, haddock and cod are the simplest to get right at home. I like to cook sea bass over charcoal with lots of bold Indian flavours, like curry leaves and black pepper to bring out the flavour. For this reason, white fish also tastes great in a Goan fish curry made with plenty of ginger, tamarind and coriander. Just be sure to make the sauce first so you don't overcook the fish. For something a little more classic, you can serve it with saffron, curry powder and mussels, a classic French sauce call mouclade."
Visit Arbinder.co.uk
Monika Linton, Brindisa
"Salt cod is my favourite fish to cook at home. While it's known to everyone in Spain, it's not widely used here in the UK, as some people are put off by what's actually quite a straightforward preparation process. One day before cooking, desalt the cod by rinsing the fillets well under running water – you can remove quite a bit of salt at this initial stage. Place it in a bowl with plenty of cold water to soak it, and then place in the fridge. Change the water two or three times during this process to get rid of the excess salt; it's important to use cold water and to keep it in the fridge, as you are removing the preservative qualities. When it's ready to cook, it tasted delicious in a stew with chickpeas. Fry each fillet into an olive oil pan skin-side down. Add sofrito sauce, water and cook it for two minutes. If it gets too thick, add some more water. Simmer for a few more minutes to allow the flavours to blend, then stir in a few handfuls of spinach to finish and serve."
Visit Brindisa.com
DISCLAIMER: We endeavour to always credit the correct original source of every image we use. If you think a credit may be incorrect, please contact us at info@sheerluxe.com.