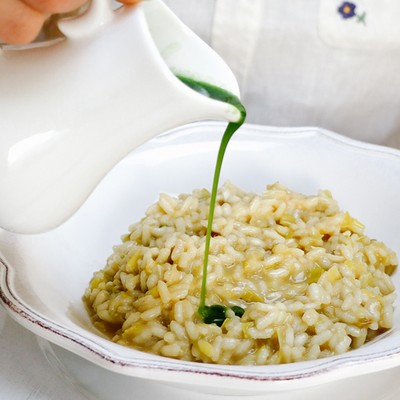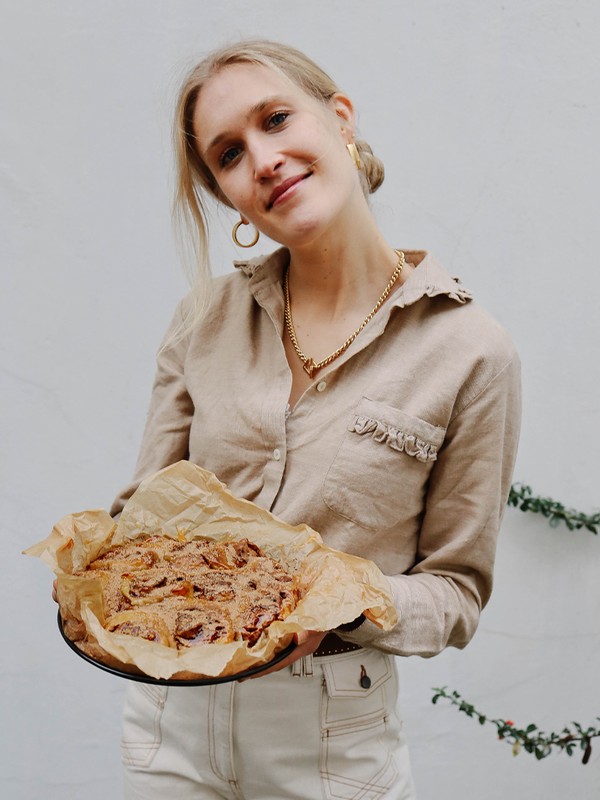 How To Entertain This Month – March

Alexandra Dudley is a food columnist, cookbook author and host of the Come For Supper podcast. In this monthly column, she shares some of her most delicious entertaining recipes. This time, it's a spring-ready risotto – plus an apple and thyme tarte tartin.

By Alexandra Dudley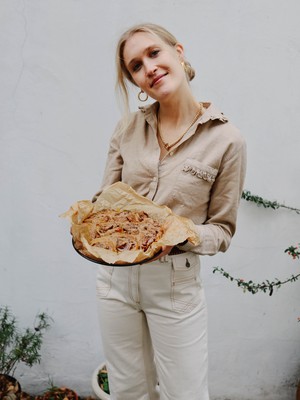 March marks the end of winter. The days are getting lighter and there is the promise of spring on the horizon. That said, there is still a damp chill in the air, and I find myself leaning towards warm and comforting foods still – steaming brothy noodles, hot toast with lashings of butter and velvety thick soup. I have been making this curried cauliflower soup on repeat.
While soup and bread do very well for a midweek lunch, they are somewhat unremarkable for a dinner party. This is where risotto comes to the rescue. I cannot think of a risotto I don't like, and although this one is simple, it's particularly good at this time of year. Leeks make the base, giving it a sweeter taste than risottos that use onion. What really makes this risotto spectacular is a vivid green chive oil. Homemade infused oil may seem like a grand task, but trust me when I say it is not. It does however bring a little va-va-voom to the dish and instantly makes it dinner party worthy. I serve this with a punchy purple sprouting broccoli dish, spiked with chilli and anchovy, and finish with an apple and thyme tarte tatin. 
What really makes this RISOTTO SPECTACULAR is a vivid green chive oil. Homemade infused oil may seem like a grand task, but trust me when I say it is not.

English sparkling wine pairs really well with risotto. I have recently been enjoying this sparkling brut from Coates & Seely. A blend of chardonnay and pinot noir, it was a gold medal winner in the champagne and sparkling wine world championships. Sparkling wine goes wonderfully with a light risotto such as this one, and the Coates and Seely Brut Reserve NV is just as good as, if not better than, many champagnes. 
Discover Alexandra's Menu…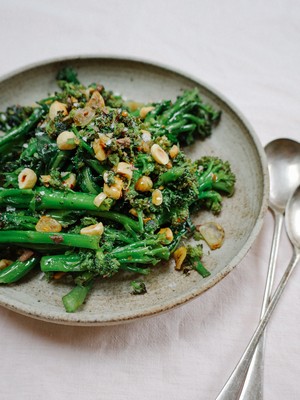 THE STARTER
Purple Sprouting Broccoli With Anchovy & Chilli
Purple sprouting broccoli is delicious at this time of year. Slightly sweeter than its greener cousin, it has a subtle nuttiness that pairs beautifully with the bold flavours of chilli and anchovy. I usually serve this as a side, but it makes for a very good starter too. You could even add some mozzarella, or a lovely slice of creamy burrata.
Ingredients
2

bunches purple sprouting broccoli
2

garlic cloves, finely sliced
1

45g

tin of anchovies, drained and roughly chopped
1

tsp

of dried chilli flakes
30g

of roasted hazelnuts, roughly chopped
Method
Step 1
If your hazelnuts are not roasted, place them on a dry baking tray into a preheated oven at 180ºC Fan setting, and bake for 10 minutes. Allow to cool, then roughly chop.

Step 2
Trim any very woody bits from the purple sprouting broccoli and cut into even side florets.

Step 3
Bring a large pot of salted water to the boil. Cook the broccoli for four minutes, then drain.

Step 4
While the broccoli cooks, bring a large frying pan to a gentle heat with a good glug of olive oil. Add the finely sliced garlic and cook gently for about two minutes until it begins to soften and become translucent.

Step 5
Add the dried chilli flakes and chopped anchovies and cook for one more minute until the anchovies start to break down.

Step 6
Add the cooked purple sprouting broccoli and toss until coated.

Step 7
Add the zest of your lemon, the chopped hazelnuts and another glug of olive oil. Toss again.

Step 8
Serve with another drizzle of olive oil and a good pinch of sea salt.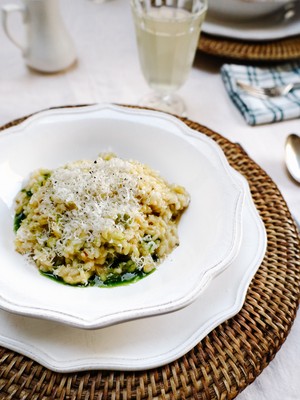 THE MAIN COURSE
Leek & Lemon Risotto With Chive Oil
This is a beautifully simple risotto paired with a vibrant and punchy chive oil. The base of this risotto comes from leeks. Gentler in flavour than onion, they add a subtle sweetness which works particularly well with the chive oil. Make the chive oil ahead of time if you like. I usually make it the day before to allow time for the flavours to infuse. Just don't be put off by the idea of infusing your own oil – it takes very little time and effort
Ingredients
For the risotto:

300g

of leeks, finely chopped (roughly

2

large leeks)
2

large cloves garlic, grated
400g

of arborio risotto rice (I use Belazu)
1

large glass of dry white wine
1

litre of chicken or vegetable stock
70g

of butter, cut into cubes
100g

Grana Padano, finely grated
Zest of

1

lemon,

½

of its juice
Method
Step 1
Make the chive oil first. You can do this the day before if you like. Roughly chop the chives and place them into a high-speed blender (I use a Nutribullet). Pour in the oil and blend until liquified. Using a thin piece of muslin or jam straining bag, pour the liquid through the cloth into a bowl to strain the oil. I like to place the muslin into a sieve and leave it to seep through. If you don't have a muslin, you can also use a pair of old tights. Just make sure they are clean first. Discard the chive pulp and decant the oil into a jar or small jug, ready to use later.

Step 2
For the risotto, heat a generous glug of olive oil in in a large heavy-based pan and fry the leeks on a low heat until softened (about 5 minutes). Add the garlic and cook for a further minute.

Step 3
Stir through the rice. Pour in the wine and stir until the alcohol has been absorbed.

Step 4
Slowly begin to add the stock, one ladle at a time, stirring occasionally and only adding more when the liquid has nearly absorbed.

Step 5
Test your risotto after 15 minutes. It should be al-dente, nearly cooked with a little bite. You may not need to add all of the stock.

Step 6
Add the butter, grated Grana Padano and lemon zest. Stir until creamy and glossy (adding a little more stock if you wish). Taste to season.

Step 7
Serve with a generous drizzle of chive oil, grated cheese and freshly cracked black pepper.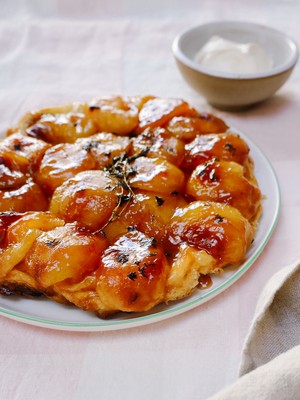 THE PUDDING
Apple & Thyme Tarte Tatin
You can't go wrong with a tarte tatin for pudding. I am yet to meet a person that does not like it. I add a little fresh thyme to mine for a delicate aromatic flavour. Serve this with good-quality crème fraîche or vanilla ice-cream. 
Ingredients
6

-7

eating apples, Braeburn or Cox apples work very well
120g

of golden caster sugar
80g

of unsalted butter, at room temperature
1

tbsp

of fresh thyme leaves
400g

block of puff pastry
Crème fraiche or vanilla ice-cream to serve
Method
Step 1
Preheat the oven to 190°C Fan. You will need a medium sized (20-24cm) frying pan that is suitable for the oven.

Step 2
Peel and quarter the apples, then use a knife to slice away the core so that they have a flattened edge.

Step 3
Spread the soft butter all over the base of the pan so that you have an even layer. Sprinkle over the sugar evenly. Then sprinkle over the thyme leaves.

Step 4
Arrange the apples neatly on top, cut side up. Start at the edge and working your way in, overlapping them slightly and packing them in as tightly as possible.

Step 5
Cook over a medium-high heat for about 5 minutes, shaking the pan regularly until you begin to see the caramel bubbling.

Step 6
While the apples cook, roll out the pastry on a floured surface until it is roughly 0.5cm thick. Score a circle about 1 inch wider than the base of the pan. Roll it back over the rolling pan to transport it to the pan and roll it over the apples. Use a spoon to tuck the pastry around the apples on the inside of the pan.

Step 7
Place in the oven for 30 minutes until the pastry has puffed up and is golden.

Step 8
Release any caramelised pastry by running a knife around the edge. Then, place a plate on top of the pastry and carefully flip the tart. Take care to avoid any hot caramel that may escape and be sure to wear oven gloves. Serve with good quality crème fraiche or vanilla ice-cream.

Read More From Alexandra Dudley
DISCLAIMER: We endeavour to always credit the correct original source of every image we use. If you think a credit may be incorrect, please contact us at info@sheerluxe.com.