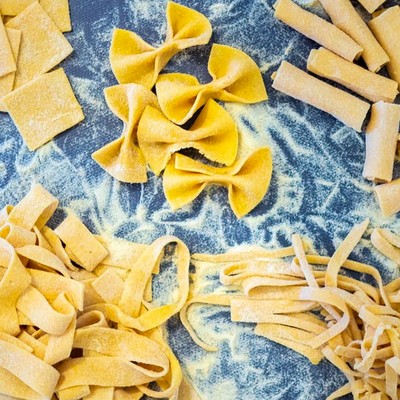 How To Pair Pasta To Sauces

There are many types of pasta in Italian cuisine, and each one has an ideal sauce to partner it. According to Guido Pedrelli, founder of Nonna Box, the right pasta can make a good sauce extra special, while the wrong one can ruin the potential of a dish. Here, he provides an insight into the most popular pairings...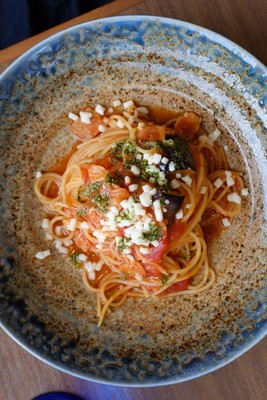 Spaghetti
Spaghetti is widely loved and very versatile. It's best served with a loose and light tomato sauce or even no sauce at all – just cheese and pepper. Wholewheat spaghetti pairs well with chunky sauces due to the earthy flavour and ridged texture. A thinner spaghetti can fall apart if overcooked, so cook with plenty of olive oil or in a broth-based sauce. The traditional bolognese is always a winner with spaghetti, as the rich tomato sauce clings well to the thick strands while being wrapped full of flavour. When it comes to the amount of sauce to use, always be generous to ensure the spaghetti is soaked in the rich sauce. Applying sparingly will leave the dish lacking in flavour.
Fusilli & Spirali
These pastas have a curly shape like corkscrews: fusilli is slightly tighter, but other than that it has very similar properties to spirali. Both should be paired with coarse sauces that can flow into the screw threads to make the perfect bite. A flavourful pesto or arrabbiata make a great pairing as the rich flavour will sit perfectly on the twists. Lighter and smoother sauces can also work with these shapes, but thicker sauces will be get locked into the swirls. The chewy texture of the pasta makes it a great addition to any salad. When pairing, analyse how narrow or wide the curves of the fusilli are and match the chunky ingredients of the sauce accordingly.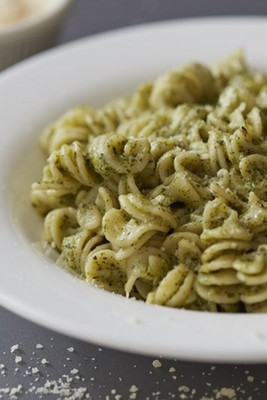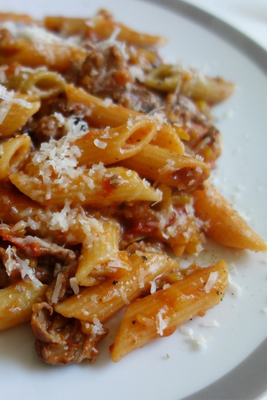 Penne
Penne are tubular shapes cut at an angle. Penne rigate has a ribbed surface, while penne lisce is smooth – you should opt for thicker sauces with lots of ingredients for both as they cling to the pasta. The angled ends help to trap the sauce in the centre, and they pair well with a wide range of sauces from meat to cheese and those which have a vinaigrette base. Penne also is brilliant with bolognese or ragu, as the thicker texture holds the flavour perfectly. As the pasta can be baked in sauce, it makes for a very versatile shape.
Farfalle
Farfalle is cut into squares and then pinched in the centre to make its distinctive bow-tie shape. The centre tends to be slightly chewy as it can be difficult to get the perfect bite, so it is great when paired with creamy sauces or simply tossed with olive oil. The 'wings' hold sauces perfectly, but since they are of a delicate shape, farfalle is better matched with light and fresh sauces, as heavy ones can leave it feeling weighed down. Creamy bases work better than tomato here as the pasta is weightless. Traditionally the pasta is enjoyed in the summer with a light sauce topped off with fresh vegetables.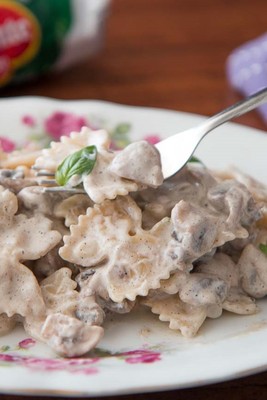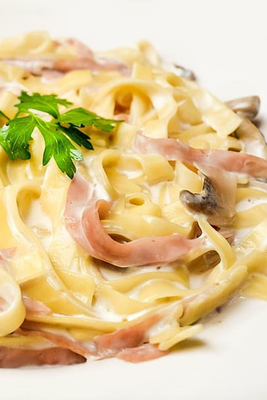 Tagliatelle
The width of tagliatelle tends to 'spread' on the tongue and is best accompanied with a thick hearty meat sauce. If you want even more flavour, it also tastes great with pesto. The long wide ribbons work great with rich and heavy sauces as it picks them up and absorbs the flavour without becoming too gluey. The wide surface works well with creamy sauces as it sticks firmly onto the pasta. This pasta is very versatile and works well with most sauces, just ensure you have cooked it to the perfect bite, so the pasta works together with the sauce as opposed to sitting next to it.
Bucatini
Bucatini is similar to spaghetti, but is larger in size and hollow right through to the centre. This pasta pairs well with thick sauces like beef-shin ragu. The unique factor is that unlike other pastas, it gets coated but also filled with sauce – the hole in the spaghetti encourages sauce to its make way into it. This guarantees heaps of flavour throughout the whole dish.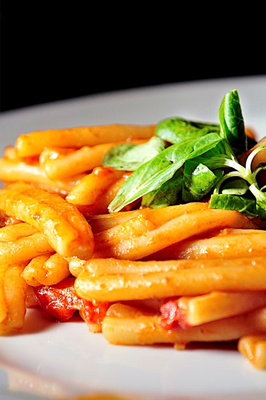 Rigatoni
Rigatoni has similar properties to penne. They are tubes with ridges on the outside, but unlike penne they're bigger and cut square as opposed to at an angle. It matches well with chunky veg and meat sauces thanks to the consistency, shape and ridges. It's also perfect paired with a simple tomato sauce, while the ease in retaining sauce makes it an ideal candidate for baked pasta dishes.
Ravioli
Ravioli is a very traditional dish and is a favourite worldwide. They're made with small sheets of pasta, folded over a portion of stuffing and pinched together to create a small parcel. The filling can include anything from meat to cheese or veg – a lot of things work well inside. Ideal sauces can range from lashings of light garlic and butter to heavy tomato-based ragus. The fillings and sauce need to complement each other, as the egg pasta sheet of the parcel will separate once you take a bite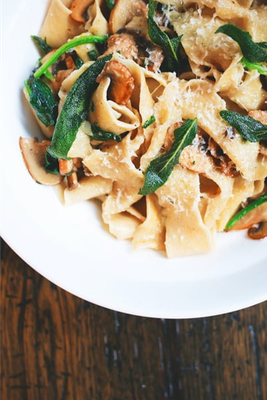 Pappardelle
Pappardelle are wide ribbons of egg pasta. Due to the large surface area, heavy sauces accompanied with vegetables, such as wild mushrooms, tend to be a favourite. Chunky ingredients in the sauce tend to get trapped between the flat noodles, so you get a hit of flavour on every forkful.
Gnocchi
Gnocchi are little dumplings, usually made with potatoes. In terms of cooking, it's one of the easiest and quickest pasta shapes to get right. Gnocchi teams up great with rich, creamy sauces such as gorgonzola but is also just as nice with lighter-based sauces such as tomato pomodoro. A simple sauce of butter, fresh sage leaves and parmesan is a traditional favourite for gnocchi.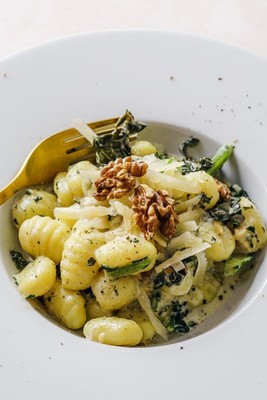 DISCLAIMER: We endeavour to always credit the correct original source of every image we use. If you think a credit may be incorrect, please contact us at info@sheerluxe.com.