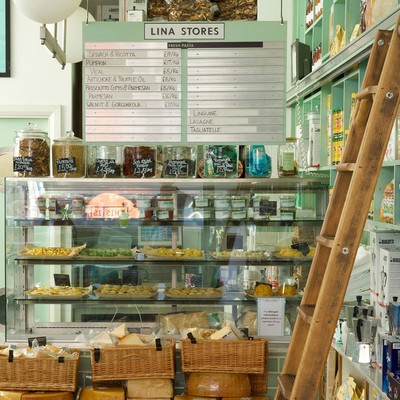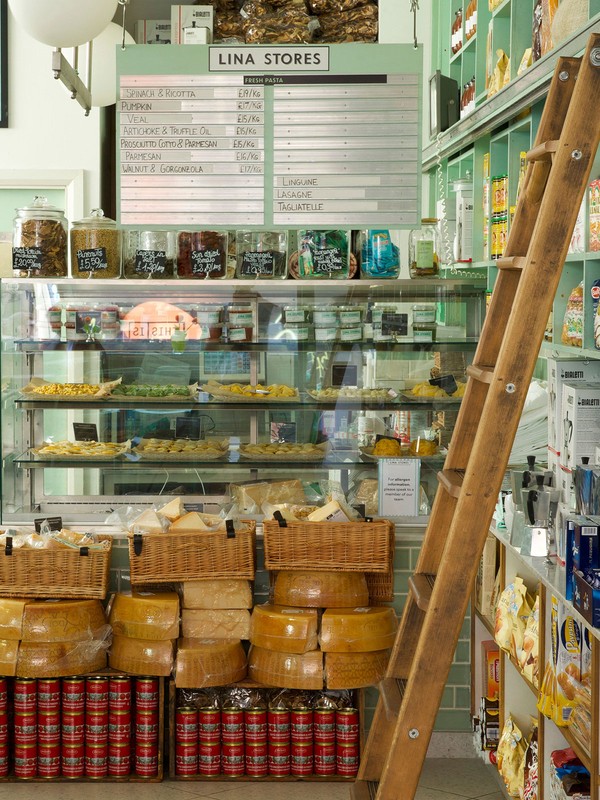 Inside My Kitchen: Lina Stores Head Chef Masha Rener

Since Lina Stores opened nearly 80 years ago, the Soho deli has become an institution, providing homesick Italians and in-the-know Londoners with the best ingredients Italy has to offer. Today it has five London restaurants, each of which use the very same fresh ingredients found in the deli. Here, its head chef Masha Rener takes us inside her own Italian kitchen to find out more about her must-have ingredients and favourite dishes – and the secret to a great Sunday night supper.

By Heather Steele
All products on this page have been selected by our editorial team, however we may make commission on some products.
One of my favourite things about my home kitchen is that I feel very lucky to have fresh ingredients from my garden to experiment with. I designed my kitchen myself and used a local carpenter to put it together. The countertop is made of marble, which I love.
I have taken a few elements from a professional kitchen into my own. I need a good food blender (I especially love my Thermomixer) and a handheld blender, plus all my different tools to make pasta. I also really couldn't live without my dishwasher.
My kitchenware is a mix of different brands but most of my current kitchenware is from Alessi. My three must-have utensils are my Microplane grater, a wooden rolling pin and a whisk. Then, my must-have gadget is the vacuum-packing machine I bought for all my homemade fermentation. I'm currently playing with different fermentation techniques with vegetables and garum. I have many pans from AMC, which is a really good brand. At the moment, I'm also obsessed with silver pans, which can be more difficult to find but are a great choice for healthy cooking.
My favourite new addition is my new ravioli mould from Giordis. It makes one large portion. I love local, small producers. Umbria is well known for pottery, so I try to get as many plates locally as possible. Right now, all my plates are from Nuova Cer in Umbertide or Baldelli from Città di Castello. On the glassware front, I have a selection from Villa D'Este Home Tivoli. I love a good negroni and can't live without my collection of simple, beautiful tumblers.
I grew up on my parents' farm and restaurant. Since I was always in and around their kitchen, it SPARKED MY PASSION AND INTEREST FOR FOOD.
If you're looking to get organised in the kitchen, use a simple typing machine to make labels for all your food containers and equipment. I find this especially handy with my two teenage kids, who I share the space with and need to keep in check. Oh – and clean up as you go, so the mess has no chance to take over.
The first dish I learned to cook was fresh, homemade pasta from both my mum and other ladies in the village I grew up in. It's a craft I started to hone from a very young age as I grew up on my parents' farm and restaurant – I helped my father and mother run La Chiusa for as long as I can remember. Since I was always in and around their kitchen, it sparked my passion and interest for food. These days, I'm always working on testing new pasta sauces.
I love to buy my ingredients directly from the farmers or nearby markets. When I'm in London, I'll top up at Lina Stores of course. My favourite ingredient at this time of year is elderflower – I've been using it a lot in both savoury and sweet recipes.
My signature dish if I'm entertaining at home is chicken liver pâté followed by roasted lamb with sour cream and lemon on top. Served with artichokes, it's a dream.
The secret to throwing a great party is to have a large variety of food and dishes available to please everyone – and a good bottle of wine or two is always a good investment. The best party I've ever thrown was a nice picnic in the sun with pinzimonio dip with vegetable crudités, frittata, fresh salads, panini, fruit salad, antipasti, grissini and so on. You don't want anyone to go hungry.
My go-to midweek meal is parigina filled with ham and cheese. Or I'll mix breadcrumbs, capers, pecorino and very thinly sliced beef steak together before frying it in the pan – it's super quick and delicious.
The cupboard essential I couldn't live without is anchovies. They're delicious when served simply with bread and butter.
The cupboard essential I COULDN'T LIVE WITHOUT IS ANCHOVIES. They're delicious when served simply with bread and butter.
The one dish I always order if I see it on the menu is soft-shell crab. I love the texture and fragrance of it and it's so versatile. In Italy there's a typical dish from Venice called moeche (fried soft-shell crab) which I always go for.
My idea of a perfect Sunday lunch is a selection of antipasti, homemade tagliatelle with goose ragù, followed by a beautiful roasted lamb and tiramisu. Either that or cappelletti in brodo ('little hats' of pasta in a clear, meaty broth) and pork ribs as a main.
On Sunday nights, it's all about pizza. Everyone in Italy has pizza on Sunday night. Just down the road from my flat in Umbertide there's a place called Golden Saloon. They have very crispy and thin pizza – my favourite kind!
After a long, late shift I usually have a quick bowl of pasta with butter and parmesan – as it fills me up and is quick enough so I can get to bed fast.
The one cookbook I recommend all home cooks read is Science in the Kitchen and the Art of Eating Well by Pellegrino Artusi. It's very comprehensive with lots of useful tips on recipes and ingredients. It's very funny at times too.
Visit LinaStores.co.uk
---
INSPIRED?
Shop Masha's Hacks & Tips Below
DISCLAIMER: We endeavour to always credit the correct original source of every image we use. If you think a credit may be incorrect, please contact us at info@sheerluxe.com.